Found February 13, 2013 on SCACC Hoops:
This is nowhere near the most anticipated Duke-UNC matchup in history, or even recent history, as the Blue Devils are ranked second in the country and coming off a six fame winning streak while UNC is unranked and struggling to find its footing. The old saying goes in this rivalry that you can throw the records out when these two matchup. While that might be true, let's at least take at look at some stats that might tell us how these teams got here and where an upset might be born or another curb-stomping could take place. I got my stats from the Team Comparison over at Statsheet.com, a great resource if you're looking to see how two teams matchup with each other. RECORDS It's no secret that Duke has been tough to beat this season, even though most of their wins came early in the season when Ryan Kelly was healthy. With Kelly out, Duke stumbled once against NC State in their first game attempting to adjust without him and another time against the Miami Hurricanes. That Miami loss doesn't look so bad now, as the Hurricanes are ranked #3 in the country and are receiving numerous first place votes. At home, Duke has no blemishes on their record and their margin of victory this season against unranked teams at home is 23.5 points. If this weren't a rivalry game, I'd expect that margin to hold true. That said, it'll likely be a lot closer than that. UNC has only one good win on their resume so far this season, so tonight's game has added meaning for a team currently projected as a double-digit seed in the NCAA Tournament. Unfortunately for the Tar Heels, that win over then #20 UNLV came in the friendly and soothing confines of the Dean E. Smith Center where they have put up an impressive 11-1 record. UNC is under .500 on the road this year, which includes forgivable losses to Indiana and Miami but also a really bad loss to a Texas team that hasn't done much outside of winning that game. In games against comparable competition to tonight's foe Duke, the Tar Heels have yet to put up a W. If UNC is able to pull off the upset, it will truly be a case of rivalry games superseding the team's records.   OFFENSE Duke is often thought of as a slow, plodding offense by many who don't pay attention to the game. Truthfully, the offensive style Duke employs changes based on the talent at hand and this team is built to run. Quinn Cook is comfortable pushing the tempo, finding post players down low for easy layups often on the break. More dangerously, Duke's shooters get into position very well in transition and Cook has shown the ability to find guys for wide open three-pointers if the defense doesn't get set. The Blue Devils' 1.13 points per possession ranks 9th in the country and when they are hitting from outside it's hard to stop them. UNC has been known as a stellar offensive squad under Coach Roy Willliams, mostly due to the uptempo pace they play. When they have a point guard who is able to keep up that pace of play and distribute the ball, it's one of the more fun offenses to watch in the country. This year is no exception, as the Tar Heels' 73.8 possessions per game ranks 6th in the country. UNC wants to run at every opportunity, and putting up 1.06 points per possession allows them to punish inferior talent. That won't be the case tonight, and the Tar Heels' execution in the halfcourt will determine whether or not they can pull off the upset.     DEFENSE While UNC is not known as a great defensive team, they have been quite effective this season except for a few games. Their .94 points per possession defense comes in right behind Duke but due to the fact that they squeeze more possessions into a game, they're giving up five more points per contest. A lot of the numbers for these two teams are very similar, which was surprising to me before I compared the two teams. If you're a UNC fan, the 12.8 assists per game given up and 31.8 3PT% should be concerning. These are both areas where Duke excels and if those stats keep up that could spell disaster. Duke will have to do a good job of not giving UNC easy 2-pointers, as that is their biggest area of weakness. Most of this will come to getting back in transition well and if the Blue Devils are making their shots it will be tough for the Tar Heels to run. I'm assuming that Coach K would rather give up some rebounds on the offensive end (an area where Duke has struggled all year) so that they can get back on defense.       This article was originally published at http://DukeHoopBlog.com. If you are interested in sharing your website's content with SCACCHoops.com, Contact Us.  
Original Story:
http://www.scacchoops.com/tt_NewsBrea...
THE BACKYARD
BEST OF MAXIM
RELATED ARTICLES
The Duke Blue Devils mounted a second half comeback to beat rival North Carolina 73-68 in the first of two meetings between the schools. And though Duke, who is ranked #4 in the country and at home, was expected to beat an unranked UNC squad, Duke students still felt that the win warranted them storming the court. Unfortunately for them, Mike Krzyzewski had other ideas and stopped...
Seth Curry is having a pretty good Senior year at Duke, averaging over 16 points for the second-rank team in the nation.  After he hit a big 3 pointer during the second half of their Rivalry Week matchup against North Carolina, the camera panned to his mother Sonya Curry.  Who is a solid 7 for an older lady. She celebrated with a little dance and a pretty solid duckface. The post...
Seth Curry's mom, Sonya Curry, stole the show during the Duke vs North Carolina basketball game on Wednesday night.
You may recall that I picked Florida State's Michael Snaer to be this season's ACC Player of the Year. When I get it wrong, I get it wrong. But the bulk of the ACC media picked NC State's C.J. Leslie to win that award and that's not going to happen, either.  If post-season voting were to take place now, neither would make first-team All-ACC. Plumlee is averaging 18.2 points...
Duke's Mason Plumlee said that Quinn Cook was the team's rock in the first half.
DURHAM, N.C. (AP) -- With its star big man on the bench with foul trouble, Duke went small to beat its top rival -- and one of its smallest players came up big. The run that propelled the second-ranked Blue Devils to a 73-68 victory over North Carolina on Wednesday night started when Mason Plumlee sat down and backup guard Tyler Thornton warmed up. "I think the hero for us...
Quinn Cook and Mason Plumlee scored 18 points each as Duke moved to 22-2 on the season with a five point victory over North Carolina on Wednesday night.
I can't figure out why ACC fans, who don't root for Duke, are sad that Seth Curry is a senior.
Today is February 13th, the eve of Valentines Day and a day away from the middle of the shortest month of the year.  It's also marks the first time UNC will face Duke this ACC season. It will be the 11th conference game for both teams, nearly two-thirds of the way through the league's first 18-game conference slate. While the first Duke/UNC matchup's delay until mid...
Blue Devils News

Delivered to your inbox

You'll also receive Yardbarker's daily Top 10, featuring the best sports stories from around the web. Customize your newsletter to get articles on your favorite sports and teams. And the best part? It's free!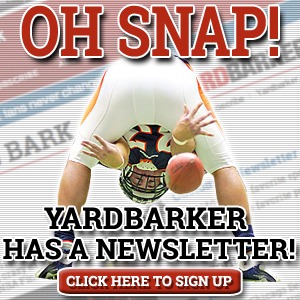 Latest Rumors
The Backyard

Today's Best Stuff

For Bloggers

Join the Yardbarker Network for more promotion, traffic, and money.

Company Info

Help

What is Yardbarker?

Yardbarker is the largest network of sports blogs and pro athlete blogs on the web. This site is the hub of the Yardbarker Network, where our editors and algorithms curate the best sports content from our network and beyond.