Found February 10, 2013 on StraitPinkie.com:
This game can only be categorized as a heartbreaker if you are a Louisville fan.  And if you're not a Louisville fan, than it was one of the best games of the year.  Notre Dame's Jerian Grant scored 12 points in the last 47 seconds to force overtime. Fans had been calling for Russ Smith to get the ball in end of the game situations for weeks now, and when Siva fouled out in overtime, fans got to see it and it wasnt pretty to say the least.  Smith had 4 game winning opportunities at the end of 4 out of the 5 overtimes and did not make one of them.  Smith even reverted to a 30 foot shot at the end of one of the overtimes.  This sparked an outcry on social networking sites that labeled Russ Smith the "anti-clutch."  But its undeniable that without Russ Smith we lose that game way earlier than we did.  No one else on our team (with the exception of Hancock) can make free throws consistently.  Smith's 13 for 16 from the line kept us in the game.  Smith finsished the game with 21 Pts, 10 Rbs, and 3 Ast in 56 minutes. Chane Behanan is an absolute monster and completely dominated the game.  Every time Behanan got the ball in the low post he would will his way to the basket and score.  Behanan's 6 offensive rebounds were massive in the second chance points that the Cards needed desperately.  Behanan was Louisville's only real offensive threat throughout the overtime periods.  Chane finished with a career high 30 points and shot 13-20 from the field.  Behanan also ended with 15 rebounds and 2 blocks in 56 minutes on the floor. I have always been one of Luke Hancocks biggest critics, but he played very well on Saturday night.  Hancock attacked the basket late in regulation and made tough shots to extend Louisville's lead.  It was almost as if that Hancock was a completely different player, he worked on defense and was very aggressive.  I mean, if you get up more shots than Russ Smith in a game…than you must have been pretty aggressive.   Hancock finished with 22 Pts, 4 Rbs, and 3 Ast. Gorgui Dieng played every overtime period with 4 fouls until he finally fouled out in the 5th OT.  This caused him to have to play timid on defense and let Notre Dame get to the basket.  It took away from every scheme that Louisville runs defensively and allowed Notre Dame to get into their offense.  I think the combination of foul trouble and timidness on Louisville evened out to the fact that Notre Dame had 4 starters fouled out of the game.  Dieng had a double double with 17 Pts and 13 Rbs. Peyton Siva was non-existent once again in a big game.  Siva played 41 minutes and only recorded 2 Pts and 4 Ast.  Whether this was a factor of Louisville's game plan or just Notre Dame's defense shutting him down, Siva still was a non factor.  We desperately need Siva to show up for big games just like he did last year in March.  Siva is such an big part of Louisville's success that I think opposing defenses are locking down on him and not letting him get into the lanes.  But it isn't like Siva really hurt us because he only took 6 shots. The absence of Wayne Blackshear and Montrezl Harrell in overtime was stunning to many Louisville fans.  These are two of the most gifted offensive players that we have and in a 65 minute game, Harrell and Blackshear only combined for 31 minutes.  Both of these players have shown burst of dominance in the past and to not have them on the floor for more than they did is just not acceptable.  I mean, Blackshear is a top prospect and he doesn't even play 1/3 of the game? Someone who I didn't expect much from but was an extremely pleasant surprise was Kevin Ware.  I don't know if it was the fact that he wasn't in foul trouble or that he had fresh legs but his defense seemed so aggressive and effective.  Even on the offensive end, Ware was attacking the basket and playing hard.  Ware played a career high 32 minutes and recoreded 8 Pts, 4 Rbs, and 4 Ast. This loss really doesnt worry me that much.  Every top 5 team in the AP poll this week lost to an unranked team on the road.  Louisville lost to a ranked team on the road while they made ridiculous threes down the stretch to keep extending the game.  Without a real star player to dominate a game, road games in college basketball are very tough to win.  I mean if you look back on past national championship teams, they had 1 or 2 losses at home but most of them come on the road.  This is a result of young impressionable kids that aren't used to being ridiculed for 40 minutes by their peers. Louisville's next game will be Thursday night at the KFC Yum! Center against St. Johns.  The game will be televised on ESPN at 9:00 P.M. EST. Note to fans: Once again stop attacking players on their social networking sites, I am sure they feel worse than you do.  Especially on Russ Smith's instagram pictures.
Original Story:
http://www.straitpinkie.com/louisvill...
THE BACKYARD
BEST OF MAXIM
RELATED ARTICLES
Louisville was predicted to be one of if not the best teams in the country for numerous reasons. Experience, depth and overall talent were all popular reasons, but having what was thought to be one of the best backcourts in the country was also a factor. Peyton Siva and Russ Smith have both had solid seasons for Rick Pitino. Siva was the preseason Big East player of the year and...
Cameron Biedscheid scored on a layup with 1:19 left in the fifth overtime, and Eric Atkins and Pat Connaugton added free throws in the final 19 seconds as No. 25 Notre Dame overcame an eight-point deficit in regulation to beat No. 11 Louisville 104-101 Saturday night. Russ Smith had a chance to tie it, but his 3-point attempt missed before Notre Dame students flooded the court to...
College Basketball News

Delivered to your inbox

You'll also receive Yardbarker's daily Top 10, featuring the best sports stories from around the web. Customize your newsletter to get articles on your favorite sports and teams. And the best part? It's free!
THE COLLEGE BASKETBALL HOT 10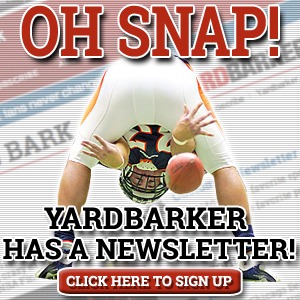 Latest Rumors
The Backyard

Today's Best Stuff

For Bloggers

Join the Yardbarker Network for more promotion, traffic, and money.

Company Info

Help

What is Yardbarker?

Yardbarker is the largest network of sports blogs and pro athlete blogs on the web. This site is the hub of the Yardbarker Network, where our editors and algorithms curate the best sports content from our network and beyond.