Found July 29, 2014 on SCACC Hoops:
Akoy Agau kicked off the average U of L fan's Tuesday with a bit of a punch in the gut when he posted the following picture on Instagram: As Agau mentions in the description, he is in Philadelphia, where word is that he is having surgery performed atĀ Hahnemann University Hospital. The hospital is the same place where Taquan Dean wentĀ to have sports hernia surgery for "athletic pubalgia"Ā almost exactly a decade ago. While Agau's injury isn't exactly the same as Dean's, a U of L spokesperson did confirm that he is having a similar surgery. After appearing in just 19 games last season, Agau has drawn significant praise from head coach Rick Pitino, who expects the forward to make a massive jump in his sophomore season. "Akoy is a completely different player and person," Pitino said earlier this month. "And that's great for us because we need that position desperately." U of L SID Kenny Klein is expected to release a full update on Agau later today. UPDATE: Louisville F Akoy Agau had successful sports hernia surgery today in Philadelphia & is expected to return to workouts in six weeks #L1C4 ā€" Kenny Klein (@KKcards) July 29, 2014 Here is the official statement from Louisville... University of Louisville sophomore forwardĀ Akoy Agau had surgery Tuesday morning to repair a sports hernia and is expected to return to workouts within six weeks. Agau suffered the injury in workouts about three weeks ago. While the injury is not the same, former U of L guard Taquan Dean had similar surgery in 2004. Dr. William Meyers, president of Vincera Core Physicians, performed the operation at the Vincera Institute Surgical Center in Philadelphia, Pa. Agau, who has shown significant improvement in summer workouts, played in 19 games for the Cardinals as a freshman last season while totaling 17 points, 21 rebounds and five blocked shots. The 6-8 forward from Omaha, Neb., scored a season-best four points against both Houston and USF and grabbed a season-high five rebounds against Missouri-Kansas City. He was the first player in Nebraska Class A history to play on four state championship teams. Ā  Ā  This article was originally published at http://www.CardChronicle.com (an SB Nation blog). If you are interested in sharing your website's content with SCACCHoops.com, Contact Us. Ā  Ā 
Original Story:
http://www.scacchoops.com/tt_NewsBrea...
THE BACKYARD
BEST OF MAXIM
RELATED ARTICLES
Jamie Rhodes | USA Today Sports Louisville sophomore forward Akoy Agau will undergo sports hernia surgery on Tuesday morning in Philadelphia, PA. Agua posted a photo of himself in a hospital bed earlier today via his Instagram account. ā€œOut in Philly about to go under the knife. About to get fixed up, then waking up and getting a huge Philly cheesesteak.ā€ Rick Pitino confirmed...
Ā Montrezl Harrell continues to terrorize backboards.After setting a new school record for most dunks in a single season, the Louisville Cardinals junior has been tugging on rims in summer league this offseason, resulting in the second backboard he has broken on Sunday.At 6-foot-9 and 235 pounds, Harrell is widely regarded as one of the most athletic and expolosive big guys in college...
Louisville sophomore forward Akoy Agau will miss about six weeks after having sports hernia surgery, the school announced on Tuesday. Gary Parrish of CBS Sports first reported the news. Agau's injury occurred about three weeks ago during workouts. The 6-foot-8 forward played in 19 games for the Cardinals last season as a freshman, averaging 0.9 points and 1.1 rebounds in...
Louisvilleā€™s Montrezl Harrell could have easily left for the NBA after his sophomore season. The 6-foot-8 forward, who averaged 14 ppg and 8 rebounds last season, showed he has quite a bit of power during a summer league game. Louisville's Montrezl Harrell breaks a backboard during a summer league game at woodward high school. pic.twitter.com/kVjjwEIljQ [ā€¦] The post Louisvilleā€™s...
Photo | 247 Sports When referring to the top targets for Rick Pitino and his staff in the 2015 class, Donovan Mitchell isnā€™t a name youā€™ve been hearing for very long. But the New York City native has had a sensational summer and the Louisville staff took notice. Heading into the July open contact periods it appeared that the staff had identified which prospects they would heavily...
Photo | Nike EYBL If you follow Louisville basketball recruiting then youā€™re well aware of who Antonio Blakeney. The Florida native was one of the first prospects from the 2015 recruiting class that picked up a scholarship offer from Louisville. Heā€™s been a top target for Pitino and staff for the past year. With two commitments now on board for Louisville, the staff has now shifted...
Photo | 247 Sports With two seven-footers brought in with the 2014 recruiting class, the center position wasnā€™t thought to be a top priority for Rick Pitino and his staff in 2015. At the moment, Louisville has two commitments ā€" small forward Deng Adel and power forward Ray Spalding. The staff has shifted a lot of their attention to five star shooting guard Antonio Blakeney. While...
Some people choose to spend their summer months catching up on missed TV shows, hitting up concerts or traveling to the beach. Others enjoy spending this time abusing elaborate contraptions so thoroughly that their glass portion is shattered and they can never be utilized again. One of the members of this exclusive summer group plays basketball for the Louisville Cardinals. Louisville...
2015 5-star shooting guard Antonio Blakeney cut his list to seven schools Monday. Making the cut were the Kentucky Wildcats and Louisville Cardinals, as well as Florida State, Oregon, USC, Missouri and LSU. My final 7 : FSU, Louisville , Mizzou, Kentucky , Oregon , LSU and USC . No order . Thanks to all [ā€¦]
22-year-old student Danielle Cogswell, a former junior Olympian and Louisville Cardinals cheerleader, was found dead in the Cardinal Towne apartment complex on Monday morning. In...
Cardinals News

Delivered to your inbox

You'll also receive Yardbarker's daily Top 10, featuring the best sports stories from around the web. Customize your newsletter to get articles on your favorite sports and teams. And the best part? It's free!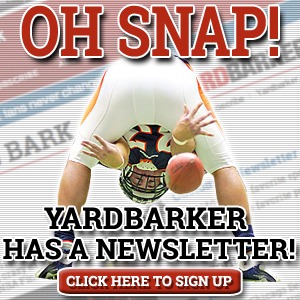 Latest Rumors
Best of Yardbarker

Today's Best Stuff

For Bloggers

Join the Yardbarker Network for more promotion, traffic, and money.

Company Info

Help

What is Yardbarker?

Yardbarker is the largest network of sports blogs and pro athlete blogs on the web. This site is the hub of the Yardbarker Network, where our editors and algorithms curate the best sports content from our network and beyond.