MILWAUKEE When Marquette University hired Buzz Williams to replace Tom Crean as head basketball coach in 2008, there were plenty of people experts, observers, pundits, even university officials who raised an eyebrow and asked themselves "who?" Not many people are asking that question anymore. For everything that Crean was, Williams most certainly is none of those things. Crean was one part basketball coach, one part marketing agency, one part cheerleader. Williams, on the other hand, is a gym rat, a guy who's spent a majority of his professional career climbing the coaching ladder with assistant positions at a number of smaller schools, the kind that dot the nonconference schedules of big time programs across the country. Williams' road to Marquette is well-documented. His career began as an assistant coach with stops at Oklahoma City, Texas-Arlington, Texas A&M-Kingsville, Northwestern State and Colorado State before he landed a position on Billy Gillespie's staff at Texas A&M. That track record and history has helped reinforce a feeling of humility within Williams. Getting him to talk about himself isn't the easiest thing in the world. But when he does, there isn't so much as a hint Williams is the head coach at a high-major collegiate program, much less one ranked 11th in the country with a 10-0 record. In short, he defies the stereotype of the typical college coach, whatever that may be. "It's because I'm not," Williams said. "I grew up in a country town of 1,200 people. I knew that I loved to compete and that I loved to be around coaches. I knew that I was just average at best as a basketball player and I always dreamed; I still do today. I'm 39, I still have dreams. But I never dreamed about being the head coach at Marquette. I don't view myself as a big-time college coach because that's not what I want to be about." For Williams, being a college coach is about more than designing plays and dissecting game film and stat sheets. In his eyes, it's about life. Relating life to young men through a game. So while some coaches adopt the corporate image, handling the position more like a CEO, and others go for the intense, X's and O's-driven approach, Williams tends, as he has done with his career, to take the road less traveled. It's not uncommon for Williams to email his players some sort of inspirational message, based on his life and experience. It's also not uncommon for Williams, in the middle of practice, to segue from the game plan to teach a life lesson or two.In some ways, the players he brings are are a reflection of the way he came up through the ranks. And when he's out recruiting, Williams says that basketball-related topics are far down the order of priority when talking with prospective players and their families."If they ask me a question, I'll answer it," Williams says. "But style of play, being able to play right away ... I don't talk about that. That's not to say those factors aren't important, they're just not the most important thing to me."When I talk to kids or parents, I talk about life. Even when they get here ... we work every day. I coach them on the floor but 92 percent of my relationship with those kids and their parents is based on life, not basketball. I think that's the way it should be." That personality and approach has created a bond his players say is very special. Junior guard Junior Cadougan, especially, feels the connection with his coach. Cadougan was forced to miss the first 18 games of freshman season when he suffered a ruptured Achilles' during fall conditioning. That Williams stood by him and gave him the chance to contribute when healthy has left a lasting impression on the Toronto native. "Since the day I got here, he said we are going to have a special story," Cadougan said. "He could just have forgot about it and went on, but he was really doing the right thing by pushing me and pushing me harder to get my mindset ready ... Coach Buzz is a great person. He knows what he's doing now to prepare you for the future." Williams proudly displays a magazine cover in his office, featuring a photo of Cadougan, with a message of love and admiration from his young guard. It's almost like a father-son relationship, a sentiment both sides share. "I'm a single-parent child," Cadougan said. "My father has passed away, and Coach Buzz has always been there for me. He's got hard core love for me. He's going to tell me what I'm doing wrong. It's a heart-to-heart relationship that I can't really describe." That fatherly love was evident when Cadougan was held out of the Golden Eagles' Dec. 3 game at then-No. 7 Wisconsin for an undisclosed violation of team rules. When describing the situation to reporters after Marquette's 61-54 victory, Williams sounded like a disappointed father after having to ground one of his own children. "Junior is not my biological son, but in many respects he is my son," Williams said at the time. "And the thing that I told his mom -- he's from a single-parent household outside of the country (Ontario, Canada) -- as I was eating in her house in September of Junior's senior year is that I was committed to making sure that I held him to the same standards that she did as she raised him as a single mom. "He made a mistake yesterday, and my decision was to suspend him from this game. That's the end of it. He made a mistake that was not intelligent in nature. It did not hurt anyone, but it was not how his mom raised him, and the commitment I made to her was that I was going to continue to hold him to that same standard." For all of Williams' good personality traits, it's important to recognize that he's a pretty darn successful basketball coach. He finally got his opportunity to be a head coach in 2006, when he was hired at the University of New Orleans. Williams spent just one season with the Privateers before stepping down. It was a difficult decision, Williams admits, and one that many at the time thought was a horrible career move. Today, the athletic program at New Orleans is in the process of dropping from Division I to Division II and for a time, considered moving all the way down to the non-scholarship Division III level. In retrospect, the decision to leave makes Williams look pretty smart. But he had no idea what was coming in the future, both at New Orleans and his own professional path. The decision, he says, came down to the simple fact that he didn't feel the job was right for him and his family at the time. "It just wasn't right in my soul," Williams says. "I think that's the thing. You can't make decisions based on five years from now. I had no idea. I left that job not knowing if I was ever going to have a chance to be a head coach again." He got that chance much sooner than anyone could have expected. After accepting an offer to join Crean's staff at Marquette, he was the unlikely choice to move up to the top spot when Crean departed for Indiana in spring 2008. Since taking the reins at Marquette, his teams have gone 79-36 (32-22 in Big East play) and advanced to the NCAA Tournament in each of his three seasons including a trip to the Sweet Sixteen last March. His accomplishments have been significant enough that other programs have started to take notice. Over the summer, his name was linked to openings at high profile schools like Oklahoma, but ultimately Williams and Marquette came to an agreement on a new contract that would keep him on Wisconsin Avenue for years to come.Should he keep winning, more will notice. More will have an interest. More will want to offer him money, prestige, titles and all the bells and whistles. Which brings us to the million dollar question: what does the future hold for Williams?If you expected an easy answer, or even a stock answer, well haven't been paying attention."I'm not oblivious to what's being said, I don't live in a cave," Williams says. "But that's not why I do this. That does not mean I'm a prophet and can say I'll work here 25 years."I make decisions based on my heart and all the evidence that I've studied. Sometimes, in this industry, you make decisions based on public opinion. I just don't necessarily subscribe to all of that."
Original Story:
http://www.foxsportswisconsin.com/12/...
MORE FROM YARDBARKER
Golden Eagles News

Delivered to your inbox

You'll also receive Yardbarker's daily Top 10, featuring the best sports stories from around the web. Customize your newsletter to get articles on your favorite sports and teams. And the best part? It's free!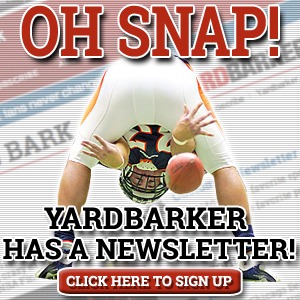 Latest Rumors
Best of Yardbarker

Today's Best Stuff

For Bloggers

Join the Yardbarker Network for more promotion, traffic, and money.

Company Info

Help

What is Yardbarker?

Yardbarker is the largest network of sports blogs and pro athlete blogs on the web. This site is the hub of the Yardbarker Network, where our editors and algorithms curate the best sports content from our network and beyond.