Javon McCrea has grown each year at Buffalo (Photo/ Buffalo Bulls Athletics) It's a two horse race for player-of-the-year honors in the Mid American Conference and it's clear who the two stallions are. D.J. Cooper of Ohio and Javon McCrea of Buffalo. Some believe the honor should go to Cooper, the three time All-MAC first team member.  He did break Ohio's three-point record this season along with becoming the first player in NCAA history to record 2,000 points, 900 assists, 600 rebounds, and 300 steals.  The senior from Chicago is averaging 14.2 points, 7.2 assists, and 3.3 rebounds per game this year as his Bobcats are the number two seed in this week's MAC tournament. Throw the numbers away.  Toss the statistics in the garbage.  And forget the records.  Javon McCrea is the best player in the Mid American Conference and has done everything to deserve the player-of-the-year award. When asked if McCrea was the best player in the conference, Bulls' head coach Reggie Witherspoon had a simple answer. "Absolutely," Witherspoon said.  "It's not just my words saying that, he's been the one out there playing.  And I think that the coaches know that and I think the players know that.  Javon is the most valuable player in the conference." It's clear that McCrea is on a below-average team as the Bulls finished the regular season with a 12-19 overall record.  That speaks even more to what McCrea has been able to do this year. The junior is averaging 17.9 points, 7.9 rebounds, 2.0 assists, and 2.7 blocks per game this season on a mediocre team.  It's tough for a team to get their star player the ball when the defense knows exactly what they're trying to do.  But McCrea finds a way, game in and game out to get his hands on the ball and make things happen. Teams can double him, and sometimes even triple-team him, but McCrea will just bully his way to the basket and make something out of nothing. There is something to said for Cooper's ability to bail his team out with deep three after deep three in what seems like every other game.  But look who he has around him.  They're a team who went to the "sweet 16″ last year and took down the likes of Michigan and South Florida in the process. The Bobcats are an above average team with an above average supporting cast around Cooper.  They had three players make one of the all-MAC teams this year compared to just McCrea from the Bulls. Walter Offutt, an Ohio senior guard is a transfer from Ohio State where he played for two years.  Junior forward Jon Smith is a transfer from Saint Louis University of the Atlantic-10. An underrated part of any team is experience.  Ohio starts four seniors and a junior while the next four players averaging the most minutes per game are all juniors. The Bulls contrarily start a freshman, a sophomore, two juniors, and a senior.  The next four players for Buffalo in terms of average playing time consist of two juniors and two sophomores. What all that means is simple.  If Ohio didn't have Cooper, sure they wouldn't be as good and may not have won 20-plus games three of the past four seasons, but it's safe to say that they would manage. Without McCrea, the Bulls would be lost.  McCrea means as much to his team as anyone in the country. When a team prepares for Ohio, they have to prepare for Cooper, along with all the other weapons they have on both ends of the floor.  When you go up against Buffalo, the objective is simple… Stop Javon, and most times you'll come out with a victory.  But it's not often anyone does actually stop him. "Partly why we didn't want to play Buffalo was because of Javon McCrea," said Central Michigan head coach Keno Davis following his team's loss to the Bulls Monday night in the opening round of the MAC tournament.  "We don't have anyone that can defend him… He kept working.  He kept fighting, and in the second half, got some open looks, knocked down some jump shots." In the win, McCrea scored 21 points, grabbed eight rebounds, and blocked four shots. If those arguments aren't enough, lets dig deeper into the statistics that so many praise Cooper for. Cooper is averaging 14.2 points this year which ranks ninth in the conference.  McCrea is averaging 17.9 points which ranks third, and just 0.8 points behind leader Kyle Randall.  For the non-math majors out there, the Buffalo big man is scoring 3.7 points more per game than Cooper. Now, let's compare apples to apples here and as we all know, a point guard's main job is to assist while a forward's is to rebound.  Having said that, comparing McCrea's assist numbers to Cooper's or Cooper's rebounds to McCrea's, serves no purpose. McCrea is averaging 7.9 rebounds this year while Cooper is dishing out an average of 7.2 assists. McCrea has improved to shoot 70 percent from the line this season (Photo/ Johnathan Snyder, QCS) Cooper had five double-doubles this season while McCrea had ten.  Cooper scored in double-figures 23 times while McCrea did it in all but two games, 30 times.  McCrea scored 20-plus points twelve times this year while Cooper did just five times. Need more? McCrea blows Cooper away in field goal percentage as his 56.8 percent trumps Cooper's 42.9.  McCrea turns the ball over less per game as well (3.0>3.5).  The 6'7″ junior also ranks second in the conference and 17th nationally with 2.7 blocks per game. Cooper's team wins more games than McCrea's but it isn't because McCrea isn't as effective.  He's missing his starting point guard, Jarod Oldham, who has been out for the past two months with a broken wrist and in result, the big man has helped with the development of freshman Jarryn Skeete. McCrea has transformed his game from simply a power player to a man's man who can shoot the 18-foot jump shot, rebound on both ends of the floor, and bully his way to the rim. When McCrea gets the ball in the post, you don't have to just guard against him going to the basket.  He has added post moves to his arsenal as well as the improved ability to pass out of the post.  He's had 11 games this year with at least three assists. McCrea's biggest accomplishment of the year may have been scoring 26 points on March 2nd as he led his Bulls to defeat 24th ranked Akron, a team Cooper is 0-2 against this year.  That was Buffalo's first win over a ranked team in program history. McCrea's free throw percentage has even improved dramatically.  He was just under 56 percent last year and has seen a 14 percent increase as he is shooting 70 percent from the line this year.  McCrea tops Cooper in that category as well with Cooper shooting 68 percent from the line. Even Ohio's coach had praise for UB's star.  "McCrea's game got a little bit layered to me this year," said Jim Christian. "As the year went on, he started making jump shots and putting the ball on the floor. He became a harder guy to stop. He's as good a post player as I've seen in my 10-11 years in this league." McCrea's teammate, senior guard Tony Watson says "Javon's the most dominant player in the conference." The MAC has two great players, but only one 2013 conference player-of-the-year… and that should be Javon McCrea.   Feature photo courtesy of UB Athletics The post McCrea's Dominance Speaks for Itself appeared first on Queen City Sports.
Original Story:
http://queencitysports.net/college/mc...
MORE FROM YARDBARKER
College Basketball News

Delivered to your inbox

You'll also receive Yardbarker's daily Top 10, featuring the best sports stories from around the web. Customize your newsletter to get articles on your favorite sports and teams. And the best part? It's free!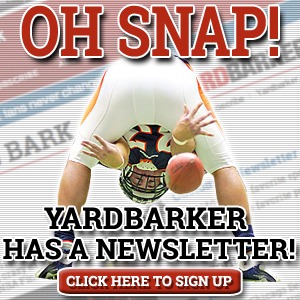 Latest Rumors
Best of Yardbarker

Today's Best Stuff

For Bloggers

Join the Yardbarker Network for more promotion, traffic, and money.

Company Info

Help

What is Yardbarker?

Yardbarker is the largest network of sports blogs and pro athlete blogs on the web. This site is the hub of the Yardbarker Network, where our editors and algorithms curate the best sports content from our network and beyond.