Found October 16, 2013 on SCACC Hoops:
PLAYERS:
Shane Larkin
,
Kenny Kadji
,
Reggie Johnson
,
Durand Scott
,
Trey McKinney-Jones
,
Julian Gamble
,
Rion Brown
,
Garrius Adams
,
Erik Swoope
,
Tonye Jekiri
,
Steve Sorenson
,
Raphael Akpejiori
,
Justin Heller
,
Angel Rodriguez
,
Donnavan Kirk
,
Bishop Daniels
TEAMS:
Miami Hurricanes
,
Boston College Eagles
,
Georgia Tech Yellow Jackets
,
Kansas State Wildcats
,
DePaul Blue Demons
,
Florida State Seminoles
,
North Carolina State Wolfpack
,
Virginia Tech Hokies
Our ACC basketball previews continue today with the Miami Hurricanes. The Canes are seeing significant turnover in their roster and are looking to rebuild. ACC Season Previews Boston College |  Clemson |  Duke |  FSU |  Georgia Tech |  Maryland |  Miami Miami Season Preview Record Last Season 29 - 7, 15 - 3 ACC Players Lost Shane Larkin, Kenny Kadji, Reggie Johnson, Durand Scott, Trey McKinney-Jones, Julian Gamble  New Players DeAndre Burnett, Cornelius Elder, James Kelly, Davon Reed, Sheldon McClellan, Mike Fernandez, Manu Lecomte Projected Lineup DeAndre Burnett, Rion Brown, Garrius Adams, Erik Swoope, Tonye Jekiri  Schedule Highlights 11/18 @ College of Charleston, 11/21 vs Central Florida, 11/28 @ George Washington, 12/4 at Nebraska Miami Schedule Miami Scouting Report Projected Statistics (Returning Players Only) Explanation of Statistic Projections   Name Pts Asts Rbds Stls Blks TOs % Correct  Rion Brown 8.3 1.6 3.0 0.8 0.2 1.6 80  Garrius Adams 6.8 1.3 3.3 0.8 0.4 1.2 81  Tonye Jekiri 4.6 0.7 2.7 0.3 0.5 0.8 94  Erik Swoope 4.5 0.7 3.7 0.5 0.7 1.0 89  Steve Sorenson 3.6 0.8 0.7 0.3 0.0 0.6 98  Raphael Akpejiori 3.2 0.3 2.4 0.3 0.7 0.7 92  Justin Heller 1.0 0.3 0.9 0.3 0.0 0.3 99 Things to Watch After the best season in Coral Gables in a long time, Jim Larrañaga will oversee a complete rebuild of Miami in 2013-2014.  Losing the top six scorers from a conference champion will be tough, but Larrañaga is one of the few coaches that can handle such a task.  Rion Brown is the only player who started a game last year (only six) and one of only two players who played in at least 34 games.  An amalgam of transfers, recruits, and returnees will have to meld quickly to get the Canes back to the postseason. Backcourt The Hurricanes have numbers in the backcourt, but are proceeding without a set option at point guard.  Originally, it looked as if Kansas State transfer Angel Rodriguez would be a perfect fit.  However, they are not pursuing a waiver to clear him immediately due to a lingering injury.  Now it appears that redshirt senior Garrius Adams and freshmen DeAndre Burnett, Manu Lecomte, and Cornelius Elder will attempt to run the team.  Adams is more of swingman, but may see some time at the point to give the Canes a big lineup.  He sat last season out.  Burnett is a shooter and could provide a scoring threat at the point of attack.  Elder is on a football scholarship, so it is unknown how ready he will be for minutes once the football season ends.  Lecomte is a bit of an unknown coming from Belgium.  If the committee approach can be reasonably effective, Larrañaga will be pleased. The wing positions are more settled, with Brown all but having a starting spot locked up.  Brown took advantage of not being the focus of defenses last year, but will need to improve his shooting as he will likely draw the opposition's best perimeter defender.  The senior averaged 6.4 points in 22 mi Utes a season ago.  Freshman Davon Reed will see time along with Adams at the 2 and 3 positions.  Reed was well-regarded as a high school senior, but is not expected to be an immediate star. Frontcourt This is the area that Miami will feel the attrition the most. The impact of the losses of Kenny Kadji, Julian Gamble, and Reggie Johnson can not be overstated.  The only two returning players who saw action in more than half of the games for last season's Sweet 16 squad are sophomore center Tonye Jekiri and senior forward Erik Swoope.  They combined for 3 points in 12.9 minutes per games.  Jekiri in particular will need to make major strides offensively, but brings defensive and rebounding skills.  If he can give the Canes 25 minutes or more as a scoring threat, they could surprise.  Swoope is an undersized power forward who has a chance to shine in his final season in green and orange.  Raphael Akpejiori is a senior who only saw 81 minutes last season.  He will likely spell Jekiri and occasionally pair with him for a massive front line.  DePaul transfer Donnavan Kirk will see time at power forward along with Swoope and junior college transfer James Kelly.  Kirk was not a scorer during his time in Chicago, but will help provide depth and versatility in the post.  Kelly may end up starting in an attempt to get some scoring from the big men. Schedule For a rebuilding team, having a winnable non-conference schedule is key. Fortunately for the Hurricanes, that is in place this year.  With the exception of the Wooden Legacy Tournament, the Canes could be favored in every game before conference play starts.  Nebraska and Central Florida highlight those games, and a potential matchup against Marquette in the tournament will be their biggest test.  In conference play, things will get a little tougher as Miami will see Florida State, NC State, Syracuse, and Virginia Tech twice. Prediction While there is very little chance the Larrañaga's squad will repeat their championship performance of last season, there is hope for postseason play in 2014.  Brown and Adams could be in line for breakout performances, but they will need help from the newcomers.  While an NCAA tournament trip is asking too much, with a veteran coach and a successful system in place, I expect the Canes to grow throughout the season and perhaps end up in the NIT.  A finish of anywhere from 8th to 12th in the ACC is likely. by Matt Purdy @UMWolfpack87 Fantasy Player to Watch There is no one on the roster with a proven history, but Rion Brown has to be the frontrunner for best fantasy player.  He will likely provide double digit scoring due to his perimeter shooting ability.  With good size for his position, he should improve his 2 rebounds per game from last season.  Others that could be late round pick ups are Garrius Adams and DeAndre Burnett. Last Year's Player Statistics Miami Name GP Mins Pts Asts Rbds Stls Blks TOs FG% 3P% FT%  Shane Larkin  36  36.4  14.5  4.6  3.8  2.0  0.1  2.3  47.9  40.6  77.7  Kenny Kadji  36  29.1  12.9  0.8  6.8  0.4  1.3  1.8  47.1  35.1  66.1  Durand Scott  33  34.6  13.1  2.6  4.0  1.5  0.1  2.0  45.3  35.3  75.2  Trey McKinney-Jones  36  30.3  9.2  1.6  3.4  0.8  0.0  0.9  41.3  39.3  85.1  Julian Gamble  36  20.4  6.5  0.2  4.9  0.4  1.8  0.8  57.6  0.0  48.1  Rion Brown  36  22.2  6.4  0.8  2.0  0.4  0.1  0.6  36.7  29.2  74.5  Reggie Johnson  26  21.3  6.7  0.8  7.0  0.4  0.9  2.2  38.0  10.0  67.8  Tonye Jekiri  34  6.9  1.4  0.1  1.6  0.2  0.3  0.3  51.4  0.0  55.0  Erik Swoope  25  6.4  1.7  0.1  1.3  0.2  0.1  0.1  64.3  100.0  31.6  Raphael Akpejiori  18  4.5  0.6  0.1  1.1  0.2  0.2  0.2  35.7  0.0  33.3  Justin Heller  9  1.2  0.2  0.2  0.4  0.0  0.0  0.2  33.3  0.0  0.0  Steve Sorenson  8  1.3  0.1  0.0  0.0  0.0  0.0  0.4  0.0  0.0  33.3  Bishop Daniels  3  16.7  5.0  1.0  1.0  2.0  0.0  1.3  45.5  100.0  100.0 Team Stats Widgets Add these Widgets to YOUR Site
Original Story:
http://www.scacchoops.com/tt_NewsBrea...
THE BACKYARD
BEST OF MAXIM
RELATED ARTICLES
Joseph Yearby (5'10/195) is a 5-Star running back prospect from Miami Central High School in Florida. He is committed to play college football for the Miami Hurricanes. Here is a look at him in action against Homestead.
On paper, a 1-4 UNC team on the brink of disaster should be no problem for No. 10 Miami (5-0). The Hurricanes have athletes all over the field on both sides of the ball, particularly on offense where seemingly anyone can take it the distance at any given moment in a game. UNCs defense, meanwhile, has been ... well, it's been bad. Particularly the passing defense. The Tar Heels...
The Miami Hurricanes have plans to "Light Up The Darkness" on Thursday against North Carolina, while the Tar Heels have coined the day "Zero Dark Thursday."
When I was traveling with the team (1999-2008), we always used to say that ESPN set up the Thursday night games for the road favorite to run into a buzz saw. It happened a few times for Miami: in 1996 against Pitt, in 2008 against Georgia Tech. In 2011, Miami lost to Virginia at Sun Life Stadium. I digress. ESPN loves Miami. A matter of fact, Thursday night's game will be the 75th...
getty images The No. 10 ranked Miami Hurricanes hit the road on Thursday to take on a fellow ACC opponent in the North Carolina Tar Heels. At 5-0 things are looking up for Miami while 1-4 North Carolina will be hoping to be stumbling block. Coverage of the game between the Miami Hurricanes and North Carolina Tar Heels will air on ESPN and WatchESPN beginning at 7:30 pm ET from Kenan...
CaneInsider has learned that freshman fullback, Walter Tucker, has a high ankle sprain and will miss at least a week including Thursday night's game at North Carolina.  The University of Miami Football Communications office released the official injury report Tuesday afternoon listing Tucker as "out" for the UNC contest.  The true freshman was providing much needed depth...
Miami Hurricanes vs. North Carolina Tar Heels football preview and predictions. Who wins this Thursday night ACC showdown?
The Miami Hurricanes blocked a North Carolina field goal attempt, which Gus Edwards returned for a touchdown.
Miami Hurricanes coach Jim Larranaga hopped into a photobooth, put on some funny glasses, and dominated the 2013 ACC Media Days.
The NFL is loaded with former Miami Hurricanes. Read on for the Week 6 report on how those players performed over the weekend.
College Basketball News

Delivered to your inbox

You'll also receive Yardbarker's daily Top 10, featuring the best sports stories from around the web. Customize your newsletter to get articles on your favorite sports and teams. And the best part? It's free!
THE COLLEGE BASKETBALL HOT 10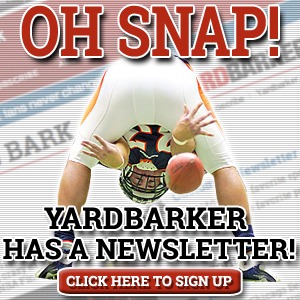 Latest Rumors
Best of Yardbarker

Today's Best Stuff

For Bloggers

Join the Yardbarker Network for more promotion, traffic, and money.

Company Info

Help

What is Yardbarker?

Yardbarker is the largest network of sports blogs and pro athlete blogs on the web. This site is the hub of the Yardbarker Network, where our editors and algorithms curate the best sports content from our network and beyond.