Found May 15, 2012 on Fox Sports Ohio:
Editors note: This is the fourth in a series examining top prospects in the NBA Draft. Profiles are based on conversations with NBA general managers and scouts. Perhaps no player will help or hurt his draft stock at the Chicago combine and during individual workouts than Bradley Beal. Right now, scouts have Beal being selected anywhere from third to seventh in the draft. They love his smoothness and explosiveness, and think hell be an even better perimeter shooter once he gets to the pros. What concerns them, it seems, is his height -- or more specifically, if hell be able to shoot over taller and at least as athletic defenders in the pros. Thats where all the pre-draft stuff comes into play. The first order of business will be to see if Beal is truly 6-foot-3, as listed in the University of Florida media guide. Of course, that may be the result of the Florida athletic department listening to NBA scouts -- who place Beal anywhere from 6-2 to 6-5. So maybe the Gators just decided to stick him somewhere in the middle. Not really, but you get the idea. No one seems to have an accurate reading on Beals actual height. Theres a good way to solve that, and thats to measure him, said one NBA scout. Im sure well know in a few weeks. But does it really matter that much. After all, if a guy can play, what difference does it make? As for the question if matters, well, yes and no, said another scout. If he really is closer to 6-2, of course there will be some concern. Most (NBA shooting guards) are closer to 6-5 or even 6-7. Except for (New Orleans) Eric Gordon, and I think we can all agree that hes pretty good. As for the facts, it appears Beal could be, too. He averaged 14.8 points per game in his lone college season, shooting 45 percent from the field. Most of those attempts came from the perimeter -- although he was only 34 percent beyond the college 3-point arc. Overly impressive? Hardly. But when it comes to Beal, you have to look beyond the numbers. For one, the kid is hardly a gun. He more often passes to the open and man, and for a shooting guard, can create as much offense for others as he does himself. For another, he takes care of the ball, making good decisions and rarely forcing anything. When he keeps the ball, hes athletic enough to get to the rim. Basically, Beal is the type of talent that can take over in a pinch, but doesnt mind sharing the ball and trying to stroke it from the outside when its hios turn to shoot. Hes pretty sturdy with a solid frame, and pretty fluid, said a GM. Offensively, I dont think hell have many issues. But defensively? That might be another matter, the GM said. Hes not going to be a stopper, and thats OK. But what you dont want him to become a hindrance. Im sure well learn more about that, and other things, once we get closer to the draft and start delving into the individual workouts. For Beal, thats not so bad. If hes as good as we think he is, hell do just fun, the GM said. Then no, how he measures wont matter. Bradley Beal File Height: 6-3 Weight: 207 pounds Position: Shooting guard Date of birth: 6-28-1993 (18 years old) Hometown: St. Louis High School: Chaminade Prep College: Florida Follow Sam Amico on Twitter @SamAmicoFSO
Original Story:
http://www.foxsportsohio.com/05/15/12...
THE BACKYARD
BEST OF MAXIM
RELATED ARTICLES
One day after the Florida Gators added wide receiver Marqui Hawkins to their 2013 recruiting class, another pass catcher said his interest in the orange and blue is waning. Seffner, FL (Armwood) WR Alvin Bailey would have committed to Florida at one time, but now he's not nearly as sure. Without an offer from the Gators, Bailey seems close to eliminating them from his list of possibilities...
The Florida Gators continued their faster than usual pace through the 2013 football recruiting cycle. Historically an equal player throughout the entire cycle, Florida has slightly changed gears under head coach Will Muschamp who has brought with him a philosophy of filling the class early. On Monday, Columbus, GA (Carver) wide receiver Marqui Hawkins became the latest member of...
The Florida Gators' baseball team rose two spots in the USA Today/ESPN Top 25 Coaches' Baseball Poll after a 3-1 week. The Gators three wins were all unnervingly close, but enough to help the rise in the poll. The two programs higher than 38-14 Florida in the top 25 are the 40-10 Florida State Seminoles and 38-13 South Carolina Gamecocks. Interestingly enough – and a little...
Via @MikeEfffThe Simpsons dropped two Florida Gators references last night and we are here to give you the video in case you forgot to DVR the show.S-E-C! S-E-C! S-E-C!
Crescent City, FL (Crescent City) defensive tackle Caleb Brantley was the second member of the Florida Gators' 2013 recruiting class behind only Winter Haven, FL (Winter Haven) running back Adam Lane. While confident in his decision at the time, recent events have led to numerous questions over the level of his commitment. A big body with speed for his size, the Gators are looking...
Florida Gators' defensive tackle Leon Orr has had a rough start to his college experience. While learning in the classroom and on the practice field, Orr's extracurricular activities have gone down a different path. On Monday, Orr was cited for driving without a license. The citation marks the fifth time Orr has found himself in some sort of trouble with the law in less than...
The Gators 2013 recruiting class grew to 16 on May 14, when 3-star wide receiver/ cornerback Marqui Hawkins committed. The 6'2″, 190-pound Columbus, Georgia product will likely play wide receiver and joins Ahmad Fulwood and Rodney Adams, as the third … Continue reading →
Via @MrLrgJack_44Leon Orr is a defensive lineman for the Florida Gator football team and he can be seen on the left peeing on that FSU truck. The most newsworthy thing that he has done, other than this photo, was getting four misdemeanor charges in a 15 month span. Leon Orr was recently cited for driving without a license this Monday which will probably be a violation on his deferred...
The No. 3 Florida Gators saw the return of their offense on Tuesday night against the Samford Bulldogs, but it wasn't enough. Florida (38-15) scored seven runs in the game, but couldn't overcome Samford's (34-19) hot start and fell to the Bulldogs 12-7. The Gators would struggle through the first four innings of the game, not recording a single hit. By the time their bats started...
The No. 5 Florida Gators baseball team only scored six runs over their three-game weekend series with the Mississippi State Bulldogs, but they were enough to propel the Gators to two victories to take the series. It's not often that you score six runs in three games and outscore your opponent, but that's just what happened as Florida's six beat out Mississippi State's four...
The Florida Gators went into one of the most talent rich schools in the southeast and came away with a prospect that has been high on their board for quite some time. Columbus (GA) Carver athlete Marqui Hawkins tells Jason Higdon he will be a Gator and committed to Will Muschamp and staff on Monday.
Auburn is looking to win the series vs. the Florida Gators to finish off the 2012 regular season with a bang heading into the SEC Tournament.
Gators News

Delivered to your inbox

You'll also receive Yardbarker's daily Top 10, featuring the best sports stories from around the web. Customize your newsletter to get articles on your favorite sports and teams. And the best part? It's free!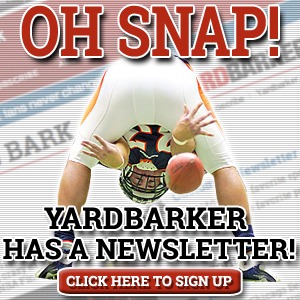 Latest Rumors
The Backyard

Today's Best Stuff

For Bloggers

Join the Yardbarker Network for more promotion, traffic, and money.

Company Info

Help

What is Yardbarker?

Yardbarker is the largest network of sports blogs and pro athlete blogs on the web. This site is the hub of the Yardbarker Network, where our editors and algorithms curate the best sports content from our network and beyond.