Found April 29, 2013 on NorthWest Sports Beat:
High Flying Ducks College basketball recruiting can be confusing. With signings occurring during two different periods (one before the season and one after), it can sometimes be hard to track what players have signed, what players have committed, and what players are still interested in your favorite collegiate program. Luckily for us college sports fans, recruiting sites such as Scout, Rivals, and ESPN exist. Dedicating plenty of time and effort to cultivate all the information that will be valuable in assessing where a program could be headed in the future, these sites make it easy for writers (like me!) to break down recruiting classes and take a peak at what lies ahead. Taking a look at the Oregon Ducks' recruiting class, they have already signed seven players (if you include Tyree and Tyrell Robinson as basketball players as well as football players) and apparently still in the running for Anthony January, Jabari McGhee, and Brandon Rosser. Though they did miss out on five-star Aaron Gordon, the Ducks' recruiting class is still a very good one that will bring in several players who will compliment the likes of Dominic Artis, Damyean Dotson, and Ben Carter.  Here's a quick look at who has signed with the Ducks so far. Jordan Bell – PF – Long Beach, California These players will get to grace the fans at Matthew Knight Arena. One of the headlines of Oregon's class, Jordan Bell is one of the top-ranked power forwards who should help to lessen the blow of losing both Arsalan Kazemi and Tony Woods. While still young, he is a great shot blocker and can command the defensive game if asked to. He will help the Ducks keep their pace of being a decent rebounding team while giving them a stronger inside presence for years to come. Though he has to work on developing his shot and making baskets other than layups and putbacks, he has the tools to develop into a dominant player for the Ducks. A.J. Lapray – SF – Salem, Oregon An in-state grab for the Ducks, Lapray can either play the small forward position or shooting guard, giving the Ducks a nice mix of perimeter shooting and speed in transition. He will most likely fit best as a sub-in for Artis or Dotson while giving the Ducks somewhat of a replacement for E.J. Singler. Tyree Robinson and Tyrell Robinson- SG – San Diego, California As mentioned earlier, it will be interesting to see just how much playing time Tyree Robinson and his brother Tyrell, will see on the court for the Ducks. Football standouts, they are both shooting guards who can explode to the inside and really drive to the hoop. Look for them to redshirt their first year with the Ducks before figuring out just how involved they will be with the team. Cristiano Felicio – PF – Brazil There may still be some doubt as to whether or not Cristiano Felicio will be able to play at Oregon (his high school in Brazil is in question), but if he does manage to find his way to Eugene, he will be a valuable asset for the Ducks. Standing at 6'9″, this power forward has the size to dominate his college competition while helping the Ducks continue to build one of the more versatile insider presences in all of college basketball. Let's hope he can find a way to get cleared to play at UO. Jalil Abdul-Bassit – SF – North Idaho College Jalil Abdul-Bassit is one of the two junior college recruits the Ducks have had sign to their 2013 recruiting class. Classified as a small forward/guard by some sites, he boasts a big frame and is an under-the-radar kind of player that can rack up the points. He was a great find for the Ducks, who received his commitment over schools such as Idaho, Portland, Utah, and Washington. Elgin Cook – SF – Northwest Florida State College Oregon landed quite the recruit when they managed to sign Elgin Cook. With NBA blood in his body, Cook is one of those players who creates nightmares for other players. A versatile small forward, Cook can wreak havoc on bigger guys with his play from the perimeter while dominating smaller players by driving to the inside. With schools like Gonzaga, Arkansas, Illinois, New Mexico, South Carolina, TCU, and VCU going after him, Cook will likely make an immediate impact for the Ducks while helping to continue building a solid basketball program under Dana Altman. Though there still are a few players considering the Ducks, the players that have already signed/committed to the program are more than enough to give Oregon an edge in Pac-12 play next year. CLICK HERE CHECK OUT THE DUCKS BLOG IN OUR CLUBHOUSE TODAY AT NWSB!  
Original Story:
http://www.nwsportsbeat.com/oregon-sp...
THE BACKYARD
BEST OF MAXIM
RELATED ARTICLES
For winning the 2013 Fiesta Bowl, the Oregon Ducks were awarded these phat championship rings.
On Tuesday, the Oregon Ducks football team received their rings for winning the Fiesta Bowl and it is pretty sweet.  Not only that, but unless the person holding the ring has tiny hands, that is one big ring.  I wonder how big the Alabama Crimson Tide's National Championship rings will be. [@ESPNCFB]  
Offense Galore Oregon officially wrapped up spring drills with their annual spring football game on Saturday in a contest that gave fans an opportunity to watch Mark Helfrich orchestrate the Ducks for the first time. And boy was it a show. Giving points for both offensive and defensive achievements, the Oregon offense looked in usual form as they overpowered the Oregon defense by...
If PAC-12 opponents allow the Oregon quarterbacks to wear red jerseys, and they start three walk-ons and six freshmen on defense, the Ducks will have a dominating offense this season. Yesterday under the always-sunny skies at Autzen Stadium the Webfoots three quarterbacks completed a dazzling 48 of 62 passes (77%)  for 451 yards and 6 tds in leading a 65-10 rout. Mark Helfrich...
Ducks News

Delivered to your inbox

You'll also receive Yardbarker's daily Top 10, featuring the best sports stories from around the web. Customize your newsletter to get articles on your favorite sports and teams. And the best part? It's free!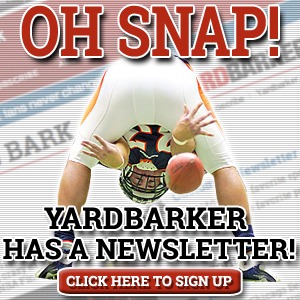 Latest Rumors
Best of Yardbarker

Today's Best Stuff

For Bloggers

Join the Yardbarker Network for more promotion, traffic, and money.

Company Info

Help

What is Yardbarker?

Yardbarker is the largest network of sports blogs and pro athlete blogs on the web. This site is the hub of the Yardbarker Network, where our editors and algorithms curate the best sports content from our network and beyond.