Found January 23, 2013 on NorthWest Sports Beat:
Impressive Movement If you asked the Pac-12 media where the  Oregon Ducks would be at this point in the 2012/2013 college basketball season before the year started, you would be hard pressed to find anybody who would have predicted that Oregon would be standing at the top of the Pac-12 with a perfect 5-0 record in conference play and 16-2 record overall. Using a talented roster filled with young players to compliment their impressive veterans, the Ducks have climbed the rankings throughout the year, now rated as the No. 16 team according to the AP Top 25. This year marks the first year since 2007 that Oregon has found itself in the Top 25 of college basketball, a ranking that is more than deserved with the way the Ducks have handled themselves on the court. Damyean Dotson has been a key player in Oregon's uprising. (Photo: Scott Olmos/USA Today) Oregon is coming off of a weekend that saw them play very impressively against the Los Angeles schools – USC and UCLA. While the Ducks did let the Trojans make a game of it towards the end, they used a great second-half effort against the Bruins to give Oregon a convincing 76-67 over a UCLA team that was on the rebound themselves. Though credit is due to all the players who have rotated through the lineup this season, there are a select few players that have exceeded their expectations and helped the Ducks to become one of the most dangerous teams in college basketball. That being said, on every overachiever list you have to have an underachiever, somebody that will be outlined in this article as well. Overachievers Damyean Dotson Damyean Dotson has been the biggest surprise for the Ducks during their 2012/2013 campaign. Rated as a three-star prospect and the No. 40 small forward in ESPN's 2012 college basketball recruiting rankings, the Houston native has exceeded expectations as he has transitioned perfectly into Dana Altman's offense that focuses on getting the ball to multiple playmakers. Dotson is currently Oregon's leader in points, putting up 11.9 points per game. While this is fairly off the national leaderboard, being able to put up this number in Altman's system is very impressive. The young freshman is also proving his durability early-on in his career as he averages 27.7 minutes per game, good enough for second-best on the team behind veteran E.J. Singler. Besides minutes and points, Dotson is also shaping up to be one of the more well-rounded players on the team. He averages 3.8 rebounds per game, doles out 1.1 assists per game, and can contribute from long range or inside; all signs of a versatile player that will be extremely useful as Oregon continues their rebound season. Arsalan Kazemi Arsalan Kazemi is one of those player who has already proven his worth but continues to impress those who come out to watch him. A transfer from Rice, Kazemi has helped the Ducks ascend to the next level and challenge the rest of the Pac-12 while elevating his status as a big-time player. Arsalan Kazemi has already proven his worth to the Ducks (Chris Pietsch/The Register-Guard). While he may put up 8.3 points per game, Kazemi's value comes in rebounds, where he hauls in 9.6 rebounds per game, a number good enough to make him 26th in the nation in that category. He also provides another force in the middle to compliment the impressive Tony Woods, giving the Ducks a dual-threat that they had been lacking for a few years. Combined together, Woods and Kazemi are able to draw defenders off of Oregon's perimeter players and allow them to create more opportunities for the Ducks to outscore their opponents. Carlos Emory Heading into the 2012/2013 season Carlos Emory was slotted to be a 6th man for the Oregon Ducks that would come in and play valuable time when the starters needed their rest. After starting the season off impressively, Emory quickly rotated into the starting lineup where he has continued his production and impressive play. Averaging 10.4 points per game and 4.5 rebounds per game, the second-year player for the Ducks (previously at Howard College) brings a passion to the floor that energizes the Oregon offensive and defensive attacks. He's a smart player that has transitioned well into being a starter and should continue to develop as the season goes on. Underachiever Jonathan Loyd If there was any underachiever on this Oregon basketball team it would be Jonathan Loyd. Still, it is tough to argue that he has underperformed as other players have stepped up and he has played his role on the team nearly perfectly. That being said, there has always been the want of Loyd to grow into a better player for the Ducks, one resembling Tajuan Porter. One of Oregon's more dynamic players in recent history, Porter was a force from the perimeter and in the assist column, putting up impressive numbers despite his small stature. While many still do enjoy the way Loyd moves the ball across the court and the energy he provides, his numbers could be a little better for a third-year player. CLICK HERE CHECK OUT THE DUCKS BLOG IN OUR CLUBHOUSE TODAY AT NWSB!
Original Story:
http://www.nwsportsbeat.com/oregon-sp...
THE BACKYARD
BEST OF MAXIM
RELATED ARTICLES
Oregon's highest ranking in more than five years has coincided with it being on the verge of its best conference start since the 1920s, yet coach Dana Altman expects more from his squad. The No. 16 Ducks seek a seventh straight victory when they host struggling Washington State on Wednesday night. After sweeping a trip to Los Angeles with a 76-74 victory over Southern California...
So I came across the Twitter page of De'Anthony Thomas last night, and my oh my, was that a fantastic discovery. If you're unaware of who Thomas is, he's a star running back/wide receiver/returner (he's arguably the most electrifying player in college football) that just finished his sophomore season at the University of Oregon. And the first things I learned about...
Everyone knows that college sports are all about recruiting. DePaul University, located in Chicago's Lincoln Park neighborhood, is at a distinct disadvantage when it comes to recruiting for golf. Between the frigid winters and the mild commute to their home course, DePaul's urban campus location undercuts the university from being any sort of a national power in golf. However...
Next Man Up Four years ago the Oregon Ducks football program promoted Chip Kelly, their innovative offensive coordinator who had never held a head coaching position, to Head Coach in a move that surprised many people around the nation. While his offense was quickly becoming one of the most talked about units in football, many questioned whether or not he had the ability to take...
Oregon's new coach painted different strokes with different brushes than their last one. Mark Helfrich was formally introduced as the new Oregon Ducks head football coach Sunday afternoon in Eugene, leading off his era with a press conference in which the new main man on campus was personable, humble, friendly, affable and reasonable. In his opening salvo, Helfrich talked...
Making a Run Last year the Oregon Ducks were heading into their 2012 college football season with questions surrounding a few key positions. Could Marcus Mariota be the real deal at quarterback and succeed as a freshman in the Pac-12? Would the Oregon secondary be able to improve upon their 2011 statistics despite the loss of John Boyett? Could Kenjon Barner replace the productivity...
According to oregonlive.com, The Oregonian newspaper's website, Oregon wide receiver Josh Huff was found not guilty on Thursday afternoon of Driving Under the Influence of Marijuana charges.
EUGENE – University of Oregon quarterback Bryan Bennett has informed the football staff of his intentions to transfer to another school, Head Coach Mark Helfrich confirmed Tuesday.
E.J. Manuel cited Chip Kelly - and Oregon's Nike jerseys - as reason enough to consider going there when he was a prepster, except that it was 3000 miles away.The post E.J. Manuel Speaks The Gospel Of Nike, The Oregon Ducks And 17-Year-Olds appeared first on The Sports Fan Journal.
The Oregon Ducks extended the perfect conference win streak on Wednesday night by downing the Washington State Cougars 68-61. Subscribers to eDuck.com joined together in chat to follow the game and discuss what is going with football recruiting.
Following Chip Kelly's leave to the NFL last week, four-star running back and longtime Oregon verbal Dontre Wilson (DeSoto, Texas) affirms he is still committed to the Ducks. Still, two official visits elsewhere remain scheduled in the coming weeks. Can Oregon and newly promoted head coach Mark Helfrich hang on to him? The latest development inside.
This week's college basketball lineup showcases the PAC-12 with doubleheader action leading off with the Colorado Buffaloes at Utah Utes followed by the featured game, the Oregon Ducks at California Golden Bears. Duck Head Coach Dana Altman is making big strides in resurrecting an Oregon basketball program that has been greatly overshadowed by its hugely successful football program...
Ducks News

Delivered to your inbox

You'll also receive Yardbarker's daily Top 10, featuring the best sports stories from around the web. Customize your newsletter to get articles on your favorite sports and teams. And the best part? It's free!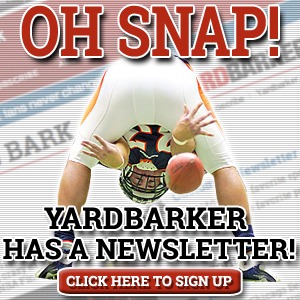 Latest Rumors
Best of Yardbarker

Today's Best Stuff

For Bloggers

Join the Yardbarker Network for more promotion, traffic, and money.

Company Info

Help

What is Yardbarker?

Yardbarker is the largest network of sports blogs and pro athlete blogs on the web. This site is the hub of the Yardbarker Network, where our editors and algorithms curate the best sports content from our network and beyond.