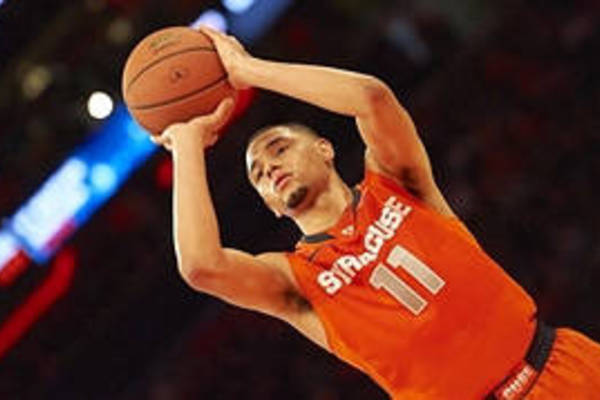 Syracuse's official Twitter accounts @SyracuseU and @Cuse have long histories of Twitter mishaps, from tweeting about DaJuan Coleman's college announcement before he signed a Letter of Intent, to lending credence to a bogus blog post that claimed that Jim Boeheim was being forced into retirement.  On the heels of Tyler Ennis' game-winning 35-foot shot against Pitt, the Syracuse Athletics Twitter account sent a message promoting "Tyler Ennis jerseys". While clearly No. 11 on Syracuse is Ennis, because players are not supposed to be used in promotions like this (especially in lieu of the Ed O'Bannon lawsuit), acknowledging that it is in fact an Ennis jersey, and not just a generic No. 11 jersey, is yet another gaffe in a long line of them by the Syracuse social media staff. The "Syracuse Orange" Facebook page post a similar message as well: The NCAA got into hot water for a similar issue last summer, when ESPN's Jay Bilas discovered that searching for a player's name in the NCAA Shop search tool brought up his corresponding jersey. Of course, no matter how Syracuse or the NCAA promotes these products, Ennis and other players will not see any profit from sales of the jerseys that they market for any time they step on the court.
MORE FROM YARDBARKER
Orange News

Delivered to your inbox

You'll also receive Yardbarker's daily Top 10, featuring the best sports stories from around the web. Customize your newsletter to get articles on your favorite sports and teams. And the best part? It's free!