Found February 29, 2012 on Fox Sports Wisconsin:
MADISON, Wis. Mark Titus thought it was simply a one-time show of team solidarity when he examined pictures of Wisconsin's basketball players on the pregame scouting report three years ago. Titus, then a walk-on at Ohio State, noticed that every Badgers player seemingly had a freshly shaved head of hair in the style of a buzzcut. So he went through old scouting reports from previous seasons to see if this was more than a crazy coincidence. What he found confirmed his suspicions. "I went back and got my old scouting reports from the past couple years," Titus said. "Every single one of the guys on Wisconsin had a buzzcut. "Now as I watch Wisconsin, it seems like it's true. I don't know what the deal is. Does (Coach) Bo Ryan make his guys get buzzcuts? Is it you get there, and that's the first thing you do? You step on campus and buzz your hair off?" Thus, the Wisconsin Badgers forever morphed into the Wisconsin "Buzzcuts" in his mind. That story is among the many that Titus shares about his playing days as a walk-on at Ohio State in a new book entitled: "Don't Put Me In, Coach: My Incredible NCAA Journey from the End of the Bench to the End of the Bench." The book is set to be released on March 6. "It's my autobiography, I guess you could say," said Titus, who graduated from Ohio State in 2010. "I think it's more stories about my teammates and coaches. It's like I was a fly on the wall for this great four-year stretch of basketball, but I wasn't really a fly on the wall because I was kind of involved. "There's a lot of behind-the-scenes stuff that you don't really think about when you're watching a two-hour game on TV. You don't really think about the other 22 hours of the day before the game and after the game. That's kind of what the book is about." Titus likes to point out that during his four years at Ohio State, the Buckeyes won more games than during any stretch in program history. The team went 109-36 during that span and finished as the national runner-up in 2006-07 behind future NBA players Greg Oden and Mike Conley. Of course, Titus is also quick to mention that he didn't exactly contribute to many of those victories. Titus, a Brownsburg, Ind., native, played a total of 48 minutes and scored nine points in four seasons. He originally joined the program as a team manager before being added to the roster as a walk-on. During his time in the program, Titus became particularly well known for starting a blog called "Club Trillion" as a junior in October 2008. The title is a reference to a player who enters a game for 1 minute and receives all zeroes in the box score, which looks like one trillion. Titus offered his hilarious opinions on teammates and life as a college basketball walk-on, and the blog quickly gained steam. "I never expected the blog to be anything," said Titus, who even made his own video to prove he did, in fact, have some talent. "It kind of became popular. I think when I realized that people actually cared what I was saying on the blog was when I had people e-mail me that weren't my family or friends. At that point I thought maybe I should write a book." Titus, who now contributes as a writer at Grantland.com, said he spent between six and seven months working on the book project, which chronicles his four years at Ohio State. He said he hoped to visit every Big Ten city in an effort to promote the book in the coming months. Despite his distaste for the hairstyles among Wisconsin's players, Titus said that, had he not gone to Ohio State, he would have wanted to play at Wisconsin even if the slowdown style of play coming from its head coach can be less than scintillating. "Some people want the shot clock in college to go to 24 like the NBA," Titus said. "If that happened, Bo Ryan would never be able to coach college basketball again. He'd be out of a job immediately. He'd have to go find something else to do. It's not like a criticism. It's just like that's their style and it works. If you're not a Wisconsin fan, I wouldn't say they're entertaining to watch." Follow Jesse Temple on Twitter.
Original Story:
http://www.foxsportswisconsin.com/02/...
THE BACKYARD
BEST OF MAXIM
RELATED ARTICLES
The former UC secondary coach/special teams coach/Cincinnati area-Northern Kentucky recruiter Kerry Coombs has left UC to become the DB coach at Ohio State. Mark Elder will take over the recruiting duties. Paul Dehner Jr got some quotes from Butch Jones because he's the man. On Coombs leaving:"Obviously, family decisions come in and opportunities that maybe could set him...
Ray Small is back in the news again but this time it's not Ohio State related. Small was pulled over for speeding and then arrested and charged with possession of the narcotic oxycodone. Police accuse Small of having more than 200 oxycodone pills in the car with him. Things are not looking so good for Small who is already a hated man in the state of Ohio.Authorities say former...
Freshman center Amir Williams, seen here attempting a free throw against Northwestern on Dec. 28, has played in 23 of Ohio State's 29 games so far this season. (Photo by Dan Harker/The-Ozone.net) Over the summer, the rumor mill was swirling around about how exactly Ohio State head coach Thad Matta was going to use his personnel for the upcoming season and the different things...
The No. 10 Ohio State basketball team kept its hopes at a third consecutive Big Ten championship alive with a 75-73 win at Northwestern on Wednesday night. Jared Sullinger scored 22 points and grabbed 18 rebounds and scored the game-winning basket with 3.1 seconds remaining in the game.
The No. 10 Ohio State basketball team's chances at winning its third consecutive Big Ten championship were all but dead after a loss to Wisconsin on Sunday. After Wednesday night's 75-73 win over Northwestern – and a little help from Indiana Tuesday – the Buckeyes have new life. Get full analysis from the win inside.
Northwestern prepares for its greatest test yet, with No. 10 Ohio State in Welsh-Ryan Arena on Senior Night. Join PurpleWildcats.com for an in-game discussion live from the arena.
Authorities say former Ohio State football player Ray Small has been charged with drug possession in southern Ohio after a traffic stop. The State Highway Patrol says Small was a passenger in a vehicle stopped for allegedly speeding on Route 33 on Sunday. Meigs County Court officials in Pomeroy say the 24-year-old from Columbus was charged with possession of the narcotic oxycodone.
Jared Sullinger banked in a turnaround shot with 3.1 seconds left Wednesday night and No. 10 Ohio State recovered after squandering a 13-point second-half lead to beat Northwestern 75-73.
Jared Sullinger knew the pass was coming to him. And why not after he had powered and muscled his way through Northwestern defenders all game? Teammate Aaron Craft delivered the ball right where Sullinger wanted it. He turned and banked in the game-winner with 3.1 seconds left Wednesday night as No. 10 Ohio State recovered after squandering a 13-point lead to beat Northwestern 75-73.
Jared Sullinger banked in a turnaround shot with 3.1 seconds left Wednesday night and No. 10 Ohio State recovered after squandering a 13-point second-half lead to beat Northwestern 75-73.
Coming off a third straight sweep, the latest against then-No. 17 Ohio State, the Miami University hockey team has quickly risen up the rankings during its six-game winning streak, climbing to No. 9 in the USA Today/USA Hockey Magazine Poll and No. 11 in the USCHO.com Poll, both of which were released Monday.
College Basketball News

Delivered to your inbox

You'll also receive Yardbarker's daily Top 10, featuring the best sports stories from around the web. Customize your newsletter to get articles on your favorite sports and teams. And the best part? It's free!
THE COLLEGE BASKETBALL HOT 10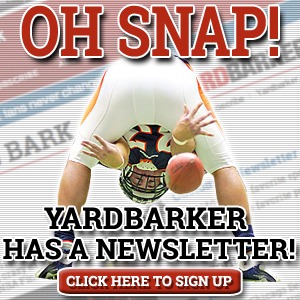 Latest Rumors
The Backyard

Today's Best Stuff

For Bloggers

Join the Yardbarker Network for more promotion, traffic, and money.

Company Info

Help

What is Yardbarker?

Yardbarker is the largest network of sports blogs and pro athlete blogs on the web. This site is the hub of the Yardbarker Network, where our editors and algorithms curate the best sports content from our network and beyond.