Found March 15, 2012 on Fox Sports Carolinas:
GREENSBORO, N.C. -- P.J. Hairston was all smiles Thursday before North Carolina's public workout at the Greensboro Coliseum. He sat in front of his locker with a glow illuminating his face as the media descended upon the Tar Heels spread around their locker room. Hairston is happy because he feels normal again. He feels like the guy who helped the Heels earlier in the season by draining perimeter shots. That guy had tons of fun, and finally the pleasure of the game has returned. A freshman from right here in Greensboro, Hairston converted 17 of his first 35 3-point attempts of the season, including 3 of 4 in a one-point loss at Kentucky. He flared up to hit 4 of 9 in a win over Monmouth on New Year's Day, but from that point to before last Sunday's ACC championship game loss to Florida State, Hairston was 9-for-55, including a stretch of six consecutive games in which he failed to sink a perimeter shot. Hairston, who is right handed, injured his left wrist in November, which eventually affected his shot. The left hand essentially balances the ball so it never touches the palm of the shooter. But not long after the UK game, Hairston's stroke fell apart and he began pushing the ball and worse. "When I first came back for the Kentucky game it felt fine, but then it got sore after that," he explained, "I tried not to sue this hand at all, and a lot of times I shot one handed. Didn't take my time because I just wanted to get the shot off." Seniors Tyler Zeller and Justin Watts regularly encouraged Hairston that the shot would fall again as long as he continued pushing forward. And it did in a big way last Sunday against the Seminoles. The 6-foot-5 Hairston, who averages 5.9 points per game, drained three 3-pointers in a short span Sunday to end the most frustrating stretch of basketball in his life. And along with giving UNC needed points, the rest of Hairston's game came together. Carolina coach Roy Williams joked Sunday that Hairston's defense suddenly improved after he found his stroke. Hairston says there's something to that. "I guess when you hit 3s like that and start hitting big shots for the team it builds up adrenalin and affects you everywhere on the court," he said. "Once I hit those 3s I tried to do everything on the court and just zoned (in)." Defense is something Hairston admittedly didn't like playing in high school. He treated it as a necessary evil, but only some of the time. Excelling on that end of the court will get a player more action, especially if a player's stroke is off. He knew he had to step it up defensively. Playing off the ball has been his most notable improvement. Ball-you-man defense is one thing in high school, it's altogether something else in college. "That's where communication comes in because you never know if you have three people on the baseline and you're one of the help men," said Hairston, whose family house is 10 minutes from the Coliseum. "And when somebody slides over you have to help the helper. It's the little things you do that can help the team Those things you have to do." Now if he can just combine the defense with his pre-wrist injury touch from November, top-seeded UNC (Midwest Region) would have the spark off the bench it's lacked since Reggie Bullock replaced injured guard Dexter Strickland in the starting lineup. Sitting relaxed and enjoying the interaction with the scribes, Hairston wore the look of relief, that a significant obstacle is behind him and he can breathe easy. "I feel pretty confident," he said. "And now I know if I get a good look I'm pretty confident it's going to go in. Not that my confidence was low, but I kind of questioned myself every time I shot it. I didn't want to miss one and then be wide open the next time and wonder if I should even shoot the shot. "Now, I want the ball because I know I'm going to make my next shot."
Original Story:
http://www.foxsportscarolinas.com/03/...
THE BACKYARD
BEST OF MAXIM
RELATED ARTICLES
North Carolina coach Roy Williams is still unsure whether junior forward John Henson will be ready for the Tar Heels' opener in the NCAA tournament Friday. Henson sprained his left wrist in a fall during the Atlantic Coast Conference tournament and missed the last two games. He went through about 70 percent of the team's practice Thursday morning in Chapel Hill, then participated...
For the fourth consecutive year, ESPN sent its bracket guru Andy Katz to the White House to get President Obama's pick for the NCAA TournamWHY'S HE PICKIN BASKETBALL GAMES WHEN WURR AT WAR?! After picking Kansas for the past two years, Obama picked North Carolina to win it alBUT THE 'CONOMY IS IN THE DUMPS WHY DON'T HE FIX THAT?1 He also picked the Tar Heels in 2009, when...
BRISTOL, Conn. (AP) -- President Barack Obama likes North Carolina's chances of winning the NCAA title. Obama picked the Tar Heels to win it all in his 2012 NCAA bracket, which was revealed Wednesday on ESPN. He correctly picked North Carolina to win the 2009 NCAA championship. Obama has North Carolina -- a swing state in this year's presidential election -- beating Kentucky...
BRISTOL, Conn. (AP) -- President Barack Obama likes North Carolina's chances of winning the NCAA title. Obama picked the Tar Heels to win it all in his 2012 NCAA bracket, which was revealed Wednesday on ESPN. He correctly picked North Carolina to win the 2009 NCAA championship. Obama has North Carolina -- a swing state in this year's presidential election -- beating Kentucky...
Despite a lack of excited for their first-round matchup, Tar Heels stick to game plan to beat Vermont.
New North Carolina coach Larry Fedora got the first look at his team as the Tar Heels started spring practice Wednesday. It was also the first time the players took the field knowing they won't go to a bowl game this fall no matter how many games they win. The practice came two days after the NCAA hit UNC with a one-year postseason ban, a reduction of 15 scholarships and three...
It was not the way that UNC wanted to start its run in the Big Dance, going 1 for 8 to begin the game, and it took a while for the Heels to get into their form. But when it did top seed North Carolina (30-5 ~ 14-2 in the ACC) looked dominant against No. 16 Vermont (24-12 ~ 13-3 America East) defeating them by the final of 77 to 58, just a duece below what I had predicted the final...
Here is a look at the ACC as we head into spring football. 12. North Carolina - To be honest, I do not think the Tar Heels are the worst in the ACC; however, with their latest sanctions (you can read an article here) it taints the program and without being able to go to a bowl game, there is really no point to playing. It will be interesting how Larry Fedora deals with this team...
GREENSBORO, N.C. – It took No. 1 seed North Carolina roughly 15 minutes to realize that Vermont wasn't much concerned with the historical fate that has always plagued No. 16 seeds. Only then did the Tar Heels ramp up their play and run out to a 77-58 NCAA Tournament victory.
Between March Madness, which to me is one of the funnest (and most blogging) time of the year, real life commitments and other things, I had not yet touched on the NCAA's sanctions against North Carolina's football program. The big bosses in Indianapolis, with a thirty-eight page document, put the gridiron program on a three year probation and banned it from the 2012 post season...
GREENSBORO, N.C. --- The Tar Heels held their NCAA Tournament open practice on Thursday at the Greensboro Coliseum. InsideCarolina.com photographer Jim Hawkins was courtside ...
GREENSBORO, N.C. -- Action photos from the Tar Heels' 77-58 victory over the Catamounts.
Tar Heels News

Delivered to your inbox

You'll also receive Yardbarker's daily Top 10, featuring the best sports stories from around the web. Customize your newsletter to get articles on your favorite sports and teams. And the best part? It's free!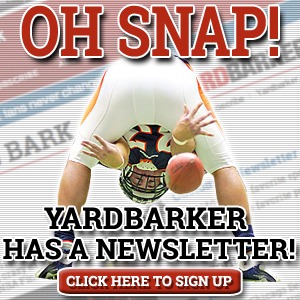 Latest Rumors
The Backyard

Today's Best Stuff

For Bloggers

Join the Yardbarker Network for more promotion, traffic, and money.

Company Info

Help

What is Yardbarker?

Yardbarker is the largest network of sports blogs and pro athlete blogs on the web. This site is the hub of the Yardbarker Network, where our editors and algorithms curate the best sports content from our network and beyond.