Found February 26, 2013 on SCACC Hoops:
We've heard Coach K's statements that it's when, not if, Ryan Kelly returns. We've heard Coach K say Kelly's been running in the pool. Ryan Kelly himself has said he expects to come back by Senior Night against Virginia Tech a week from today. Will Kelly coming back to the lineup have a positive impact on this Duke team or could it disrupt a team that is gelling at the right time? Coach K feels the process should be smooth In Ryan's case, he plays a position where, when he does get the ball, the decision he makes with it is usually the best one. He's a very intelligent player, and he spreads the court. With the only recent example of this occurring to a Duke team being two years ago with Kyrie Irving, many are quick to point out that bringing Ryan Kelly back into the rotation with so few games left in the season will end up in the same way. While Kelly and Irving were both key players for Duke before going out with injuries for much of the season, their scenarios couldn't be more different. Before the 2011 season, Duke coach Mike Krzyzewski configured the offense around Irving's talents. They were going from a deliberate plodding offense in 2010 designed to maximize the talents of Jon Scheyer, Nolan Smith and Kyle Singler in the halfcourt to an uptempo style led by Irving's penetrating ball skills. For 8 games to start the year, it worked. Duke was the best team in the country, outscoring their opponents by 25 points a game. When Irving went out against Butler, Duke was forced to scratch everything they had spent the whole offseason creating and switch gears completely. The Blue Devils were able to find their groove fairly quickly and ended the regular season with a 27-4 record (13-3 in the ACC). Sound familiar? It's not. This year, there's no Nolan Smith who has had to be pulled out of position to take over the main ballhandling duties. There's not a major fundamental change in the way the offense is structured. It's not that replacing Ryan Kelly in the lineup is easier than replacing Kyrie Irving. It's that replacing a power forward in the lineup is so, so, so much easier than replacing a point guard. Especially one that you've designed your offense around. The loss of Ryan Kelly wasn't felt as bad on the offensive end as it was on the defensive end. Dan Hanner of RealGM.com wrote an article detailing the difference in Duke's defense before and after Kelly went out. The column was published just after the Miami loss, and I continue to think that game was an outlier relative to the rest of Duke's season. It was the only game in which they scored under a point per possession. The just of Hanner's research was that while Duke's offensive efficiency had fallen from 119.5 to 115.3 after Kelly went out, Duke's defensive efficiency dropped by 13 points per 100 possessions – from 82.4 to 95.7. Since I don't have the adjusted numbers handy, I'll rely on statsheet.com for their unadjusted efficiency numbers.  Based on these figures, Duke's splits (with and without Ryan Kelly) look like this even worse than Hanner had chronicled. Duke's defensive efficiency has fallen down to 102.46 from 87.72. That's a huge drop. Part of this is due to playing against foes twice in one year (the second time around coaches have figured out different ways to beat teams on defense) and  playing against two very offensively efficient teams in NC State and Maryland. Another is the fact that there aren't any Delawares and Cornells on the schedule anymore. Clearly, Kelly's absence on defense has been tremendous and working him back in on that end will not be as difficult as it would be on the offensive end. However, you can see that the offense hasn't been effected as much without Kelly in there. As Coach K said yesterday, he's such an intelligent player that the decisions he makes are usually the best ones. While there may be some hiccups when he does return (he'll likely dress for the Miami game and could play that night), getting him back should be reason for celebration and not concern.   This article was originally published at http://DukeHoopBlog.com. If you are interested in sharing your website's content with SCACCHoops.com, Contact Us.  
Original Story:
http://www.scacchoops.com/tt_NewsBrea...
THE BACKYARD
BEST OF MAXIM
RELATED ARTICLES
The Duke Blue Devil basketball team has remained mostly mum on the expected return of forward Ryan Kelly who injured his foot January 8th. Kelly spoke to reporters for the first time since his injury Sunday night stating that he'd: Love to play senior night. Coach K has also said that Kelly, who has yet to practice, would be back soon but gave no details on what "soon" meant...
After Duke's 89-68 victory over Boston College, much of the talk wasn't necessarily about how strong a performance the Blue Devils had. Ryan Kelly's return is looking less doubtful, but how successful he and Duke will be remains to be seen. It wasn't about how freshman Rasheed Sulaimon strengthened his case for being the ACC freshman of the year or how Mason Plumlee recorded...
DURHAM, N.C. (AP) -- Injured Duke forward Ryan Kelly says he wants to return for the Blue Devils' home finale March 5. Kelly spoke to reporters for the first time since injuring his right foot Jan. 8. He missed his 12th straight game Sunday and watched Duke's 89-68 rout of Boston College from the bench in dress clothes and a boot on the foot. Coach Mike Krzyzewski says...
Need visual proof that Ryan Kelly is close to coming back on the court for the Blue Devils? This image of practice ending from DukeBluePlanet's Instagram should be all you need. I don't expect Kelly to play tomorrow night against Virginia, but there's definitely a strong possibility we'll see him back in uniform on Saturday. @ChrisAlyss has captured the moment perfectly...
ACC teams are jockeying for NCAA Tournament positioning, as only two weeks remain in the regular season. Miami and Duke will make the field, and its probable that North Carolina and N.C. State will as well. Virginia is an NCAA team if the eye test and recent results matter, but the Cavaliers still have work to do. Maryland and even Florida State arent out of the running, but have...
Just a quick morning post today.  Check out the ACC Digital Network's video page for highlights from all of this weekend's games.  Links below for your Monday morning reading.  Team Conf Pct Overall Pct  Miami  13-1  0.929  22...
Light past week on the blog, with this winter blast cold I've had, but I'm declaring myself well. It's time to get back to blogging with some Articles from around the ACC. Let's check it out. Wake Forest had one of their biggest wins in recent memory when the the Deacs knock off #2 Miami. The future is bright according to BloggersSoDear.   Lose at home to Georgia Tech,...
Blue Devils News

Delivered to your inbox

You'll also receive Yardbarker's daily Top 10, featuring the best sports stories from around the web. Customize your newsletter to get articles on your favorite sports and teams. And the best part? It's free!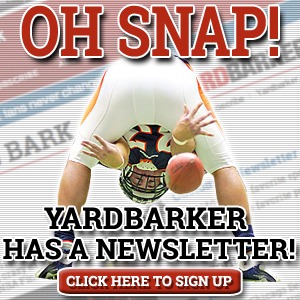 Latest Rumors
Best of Yardbarker

Today's Best Stuff

For Bloggers

Join the Yardbarker Network for more promotion, traffic, and money.

Company Info

Help

What is Yardbarker?

Yardbarker is the largest network of sports blogs and pro athlete blogs on the web. This site is the hub of the Yardbarker Network, where our editors and algorithms curate the best sports content from our network and beyond.