The world's greatest tweeter shows support for former teammate, Andrew Wiggins. Through all of Joel Embiid's colorful antics on Twitter, he also uses his account to make bold statements. Perhaps, none more bold than this recent support shown for former Jayhawks teammate Andrew Wiggins: Don't worry Pal @22wiggins. Great things ahead pic.twitter.com/hUo61OTGrc — Joel SHMURDA...
The Cavaliers trade of Andrew Wiggins for Kevin Love was finalize today. Ever since the Cavs convinced LeBron James to return to Cleveland, there were several whispers that the #1 pick of this year's NBA draft would never see a regular season game with the team. No one really knows how Wiggins feels about being shafted except for Wiggins himself, but it can't be a good feeling...
Andrew Wiggins is expected to be just the third No. 1 overall draft pick — and the first since Chris Webber in 1993 — to be traded before he plays a single NBA game. Wiggins was taken No. 1 by the Cleveland Cavaliers in June, but he's reportedly part of a trade agreed in principle that will send him to Minnesota along with 2013 first overall pick Anthony Bennett and a protected...
CLEVELAND -- The Cleveland Cavaliers have signed their 2014 NBA Draft picks, Andrew Wiggins and Joe Harris, to contracts, Cavaliers GM David Griffin announced Thursday from Cleveland Clinic Courts. Per league policy, terms of the contracts were not released. Wiggins was the first overall pick in the June draft. An early entry candidate from Kansas University, Wiggins, 19, was named...
Andrew Wiggins will wear adidas with the Cleveland Cavaliers. The No. 1 overall pick in the draft, Wiggins wore the apparel company's gear while starring last season for Kansas. He chose to stick with adidas rather than sign with a rival such as Nike in what's being called "an unprecedented partnership." The deal announced Wednesday is believed to be worth more...
Drake's mixtape recording of "Draft Day" was certainly dedicated to former Texas A&M quarterback Johnny Manziel, given their well-documented friendship. But the hook of the track also features a shout out to Andrew Wiggins, who starred on the basketball court for Kansas this past season. After Wiggins went No. 1 overall on the real "Draft Day" this past Thursday, his...
A look at Andrew Wiggins, one of the two strongest candidates to be the No. 1 overall pick in Thursday night's NBA Draft... Why he might be No. 1: Wiggins isn't just a great athlete - he has a chance to instantly be one of the top athletes in the NBA. He has a 7-foot wingspan, (at least) a 40-inch vertical and his highlight reel is full of breathtaking dunks and explosive...
  credit: abcnews.go.com The Philadelphia 76ers find themselves in a bit of a quandary as they sit with the #3 pick in next week's draft. The player they want most is a guy who may or may not be available when the third pick comes around and from what reports are saying, they do not want to take any chances. The player they covet is Kansas freshman Andrew Wiggins, whose athleticism...
KANSAS CITY, Mo. -- Want to know why Andrew Wiggins is expected to be the top pick in the NBA Draft? Um, this: When the former Kansas wing guard passed on the NBA Combine in Chicago this week, he raised some eyebrows. When Wiggins' camp at Peak Performance Project (P3) posted this picture on Instagram (@p3sportscience) Thursday, it raised quite a few more. The 6-foot-8 Canadian...
Drexel University and the National Collegiate Players Association recently conducted a survey to determine how much a collegiate player would be worth in an open market. The survey was conducted as part of a larger question of if/when college players would be paid for their services. The results revealed that men's college basketball players could be worth approximately $375,000...
MORE STORIES >>
College Basketball News

Delivered to your inbox

You'll also receive Yardbarker's daily Top 10, featuring the best sports stories from around the web. Customize your newsletter to get articles on your favorite sports and teams. And the best part? It's free!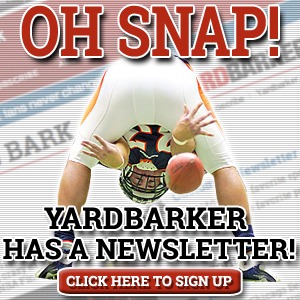 THE COLLEGE BASKETBALL HOT 10