Jabari Parker has somehow made being a Milwaukee Buck cool.  Reports have been rampant for days that Parker would prefer the Bucks draft him and not the Cavs. Former Duke guard and ESPN analyst Jay Williams asked Parker where he thought he'd be selected. Just asked Jabari Parker if he thinks he will be the 1st player taken in the #NBADraft2014: he says, "I think I will go...
Now isn't this a nice gesture. While Joel Emiid was recovering from his foot surgery that will knock him out of being the #1 pick in the NBA Draft this week, fellow draft class prospect Jabari Parker brought him Gatorade and Oreos. Parker put this caption on Instagram with the photo: "Had to check up on my boy @joelembiid and give him his meds," the former Duke star wrote...
While no one likes to see any athlete get injured, Joel Embiid's foot injury will likely benefit Jabari Parker, who is now gaining some steam as the possible No. 1 pick by the Cleveland Cavaliers in Thursday's NFL Draft. Parker, however, doesn't seem to be allowing any of those thoughts cloud his judgment. In a very classy move, the Duke star visited the recovering Embiid today...
Jabari Parker's time as a Duke Blue Devil was short and sweet -- sort of like the program's run in the NCAA Tournament earlier this year. But I digress.With the spring semester in the books and with pre-draft camp looming, Parker uploaded a photo of an empty Cameron Indoor to his Instagram account on Thursday with an accompanying farewell letter to Duke fans. It reads as...
DURHAM, N.C. -- Duke's Jabari Parker, ACC Freshman of the Year and consensus First Team All-America, declared for the NBA Draft on Wednesday, a decision on its own that wasn't at all surprising. He may not go No. 1., but in what is perceived as a deep draft, Parker is still expected to go in the top five picks and potentially higher. It was a tough spot for Parker, as he...
The college basketball season concluded a week ago with UConn's national title triumph over Kentucky, so naturally many fans and observers have begun to shift their attention toward next season. This time of the year is one in which some of the dominoes begin to fall, and the pieces of the puzzle are put into place. Fans and supporters of power programs across the country typically...
Across the country almost all Duke Basketball fans are anxiously holding their breath as their All-American forward Jabari Parker decides whether or not to return to Duke for his sophomore season. The fact that Parker has waited so long to make this decision has given many Blue Devil fans, myself included, the belief that he truly […] The post How good will Duke Basketball be...
There are a number of college teams that are trying to see if they are losing players to the NBA, and the deadline to declare for the draft is coming up this month.  There are two players for Duke Basketball that might declare in the draft in Jabari Parker and Rodney Hood.  These two players are good enough to play at the next level, but they could come back for one more season...
Will Jabari Parker return to Duke next year?46% 46%Overall Score Reader Rating: (0 Votes)0%NCAA Tournament – Since the Duke Blue Devils were just eliminated by Mercer 78-71, in the NCAA Tournament, its brings up a loaded...
Duke freshman star Jabari Parker has no doubt already endeared himself to Blue Devils fans with his play on the court. But that doesn't mean he can't butter them up a little more with some free baked goods. Parker was photographed giving away "Jabari bars" to fans in Krzyzewskiville who are tenting weeks ahead of the team's big rivalry game against North Carolina. They...
MORE STORIES >>
College Basketball News

Delivered to your inbox

You'll also receive Yardbarker's daily Top 10, featuring the best sports stories from around the web. Customize your newsletter to get articles on your favorite sports and teams. And the best part? It's free!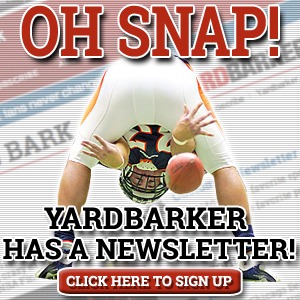 THE COLLEGE BASKETBALL HOT 10