First off, how isn't Dawk on this list. He is by far, one of the greatest hitters i've seen, way better the lynch. Second, who the heck is HARDY BROWN, i never even heard of the guy, that is ridiculous, c'mon NFL Network u got this list all freaking wrong. Oh and how is it that Mike Singletary, the greatest linebacker of all time, isn't on this list either, this list is a piece of CRAP!!!!!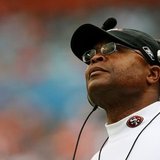 Yardbarker,We just finished our walkthrough for the St. Louis Rams, Edward Jones Dome. As we left the field we met the East St. Louis High School football players who recently won the state championship. The kids were impressed with Isaac Sopoaga's ability to throw a football a mile. It was pretty funny.I want to thank everyone for their comments and questions. I will use your comments...
The last couple of days have been filled with highs and lows. I went to the San Francisco 49ers Academy last week and donated $7,500 worth of sports apparel. It was tops and bottoms to the kids so they can have something to wear when there in physical education. It was important to me because those kids didn't have anything to work out in. They've been wearing the same thing for...
What's up everyone in the Yard. Just got back from Canton and wanted to share my trip with you. All of the rookies in the NFL are required to go to the Hall of Fame to learn about the history of the game and our turn was Friday. I am so glad we did it - I loved the experience. The Hall of Fame represents the ultimate respect. Everyone thinks you're one of the best to ever play...
MORE STORIES >>
College Basketball News

Delivered to your inbox

You'll also receive Yardbarker's daily Top 10, featuring the best sports stories from around the web. Customize your newsletter to get articles on your favorite sports and teams. And the best part? It's free!
THE COLLEGE BASKETBALL HOT 10