10 players to watch in the women's NCAA Tournament who don't play for UConn
You may have heard that the women from Connecticut are pretty good at this basketball thing. Yet what makes their story compelling isn't just that they've been the most dominant college entity in some time, but whom they have beaten in this run of unmatched excellence. While the knock against the Huskies is that there isn't a single player who stands out, it's actually further proof of the talent pool in the women's game. They've beaten several teams that boast national award winners, and in the NCAA Tournament, they'll run into superb scorers from other conferences.
So while it may feel that March Madness will be a long coronation toward another Connecticut championship, it'll be good to know a few players who might have something to say about that. Here are 10 hoopers to keep your eyes on during the NCAA Tournament, non-UConn edition.

Diamond DeShields, Tennessee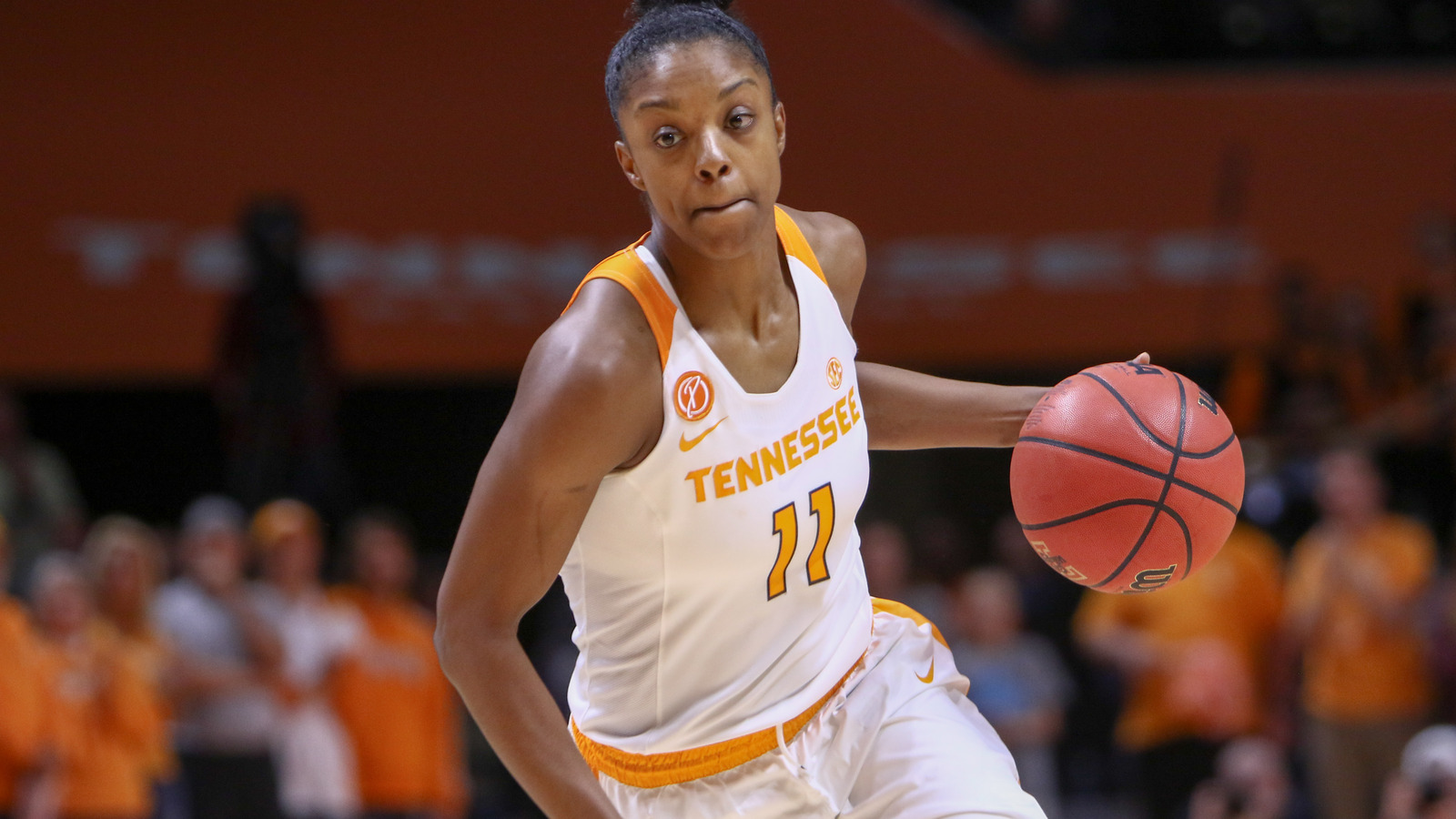 Tennessee guard Diamond DeShields has helped keep the Lady Volunteers in the mix this season.
Randy Sartin/USA TODAY Sports
That last name should be very familiar to any baseball fan — she is the daughter of the former speedy utility player Delino and the younger sister of current Texas Rangers outfielder, Delino Jr.
A tremendous profile at The Undefeated highlights her goal: to be the top pick in the upcoming WNBA Draft. While that is unlikely to happen (more on who will be), it's not for a lack of talent or athletic pedigree. She's unquestionably the Lady Vols' most dynamic and assertive playmaker on the floor — current season per game totals of 17.2 points, 6.6 rebounds, 3.9 assists and 1.4 steals — but has been criticized for being inconsistent.

DeShields has a fluid jumper, very good lateral quickness and a bit of that prickly temperament that could light a fire under a team (or potentially burn a team if things go south real fast). Certainly this is not the same program that became the gold standard under the late, great Pat Summitt, but coach Holly Warlick knows that the Lady Vols go as far as DeShields does, whichever version of her they get.

Alexis Jones, Baylor
It won't be a coincidence to you that many of the players featured here come from five of the top six offensive teams in the nation. Baylor has the second-best scoring offense in the game behind Maryland, but so much of that is possible because of a talent like Jones.
Her Jan. 31st triple-double against then-20th ranked Oklahoma is the ideal highlight for all that she does for the Lady Bears. The quick feet and good release allow her to take step-back jumpers or dart toward the basket. She also has very good vision on the move, leading to quick buckets for teammates. She's flirted with triple-doubles several times this season, and with skilled players on this team, don't be shocked if she nabs one in the Baylor side of the bracket.
Alaina Coates, South Carolina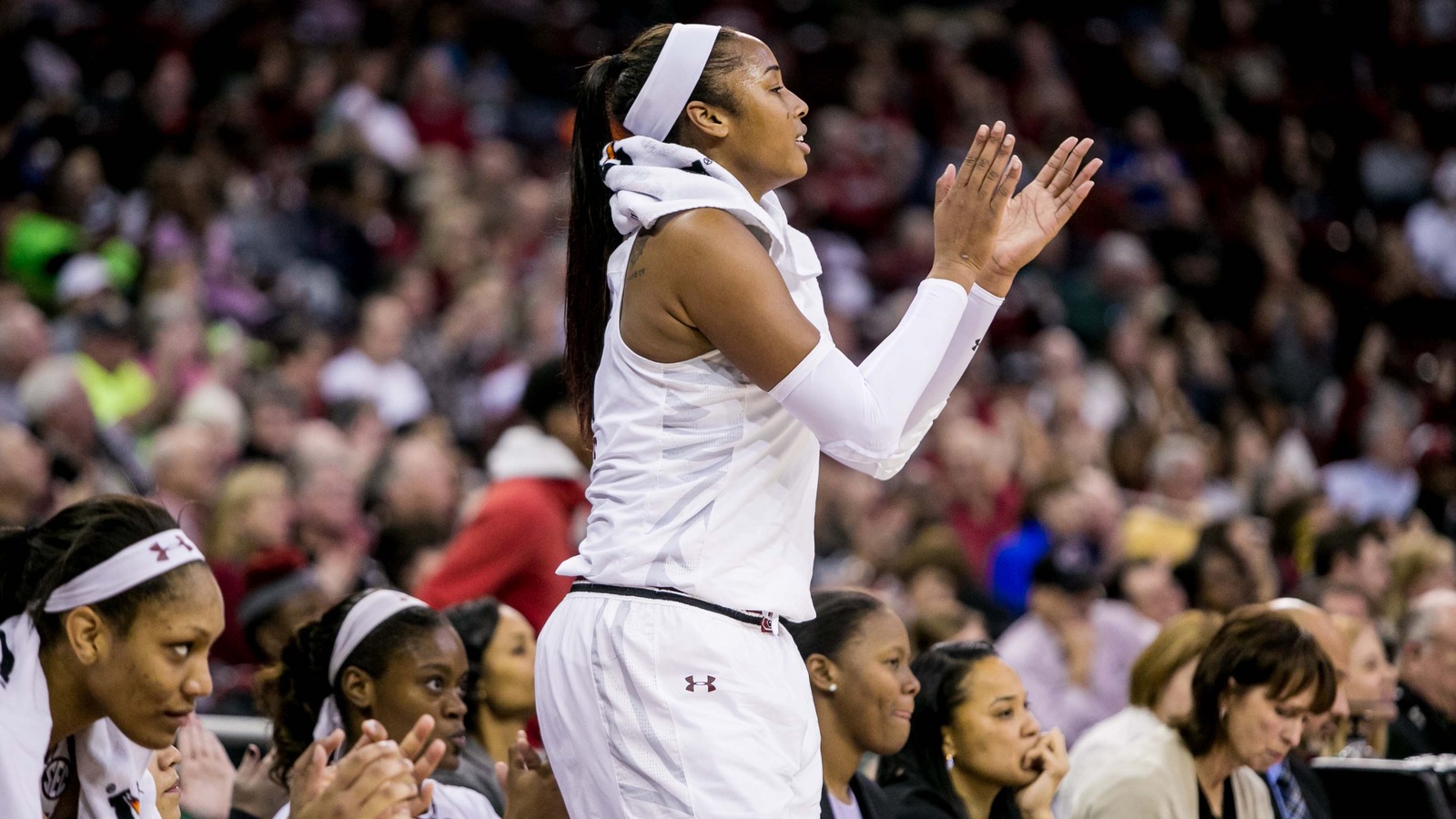 South Carolina Gamecocks center Alaina Coates is a double-double machine.
Jeff Blake/USA TODAY Sports
The Gamecocks have a rarity in the women's amateur game: complementary bigs. Coates — whose brother Ben was a productive tight end in the NFL for 10 years — is considered one of those old-school centers who makes her hay with her back to the basket. Before going down with an ankle injury prior to the SEC Tournament, the 6'4" Coates ranked third in the country in field goal percentage (67 percent) and seventh in rebounds (11.1 per game). She has also notched 57 double-doubles in her 133 games at South Carolina and is currently averaging a double-double this season with 12.9 points and 10.7 rebounds per game.
A'ja Wilson, South Carolina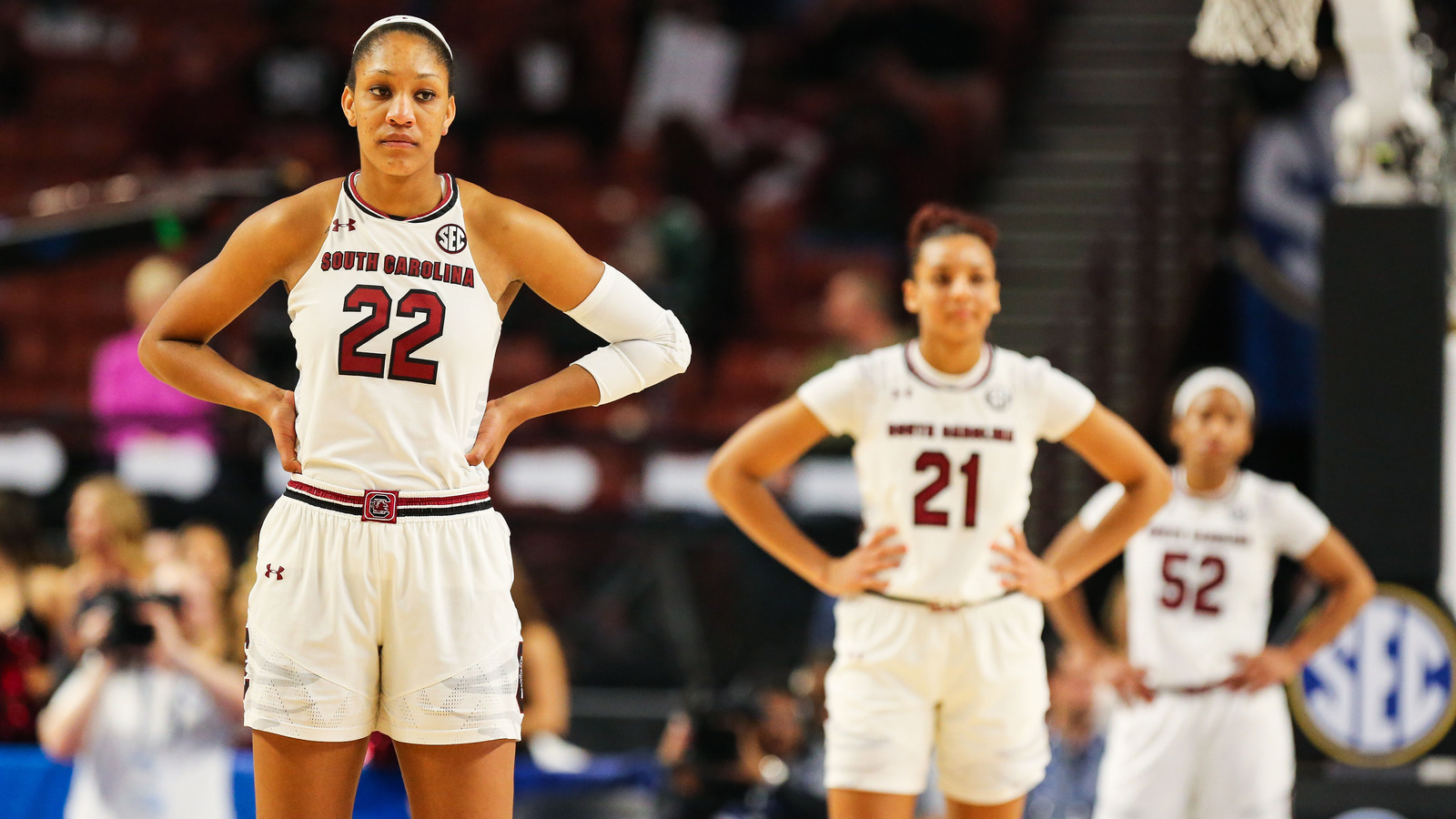 South Carolina Gamecocks forward A'ja Wilson hopes to challenge UConn in the NCAA Tournament.
Jim Dedmon/USA TODAY Sports
Yeah, about those complementary bigs — Wilson is the yin to Coates' yang. In fact, it may not be a total stretch to consider them the collegiate version of what the Los Angeles Sparks have, where Coates is Nneka Ogwumike and Wilson is Candace Parker. The forward is already a two-time SEC Player of the Year and put up some solid numbers in her junior season of 17.7 points, 7.6 rebounds, 2.5 blocks and just over a steal per game. Wilson is 14th in the country in field-goal percentage, but where Coates is more post-dominant, she does so with a blend of mid-range shots and a pretty decent post game.
Kelsey Plum, Washington
The all-time leading scorer in women's college basketball history, Plum flat-out gets buckets. Averaging 31.6 points per game for the Huskies, the senior guard has an innate ability to score from just about everywhere on the floor, especially for someone at 5'8". Plum draws contact so well that a fairly crafty lefty in the NBA (you've heard of James Harden, right?) recently gave her game a huge co-sign. There's a good chance she'll be the top pick in the WNBA Draft to the San Antonio Stars.
In relation to the tournament, it'll be interesting to see how she performs against some of the deeper teams in the nation. The Huskies, while a good team, could possibly draw Maryland or Tennessee before the prospect of facing those other Huskies. She may have to average 40 in the tourney because that doesn't sound like a smooth ride to the Final Four at all.
Chantel Osahor, Washington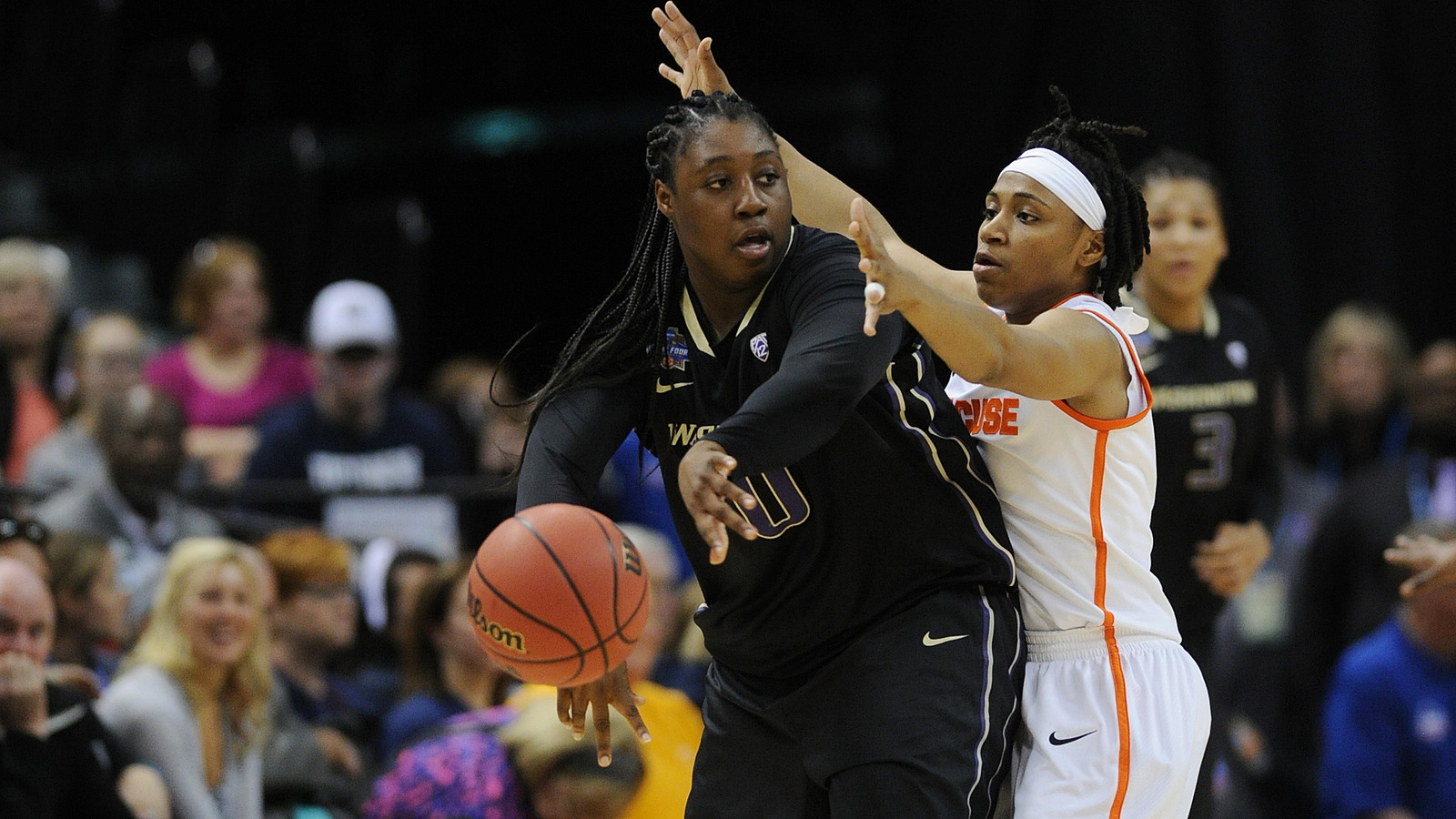 Chantel Osahor has the Washington Huskies ranked in the top 15.
Thomas J. Russo/USA TODAY Sports
She became known for basically being the greatest three-point shooter ever.
A year ago, Osahor's initial fame was a result of a Pac-12 online clip and ESPN Sports Science because of her ability to drain the deep shot… flat-footed. In some ways, she was almost pegged as a one-trick pony, albeit one with an impressive trick.
However, the senior center is the leading rebounder in the nation, grabbing 15.3 boards per game, including an insane 30-rebound performance against Washington State. With 15.8 points per game, she leads all players in double-doubles (27, five ahead of the next player mentioned here) and has proved to be an adept passer with 4.2 assists per game. Of course, it helps to play alongside the electric Plum, but having good hands and vision actually makes her a very good prospect at the next level.
Brionna Jones, Maryland
Brionna Jones and the Big Ten champion Maryland Terrapins are a serious contender.
Aaron Doster/USA TODAY Sports
As good as Coates has been for South Carolina, the Maryland star may be the best center in the women's game today. Jones is also averaging a double-double with 19.6 points and 10.7 rebounds per game. Yet, Jones ranks among the top 10 in five separate categories: field goal percentage (#1), double-doubles (#3), offensive rebounds (#8), field goals made (#8) and rebounds (#9). What also separates her from other pivot players is being a good free throw shooter at 78.8 percent on the season. And that matters because she gets to the charity stripe a lot since she's immovable in the paint.
Shatori Walker-Kimbrough, Maryland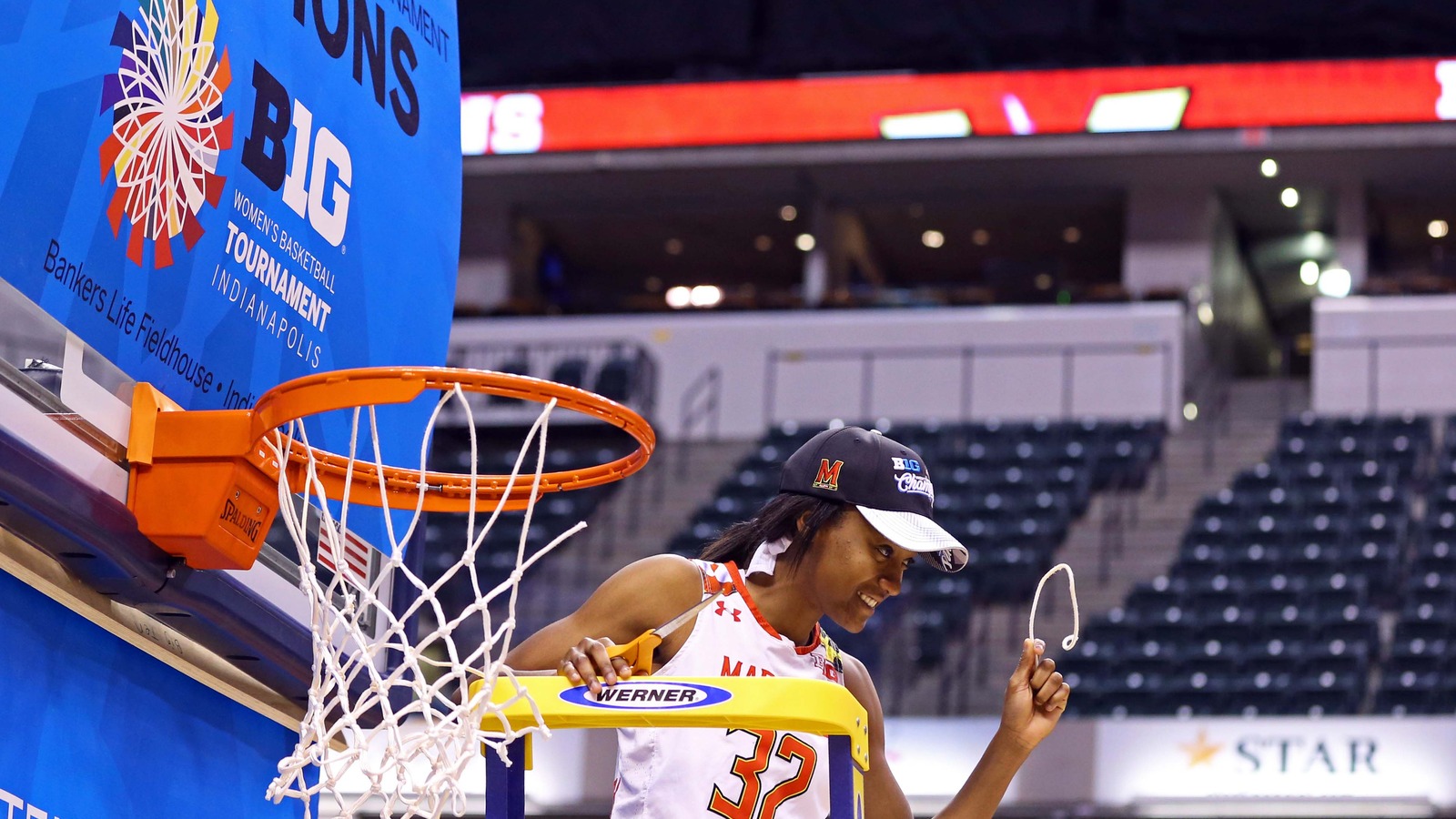 Maryland Terrapins guard Shatori Walker-Kimbrough reacts after defeating the Purdue Boilermakers during the women's Big Ten Conference tournament at Bankers Life Fieldhouse. Maryland won 74-64.
Aaron Doster/USA TODAY Sports
Jones takes them down low while Walker-Kimbrough gets them on the perimeter. At 18.6 points, 3.8 rebounds and 3.7 assists per game, she forces defenses to pick their poison between her and Jones. What makes the 5'11" guard/forward so difficult is that not only is she a strong three-point shooter (44.7 percent this season), but with her athleticism, she can cut to the basket or find her mid-range jumper. She's a career 53 percent field goal shooter and 80 percent from the charity stripe, making her that much more of a problem.
Kelsey Mitchell, Ohio State
The Buckeyes' point guard has a motor unlike any other player at the college level. Mitchell, who was recently named the Big Ten Player of the Year for the second season in a row, was the nation's seventh-leading scorer at 23 points per game while adding just under four assists and three rebounds per game. What's been impressive about her at Ohio State has been how her court vision has improved dramatically each of her three seasons, from 4.05 turnovers per game her freshman year to 2.47 as a junior.
Plenty of guards can find a spot on the floor and shoot. There are fewer who can do that plus attack the rim with ease. Mitchell can do both, but her game is insanely smooth because of her ability to beat her defender off the dribble. In fact, if there's a player in the tournament who is going to put someone on skates at least once a game, it's Mitchell.
Tori Jankoska, Michigan State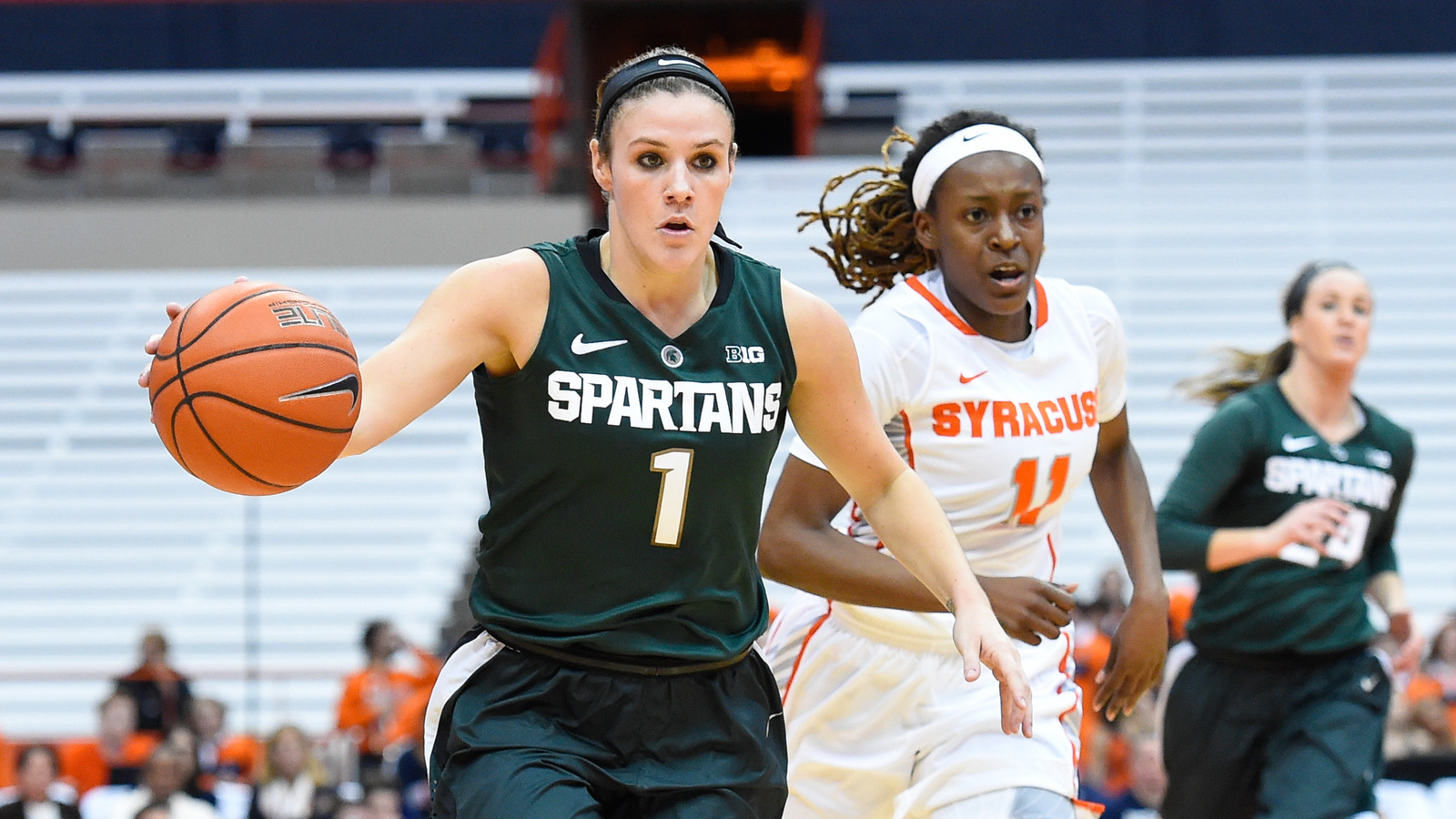 Michigan State Spartans guard Tori Jankoska does it all on the court.
Rich Barnes/USA TODAY Sports
At 22.5 points — ninth in the country — eight rebounds, 4.9 assists and 1.8 steals per game, Jankoska fills up the stat sheet every time she hits the floor. What makes her game potent is that she's a very good shooter, leading all NCAA players in three-point shooting with 3.7 makes per game (38.1 percent). This season, she's almost automatic at the free throw line as she's hitting at a 90.5 percent clip. The senior guard has improved to career highs in nearly every offensive category.
The reason why she's worth noting is because just as Kelsey Plum for Washington, there's a chance that Michigan State will run into UConn in the tournament. In fact, the recent bracketology has the Spartans possibly playing at Storrs in the second round against the Huskies. Connecticut can throw waves of guards at Jankoska, so it'll be interesting to see how she finds her spots on the floor against a team that only allows 53.5 points per contest.
MORE FROM YARDBARKER:
QUIZ: Name the NCAA women's basketball champions
Can you name every school to win the NCAA Division I women's basketball championship since 1982?
MORE FROM YARDBARKER
College Basketball (W) News

Delivered to your inbox

You'll also receive Yardbarker's daily Top 10, featuring the best sports stories from around the web. Customize your newsletter to get articles on your favorite sports and teams. And the best part? It's free!