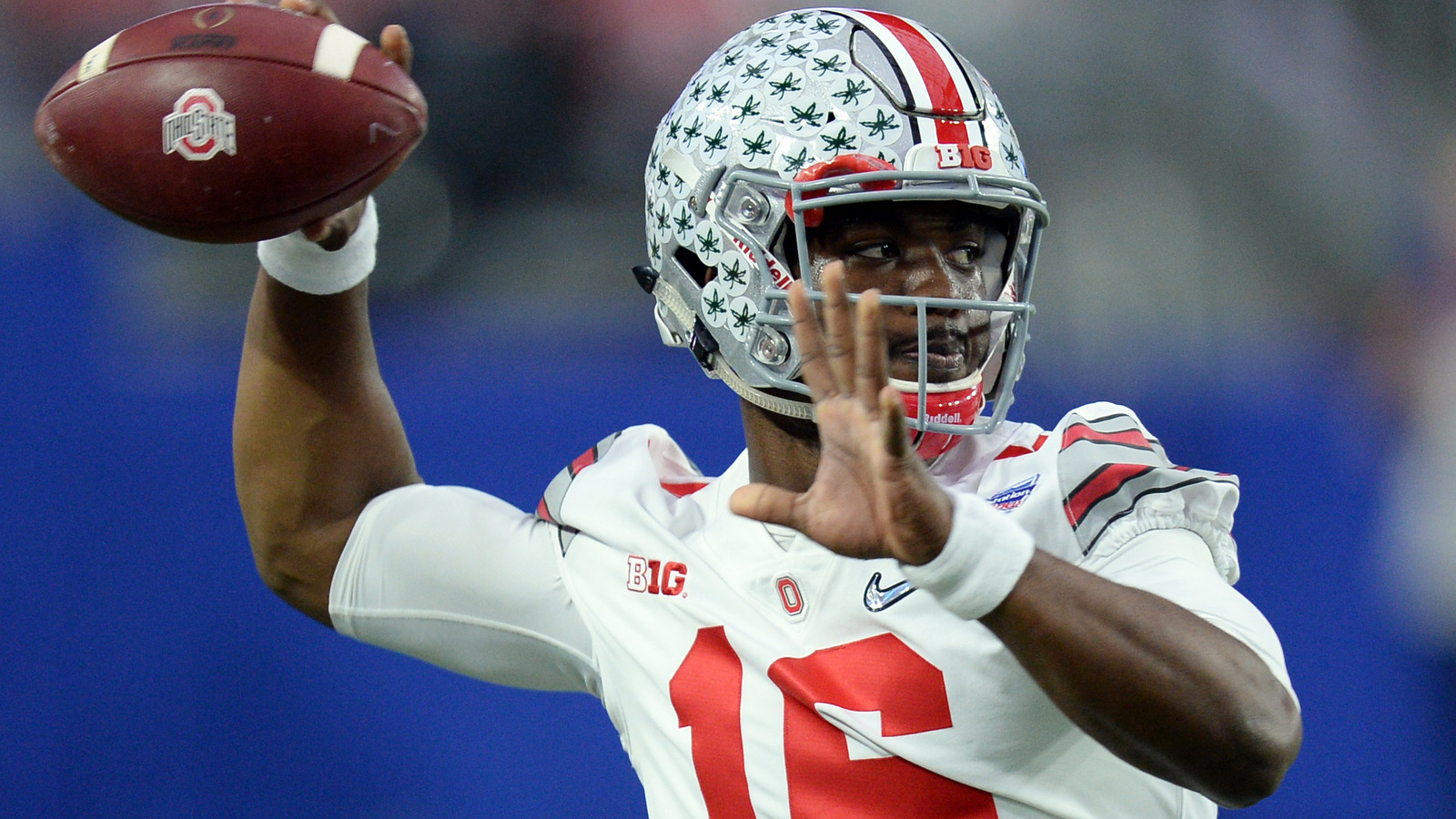 Dec 31, 2016; Glendale, AZ, USA; Ohio State quarterback J.T. Barrett (16) warms up prior to a 2016 CFP semifinal against the Clemson Tigers at University of Phoenix Stadium. 
Joe Camporeale-USA TODAY Sports
College football is loaded with quality quarterbacks. Many will contend for the Heisman Trophy in 2017, including last year's winner. A good team generally starts with a good quarterback, after all, so the position is of great importance.
Who are the nation's best quarterbacks? Here is a list of ten who will dominate in the upcoming season.
10) Jalen Hurts, Alabama
Hurts ranks on this list despite not being the most polished passer in the world. He's very much a work in progress, but to quarterback the Crimson Tide to a College Football Playoff final in one's freshman season is no small thing. Alabama reached the title game because of him, too, not in spite of him; Hurts put together some strong performances.
Hurts threw 23 touchdowns and nine interceptions in 15 games, but he didn't throw a pick in the SEC Championship or the CFP. He ended up throwing for 2,780 yards and rushing for another 954, making him a valuable dual-threat quarterback. He threw for a score and rushed for another in Alabama's title game loss to Clemson — the only loss Hurts played in last season.
Hurts is on this list as much for what he will do as what he has done. Only a sophomore, he has a bright future ahead of him, and should be even better in 2017.
9) Josh Rosen, UCLA
Rosen would probably feature more highly on this list had he not gone down with a season-ending shoulder injury six games into the 2016 season. It was no coincidence that the Bruins managed to go just 1-5 without him.
The former Freshman All-American was well on his way to a second strong season under center at UCLA. He had ten touchdowns to five interceptions, racking up 1,915 yards in the process. He appeared well on his way to bettering his freshman campaign, when he threw for 3,670 yards and 23 scores, including a streak of 245 consecutive passes without an interception.
Rosen is fully healthy, and probably poised for a big junior season if his previous campaigns are any indication. The only thing that could keep him down is if UCLA's receivers continue to be plagued by the drops issues that hurt them last year, and if his offensive line doesn't show improvement.
8) Trace McSorley, Penn State
Christian Hackenberg's former backup was handed the reigns to the Penn State offense in 2016, and all he did was take them to the Rose Bowl for the first time in eight years. McSorley emerged as one of the nation's best quarterbacks in the process, throwing for 3,614 yards and 29 touchdowns to only eight interceptions.
What really made McSorley stand out was the fact that he really seemed to step up in the big games. His 384 yards passing was a Big Ten Championship record, and he added 254 yards and four touchdowns in the Rose Bowl, though his three interceptions were a blemish on that performance.
McSorley heads into his junior year with a good team and a real chance at earning Big Ten honors with another strong year.
7) Mason Rudolph, Oklahoma State
A 4,000-yard passer, Rudolph has firmly established himself in the upper-echelon of collegiate passers. He put up 28 touchdowns and only four interceptions, a second straight quality season for him. He will, in all likelihood, surpass 10,000 career passing yards at some point during his senior season, and it would not be remotely surprising if he put together a second consecutive 4,000-yard campaign.
In addition to taking Oklahoma State as far as they can go, Rudolph's senior season will likely double as an NFL audition. He's a pro-style quarterback with an NFL arm, and he'll have his sights set on possibly being a first-round pick. That alone makes Rudolph intriguing, and he'll put up big numbers again for Oklahoma State so long as he stays healthy.
6) Quinton Flowers, USF
USF's dual-threat quarterback is most certainly the best signal-caller outside of the Power 5 conferences. Flowers can beat opponents both in the air and on the ground. His 2,812 yards and 24 passing touchdowns in 2016 are nothing to scoff at, and he delivered six 200-yard games, including a Birmingham Bowl win.
Flowers really stands out because of his legs, though.
As a junior, Flowers ran for 1,530 yards and another 18 touchdowns, making him the team's leader in both rushing yards and scores. He has 5,219 career passing yards to go with 2,594 yards on the ground, and 10,000 career all-purpose yards should be easily attainable if he stays on the field. Charlie Strong will have a fun time watching Flowers lead his team.
5) J.T. Barrett, Ohio State
Barrett seems like he's been with the Buckeyes forever.
He's still never quite topped his freshman season as far as touchdown tally goes, but he'll have a chance to do so next year. He's the only player on this list to have won a championship, even though it was as a backup to Cardale Jones in 2015. He's more than capable of doing the job himself, though.
Barrett is coming off a playoff season of his own — albeit controversially — in which he threw 24 touchdown passes and tallied 2,555 yards, adding in nine rushing touchdowns. He's an accomplished senior leader with 69 career touchdown passes and a wealth of experience to draw upon. His team will be playoff contenders again, and he will undoubtedly want to win a title of his own in his final season at Columbus.
4) Jake Browning, Washington
Browning loses some help with John Ross heading to the NFL, but the junior should once again post big numbers for the Huskies.
Browning helped turn the Washington program into a playoff team in 2016, throwing for 43 touchdowns, a tally good enough for second in the nation. Add 3,430 yards passing to that, and you have one of the nation's elite quarterbacks, one who threw at least one touchdown in all 14 games he played.
Browning struggled in his final two games, throwing for a combined 168 yards against Colorado and Alabama, but the fact that he required surgery on his throwing shoulder after the season ended may be an indicator as to why. He'll have some serious work to do if he wants to replicate those numbers again in 2017, but Chris Petersen's offense should give him the tools to at least challenge his marks.
3) Sam Darnold, USC
Darnold was a revelation for the Trojans in 2016 after he seized the starting job in the team's fourth game. He completely changed everything, turning the USC offense into a juggernaut, surpassing 3,000 yards in a season where he made only 10 starts. Had he been the starter from day one, he could have come close to 4,000 yards and 40 touchdowns instead of the 31 he actually came up with.
Darnold will get that chance as a sophomore in 2017.
His five-touchdown, 453-yard performance in the Rose Bowl win will have Trojans fans salivating. After losing his first game as starter, the Trojans won nine straight games with Darnold leading the charge, and it's for that reason that USC is being cited as a potential championship team, with Darnold likely to appear on a few preseason Heisman watch lists. Expect a big season from him.
2) Baker Mayfield, Oklahoma
Mayfield is the best pure quarterback in the nation. As he enters his senior season, it's worth looking back on the first three remarkable years of his college career — 9,980 yards and 88 touchdowns in three seasons. He's coming off a season in which he threw 40 touchdowns and fell just short of 4,000 yards, completing nearly 70 percent of his pass attempts. Like Browning, he, too, completed a touchdown pass in every game he played.
Mayfield loses wide receiver Dede Westbrook in 2017, but there's no reason to believe he can't be every bit as good as he was the year before. The Oklahoma offense will provide him plenty of opportunities to throw, and another 4,000 yards and 40 touchdowns are well within the realm of possibility. He figures to be involved in the Heisman chatter.
1) Lamar Jackson, Louisville
The Heisman winner is the obvious choice at the top of the list.
Jackson did everything and then some for Louisville in 2016, with 3,543 yards, 30 passing touchdowns, 1,571 rushing yards, and 21 rushing touchdowns. Perhaps even more impressively, he did it all as a sophomore in his first full season as the Cardinals' full-time starter.
Is there more to come from Jackson? Why not? We already know that the quarterback holds himself to incredibly high standards, and you can bet he won't be satisfied with one Heisman.
5,000 yards and 50 touchdowns are well within the realm of possibility once more, and he will be the preseason Heisman favorite again — as well as the best and most exciting quarterback in the nation.
PLAYERS:
Trace McSorley
,
Mason Rudolph
,
J.T. Barrett
,
Cardale Jones
,
John Ross
,
Chris Petersen
,
Dede Westbrook
TEAMS:
Jacksonville Jaguars
,
Penn State Nittany Lions
,
Oklahoma State Cowboys
,
Ohio State Buckeyes
,
Washington Huskies
MORE FROM YARDBARKER
College Football News

Delivered to your inbox

You'll also receive Yardbarker's daily Top 10, featuring the best sports stories from around the web. Customize your newsletter to get articles on your favorite sports and teams. And the best part? It's free!