Here is new that will make you want to bang your head against your keyboard, and probably anger you even more.  NBC News has uncovered a report from 1998 investigation into Jerry Sandusky that labeled the former Penn State football defensive coordinator as a  someone with actions that of a "likely pedophile's pattern." Yeesh. That took place nearly 13 years before Sandusky was arrested on nearly 50 counts of child sex abuse.  The report  and assesments were  originally filed by 2 psychologists  and police who had interviewed the two boys.  Psychologist Dr. Alycia A. Chambers, one of the therapists for the alleged victims, is speaking publicly for the first time with permission from the family and the individual known as "Victim 6″.
"There was very little doubt in my mind (Sandusky) … was a male predator, someone that was in the process of grooming a young man for abuse ," said Chambers, speaking publicly for the first time, with the permission of her client's family, in an interview with NBC News. "I thought…my report was strong enough to suggest that this was somebody who should be watched."
This information going public is pretty damning evidence against Sandusky, showing a pattern that was around long before other allegations came forward. The attorney for Sandusky, Joe Amendola, hit back at the recent report, though he has yet to read it himself. He falls back on what seems to be the defense that he will present when Sandusky has his day in court.
"I understand that there are some people who could look at this behavior and say it's a pedophile problem. But there are others who will say, 'This is somebody who loves kids and loves to be around them' … It's the old story, you get your expert and I'll get my expert." Sandusky has pleaded not guilty to all charges.
I am not exactly sure who he thinks who the "others" are. I am pretty certain that everyone believes that the behavior is simply wrong. I've always told my son that other men (or women for that matter) should never, ever, want to see him naked or shower with him, no matter what. Therefore, you don't do that with them. Here is some more, very disturbing information from Chambers' report
The police file provides a fuller picture than has been previously made public about Sandusky's interactions with the boy as well as the transcripts of two tense confrontations between Sandusky and the boy's mother.
Chambers was called by the boy's mother at 7:43 a.m. on May 4, 1998. The boy had returned home the night before, his hair wet, after spending two hours with Sandusky at the Penn State athletic room.
After meeting with her client in her office and talking to his mother, Chambers described in her written report how Sandusky had coaxed the boy into the shower after a workout, telling him, "All the guys do." He then moved closer to him, squeezing him tightly from behind while they were both naked. The boy also told Chambers how, during their workout, Sandusky had kissed him on the forehead and told him, 'I love you." He also invited the boy back to his house to "sit on his lap" and go "online" on his "cool computer," the boy's mother told Chambers, recounting her conversation with her son the previous night.
Here is her official assessment of Sandusky
"My consultants agree that the incidents meet all of our definitions, based on experience and education, of a likely pedophile's pattern of building trust and gradual introduction of physical touch, within a context of a 'loving,' 'special' relationship," Chambers wrote in her report. "One colleague, who has contact with the Second Mile, confirms that Mr. Sandusky is reasonably intelligent and thus, could hardly have failed to understand the way his behavior would be interpreted, if known," Chambers continued. "His position at the Second Mile and his interest in abused boys would suggest that he was likely to have had knowledge with regard to child abuse and might even recognize this behavior as a typical pedophile 'overture.'"
Chambers gave her report to the police and also contacted the state about her concerns of Sandusky. The state assigned their own therapist to do an evaluation that differed from Chambers. The second psychologist, John Seasock, found no pedophile behavior due to no sexual contact taking place, but that there were enough "gray areas" for investigators to keep an eye on it.
"SEASOCK said that he hasn't heard of a 52-year-old becoming a pedophile," the police report states. "SEASOCK said that SANDUSKY didn't fit the profile of a pedophile." (Asked by police if it was "possible" that a man that age could become a pedophile, he replied it was "possible.")
Police did continue to investigate, even hiding in the bedroom when Sandusky came to check on the alleged victim.
On the afternoon of May 13, 1998, Sandusky knocked on the door of the family home, looking for the boy. The mother greeted him instead, telling him ever since her son had seen him the previous week, "he's been acting different. He won't talk and he's been having nightmares."
When Sandusky asked to talk to her son, the mother replied: "I don't want you calling here for (her son.) I need to think about this. Let me call you if it's OK to pick (her son) up.
"Maybe I worked him too hard," Sandusky replied.
"Did something happen?" the boy's mother asked.
"I don't think so," replied Sandusky.
On May 19, police arranged to monitor a second meeting that turned even more tense and resulted in Sandusky having "tears in his eyes," according to the mother's account to investigators.
The mother: "Did your private parts touch (the boy) when you bear hugged him?
Sandusky: "I don't think so. … Maybe." The mother: "Have you ever done this with other boys?" Sandusky: "Yes."
The mother recounted how "you told him you loved him and kissed him on the head." Sandusky replied that the boy "told me he loved me, so I told him the same thing." The mother said her son had looked at Sandusky "as a hero, a father figure, he is really confused."
Sandusky then pressed to talk to the boy again, but the mother told him that would not be a "good idea."
"I don't want you going to (his) ball games." "I understand," Sandusky replied. "I was wrong. I wish I could get forgiveness. I know I won't get it from you. I wish I were dead."
Investigators ultimately closed the cased citing they could not prove anything sexual took place. Simply maddening that this was closed and it took over a decade for full legal action to take place against a man that would continue to have similar incidents happen, specifically the alleged 2002 incident in which assistant Mike McQueary saw Sandusky involved in sexual contact with an adolescent in the Penn State showers.
Original Story:
http://www.thevictoryformation.com/20...
TEAMS:

MORE FROM YARDBARKER
Nittany Lions News

Delivered to your inbox

You'll also receive Yardbarker's daily Top 10, featuring the best sports stories from around the web. Customize your newsletter to get articles on your favorite sports and teams. And the best part? It's free!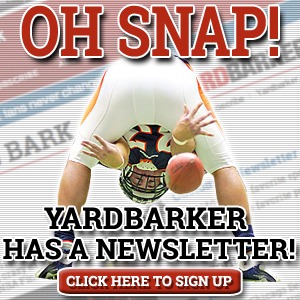 Latest Rumors
Best of Yardbarker

Today's Best Stuff

For Bloggers

Join the Yardbarker Network for more promotion, traffic, and money.

Company Info

Help

What is Yardbarker?

Yardbarker is the largest network of sports blogs and pro athlete blogs on the web. This site is the hub of the Yardbarker Network, where our editors and algorithms curate the best sports content from our network and beyond.