Found April 04, 2013 on isportsweb.com:
Let's take a look at each Big Ten team and breakdown the overall status of each school's football program.  Let's begin with the Leaders Division as we always do here on isportsweb.com Illinois Fighting Illini The Lowdown….2012 record 2-10.  The Illini are 16-22 in its last three seasons and is 2-2 in its last four bowl games. The Coach….Tim Beckman will begin his second year in Champana.  Remember that when Illinois fired Ron Zook he essentially led them to back-to-back over .500 seasons for the first time since the 1989 and 1990 seasons. The status of the program…Illinois is in year two of rebuilding so the bar is about knee high to a grasshopper.  I really felt that Illinois had more talent than they showed in 2012 and therefore, should've won more football games.  Last year, the program was getting new systems in place and putting the best people out there to get W's.  Now…at least according to me, Illinois has to win at minimum 50% of their nonconference games, but most importantly, you have to increase your win total…you can't equal the 2 W's or go back. As far as the Big Ten schedule goes…you have to win one at home.  There are enough subpar teams in the conference to do that for a second year coach. Indiana Hoosiers The Lowdown….2012 record  4-8.  The Hoosiers are 10-26 in its last three seasons and is 1-3 in its last four bowl games, but hasn't played in a bowl since 2007. The Coach…. Kevin Wilson (the dean of the Leaders division coaches) will begin his third season in Bloomington.  Wilson is 5-19 at Indiana. The status of the program….coach Wilson has done a pretty decent job improving his team in each of the past two seasons.  One win in 2011 and then four last year…so with that being said…a .500 season should be within reach.  Offense has never been an issue with IU.  Wilson needs to make his defense better and that falls on co-defensive coordinators Doug Mallory and William Inge.  All of this being written, the goal for Indiana in 2013 should be one thing….bowl game.  The system should be in place, the players should know it inside and out and the extra practice sessions prepping for a bowl game should put IU on a track to be a .500 school beginning in 2014.  Of course, that's if everything falls into place, there are no injuries to IU and injuries throughout every school in the Leaders….so…that may not happen. Ohio State Buckeyes The Lowdown…. 2012 record 12-0.  The Buckeyes are 'officially' 18-8 in the last three years (30-9 on the field) and are 'officially' 1-2 in their last four bowl games (1-3 on the field). The Coach….Urban Meyer is entering his second season in Columbus.  He is 12-0 in the scarlet and grey. The status of the program….Buckeye fans will tell you that things have never been better.  When the Bucks open their season this September, it will be 22 months since they have experienced a loss on the field.  They have their best player in QB Braxton Miller coming back.  The system has been in place for almost two years by kickoff time…things are going well at the Shoe.  If the Buckeyes don't make the Big Ten title game and play in a BCS bowl, then the season is a complete failure…Although many Buckeye fans were very critical of the spread offense attack being successful in Big Ten country, they embrace their system as if it were a free lifetime subscription to Guns and Ammo magazine.  They just need to make sure that the defense improves and is the better of the two units…if they don't, the losses will begin to accumulate. Penn State Nittany Lions The Lowdown….2012 record 8-4.  The Nittany Lions are 8-14 'officially' (24-14 on the field) over the last three seasons.  Penn State is 1-3 in their last four bowl games played. The Coach….Bill O'Brien is entering his second season in State College.  He is career record at PSU is 8-4. The status of the program….as difficult as business as usual has been around State College the past two years, the football team's success was not only completely unexpected by me, but by most observers.  The Lions annual goal hasn't changed but the expectations have.  I think they should be in contention for the Leaders at the halfway point of the season.  The program needs to remain where they are and not experience a drop off.  I just don't think there has been a more difficult situation than Bill O'Brien could've stepped into….and that is just referring to replacing Joe Paterno…then when you talk about having to replace Paterno at the same time as the Jerry Sandusky tragedy?…it really was stunning to watch him keep his team focused on football.  I really believe that he should've won the national coach of the year…and it shouldn't have been close. Purdue Boilermakers The Lowdown….2012 record 6-7.  The Boilermakers are 17-21 over the last three seasons and have gone 2-2 in their last four bowl games. The Coach….Darrell Hazell is beginning his first season in West Lafayette.  He owns a career 16-10 head coaching record…he has been the head coach at Kent State University the last two seasons. The status of the program…The Boilers haven't been a threat in the Big Ten for almost a decade now…and most will say that is kind.  While it seems at first glance, injuries may have played a major role in that.  (and I might agree to a certain extent) I believe that winning in this conference begins with defense.  One could argue that the Purdue defense was better under Danny Hope than it ever was under Joe Tiller…I would agree with that, but I would then say that the vast majority of the injuries that Purdue suffered were on the offensive side of the ball…many of them along the O-line.  Sometimes a paradigm shift is what is needed…hopefully this coaching change rights the ship for Boiler fans. Wisconsin Badgers The Lowdown….2012 record 8-6..Big Ten Champs.  The Badgers have gone 30-11 over the past three seasons and have gone 1-3 in bowl games over the last four years. The Coach….Gary Anderson is beginning his first season in Madison.  He owns a career 30-31 coaching record..26-24 at Utah State from 2009 to 2012 and then a 4-7 stint at Southern Utah, a division 1-AA school in 2003.  He is probably most noted for being the defensive coordinator for Utah from 2005 through 2008.  His 2008 Utes went unbeaten and defeated Alabama in the 2009 Sugar Bowl and finished the 2009 season ranked #2. The status of the program….It will be interesting to see if the Badgers get off to a shaky start in 2013.  I am sure there will be some bumps in the road this season, but there had better not be too many.  The fans in Madison have certain expectations…like winning in September.  If Anderson's defense gets lit up early and the Badgers finish under .500 in 2013, things could get ugly in Mad town.  I do not expect that to happen.  The Badgers may even be better than they were in 2012.  …and now the Legends Division… Iowa Hawkeyes The Lowdown…2012 record 4-8.  The Hawkeyes have gone 19-19 over the last three seasons and have also gone 3-1 in their last four bowl games. The Coach….Kirk Ferentz (the dean of the Big Ten) is entering his 15th season at Iowa.  His record is 100-74.  Iowa finished under .500 for just the fourth time under Ferentz.  Two of those seasons were the first two years he was at Iowa City in 1999 and 2000. The status of the program….I believe this is the biggest year of Kirk Ferentz's tenure at Iowa.  The recent history of players leaving the program for various reasons and rash of injuries finally caught up to him in 2012.  He needs to get this program back finishing well above .500 on a regular basis.  Ferentz has already won 10 or more games in a season more times than Hayden Fry ever did (4-3) and he missed playing in a bowl game last year for just the second time since 2000.  All of these things must be corrected as Iowa has established a long line of slightly-above mediocre play on the gridiron since the 1980's.  Over the past three seasons, Kirk's squads have slowly started unrolling that average ball of twine that is Iowa football.  It's up to the head coach to see if he can grab the ball and start to rewind it. Michigan Wolverines The Lowdown….2012 record 8-5 The Wolverines are 26-13 over the last 3 seasons and have gone 2-2 in their last four bowl games. The Coach…Brady Hoke is 19-7 at Michigan in two seasons.  Overall he is 66-57 including his 6 years at Ball State and the two he spent at San Diego State. The status of the program…Most Michigan supporters will tell you that Hoke has Michigan back on the track they need to be on.  The Wolverines, for the near future at least, should be in contention for the Legends division title each and every season.  Hoke will tell you his season is a failure if his team doesn't win the Big Ten.  UM fans will finally get to see the offense that OC Al Borges was brought to Ann Arbor to run with running QB Denard Robinson out of the picture.  It will be very interesting to see how that all shakes down. In my opinion, this is the most important year Hoke has had at Michigan…let's see if his guys can play his system. Michigan State Spartans The Lowdown…2012 record 7-6.  The Spartans have gone 29-11 over the past three seasons and have gone 2-2 in their last four bowl games. The Coach…Mark Dantonio begins his seventh season in East Lansing.  He is 51-28 at MSU and is 69-45 overall.  He went 18-17 in three seasons at Cincinnati. The status of the program…There are probably a few fans of the green and white that may have seen some writing on the wall on the banks of the Red Cedar.  That may be true, but the program is in decent shape.  The young talented players that Dantonio had brought in in previous years will be getting their shots.  They will be essentially starting over with Bell and Gholston going to the NFL.  As long as Pat Narduzzi is still coordinating the defense there, the Spartans will have a chance to be competitive in most games.  Isn't that all that matters? Minnesota Golden Gophers The Lowdown…2012 record 6-7.  The Gophers have gone 12-25 over the past three seasons and lost their last four bowl games. The Coach…Jerry Kill is 9-16 heading into his third season in Minneapolis.  His career numbers are 136-89 in five different schools…Saginaw Valley State, Emporia State, Southern Illinois and Northern Illinois. The status of the program….Bowl games need to become the norm in Minneapolis.  Kill with his proven record of success everywhere he has been can be as good as Glen Mason was.   I however, don't think Kill will think he is ever bigger than the program.  He's a pretty level-headed coach.  We know what to expect from Kill on offense…run the ball.  But where the Gophers need to improve to be in a bowl game each year is on defense.  Get to .500 the next two years and things will take care of themselves.  I have a funny feeling about the Gophers this year.  I really think they are lining themselves to be what Iowa used to be…win eight or nine games most seasons sprinkled with a six or seven win campaign in between.  A lot of people (ahem..KirkFerentz) make a pretty decent living like that. Northwestern Wildcats The Lowdown…2012 record 10-3.  The Wildcats have gone 23-16 over the past three seasons and have gone 1-3 in their last four bowl games. The Coach…Pat Fitzgerald is 50-39 heading into his 8th season in Evanston.  He gave the Wildcats their first bowl victory since 1949.  In that time Northwestern had lost 9 consecutive bowls. The status of the program…things couldn't get much better in Evanston.  They have a bowl victory, the program had just its third double-digit win total in its history…This could be a very big year in the Chicago suburbs.  Fitzgerald has his teams playing in the same mold as it's coach…hard-nosed and fast…with an edge.  It's hard not to become a fan of this team.  This team should be disappointed if they don't play after the Christmas holiday, if not on New Year's Day.  It took Fizty a while to get his team here…but the tricky part is keeping them here…Good Luck Pat. To receive an email each time I post a Big Ten Football article, fill out the Email Notification Form
Original Story:
http://feedproxy.google.com/~r/isport...
THE BACKYARD
BEST OF MAXIM
RELATED ARTICLES
STAY GOLD
The Heisman Trust is not going to be pleased with Braxton Miller when they see this haircut, but it's the off-season, and most importantly,  it's his hair. Ohio State star quarterback and Heisman Trophy candidate Braxton Miller was seen rocking a new blonde mohawk, that's part Tyrann Mathieu from two years ago, and part Wesley Snipes in Demolition Man. Most Buckeye haters...
Above is a photo of Ohio State Buckeyes quarterback Braxton Miller as he looked last fall. This upcoming season, Miller will be a junior and it will be up to him to lead Urban Meyer's troops into gridiron battle. Perhaps recognizing that his transition from an underclassman to an upperclassman is a big one, Miller apparently thought a big change was in order. Something to separate...
Quarterback Braxton Miller took a shot to the ribs for the second time in a week but Ohio State's Heisman Trophy candidate finished practice Tuesday and Buckeyes coach Urban Meyer said the junior was fine. The Big Ten's player of the year in 2012 was hit on an option pitch by defensive end Noah Spence even though Miller was wearing a black (for no contact) jersey. Miller...
Ohio State Buckeyes quarterback and Heisman Trophy candidate Braxton Miller showed off his new crazy hairstyle during a media session on Wednesday.  Miller's new blonde mohawk is pretty Tyrann Mathieu-esque and almost seems maize.  My guess is Buckeye fans won't be thrilled with this haircut. [@BenAxelrod]  
Ohio State's quarterback, Braxton Miller, is really letting his hair down in the off-season. Case in point would be the below picture which shows Braxton's new haircut which is something you don't see every day. [@kyleRowland, Big Lead] Article found on: Next Impulse Sports
Hey dickhead, may I introduce you to my BFF Richie Earl??? In case you haven't noticed, I wrote a ton of words this week which means that I have earned a relaxing Friday post. I don't make the rules around here, I just run the show (or something). Anyway, while we all hold our breath for the announcement of when Drew poops solid again, here are a few topics to get us through...
Buckeyes News

Delivered to your inbox

You'll also receive Yardbarker's daily Top 10, featuring the best sports stories from around the web. Customize your newsletter to get articles on your favorite sports and teams. And the best part? It's free!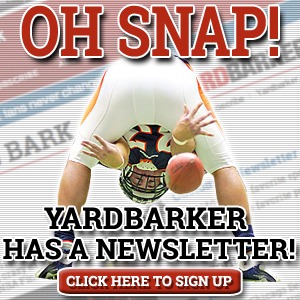 Latest Rumors
Best of Yardbarker

Today's Best Stuff

For Bloggers

Join the Yardbarker Network for more promotion, traffic, and money.

Company Info

Help

What is Yardbarker?

Yardbarker is the largest network of sports blogs and pro athlete blogs on the web. This site is the hub of the Yardbarker Network, where our editors and algorithms curate the best sports content from our network and beyond.