Found September 07, 2012 on isportsweb.com:
Big Ten Football Week 2 Preview and predictions
Saturday, September 8th
New Hampshire (1-0) @ Minnesota (1-0)   Noon   Big Ten Network: New Hampshire beat Holy Cross last week 38-17…I am expecting big things this week out of the Gophers…and by that I mean a big W…a blowout…coming back from Vegas and eeking out a win vs a team that is much better than they have been is a hummingbird-sized feather in the cap of Jerry Kill at this point.  So now let's get the home opening W….the Wildcats won, on the road last week vs Holy Cross (in Worcester, Mass BTW) …they had three guys carry the ball more than 10 times and had two WR's with more than 100 yds receiving on the day….in the end, it will be the Gophers running game that gets the victory….UM wins 45-20
Central Florida (1-0) @ Ohio State (1-0)   Noon   ESPN2:   The Knights are 1-0 coming off a rousing road victory vs Terry Bowden and the Zips of Akron 56-14.  This could be pretty interesting if the Zips can somehow move the ball…The Red Hawks threw for over 300 vs the Buckeyes last week so maybe if UCF can throw….I wonder if Braxton Miller will have another 17 carries this week….this will be the first ever meeting between the two schools…George O'Leary is 51-51 for the Golden Knights and is second on the all-time wins list for the school….All that being said I like the Knights to keep it interesting for a half…they just better hope it's the second half….OSU wins 37-17.
Penn State (0-1) @ Virginia (1-0)   Noon   ABC:  The Cavs beat the Richmond Spiders last week in Charlottesville 43-19….Virginia seems to be pretty balanced…QB Michael Rocco (great name) was 25-37 last week for 311 and a TD…plus they had three HB's carry the ball more the 10 times…Perry Jones 14, Khalek Shepherd 10 and Kevin Parks 14 carries…two of them gained 52 yds and one gained 49…so they have a ton of reliable guys they can go to…..and Penn State doesn't.  The Lions will have to rely on their defense…but I just don't think they have enough to get a road W in the ACC…I like Virginia to win 28-20.
Indiana (1-0) @ Massachusetts (0-1)   3:30pm    ESPN3:  The Minutemen were shutout by Connecticut last week 37-0…I really like the way this season is rolling out for the Hoosiers…a scare vs Indiana State last week…then what should be a beat down to UMass this week and then a bigger challenge vs Ball State next week…but they have to take care of business in Gillette Stadium first…when do you think the last time Indiana started a season with two straight wins and one of them coming on the road…no matter the opponent? (whether or not it was D-1)…any guesses?….it actually wasn't that long ago…it was 2010 when they opened the season beating Towson in Bloomington and then beating Western Kentucky in Bowling Green, Kentucky to begin the season,.IU wins big 38-10.
Iowa State (1-0) @ Iowa (1-0)   3:30pm   Big Ten Network:  Of all the rivalry games I forecast each year…this one may be the most difficult to get a feel for…Iowa clearly owns the historical record with a 37-17 mark in the series…(some 'rivalries' have a much larger discrepancy)…but Kirk Ferentz doesn't seem too enamored with the matchup either…first of all, he lost the first four CyHawk games he coached in and he is only 6-7 in the series…however…he has won the last 4 games vs Iowa State at Kinnick..but after Hayden Fry went 16-4 vs the Cyclones, the drop off seems bigger…I am going with the numbers here and say I like the Hawkeyes…Iowa will win a nail-biter at Kinnick 23-17…
Air Force (1-0) @ Michigan (0-1)    3:30pm   ABC: Air Force beat Idaho State last week 49-21…the Falcons gained 484 yards on the ground last week..uh-oh Michigan fans.  For those who haven't listened to me the last three seasons….Do you see NOW that Denard Robinson isn't a consistent, accurate QB?…please tell me you can finally see it…I was watching some film on the Falcons last night and all I could see was play action on an option when QB Connor Dietz runs an option look play..takes a quick little two step hop back into the pocket and lobs a pass to a wide open receiver over the middle…I see that going on all day long vs the Michigan defense…but I am not so sure that the AF defense will be able to stop Toussaint..I see the M defense stopping the Falcon offense more often…so…Michigan wins 45-24.
Purdue (1-0) @ Notre Dame (1-0)   3:30pm   NBC: Notre Dame beat Navy in Dublin, Ireland last week 50-10…I really like this Purdue team and their chances this weekend…but it's hard to ignore how the Irish (the team, not the countryfolk) dismantled the Middies last week…last season was the first time since 2002 that Navy hadn't finished over .500 and they had also beaten ND in three of the last 5 meetings so it wasn't a bad Navy team…..have the Irish improved that much?….unlikely.  Purdue has played Notre Dame more than any other Big Ten team…Saturday's meeting will be the 81st time they have hooked up and the Irish are 28-10 vs the Boilers at Notre Dame Stadium…but I have a hunch…the Irish will melt down…I love the Boiler D to prove a point and shut down ND…Purdue wins..31-23.
Michigan State (1-0) @ Central Michigan (1-0)   3:30pm   ESPNU: Central Michigan beat Southeast Missouri State 38-27 last week…CMU totaled over 340 yards rushing last week…It will be interesting to see how Andrew Maxwell answers the call this week…a lot of folks had him under the microscope and most didn't like what they saw….but when push comes to shove…all he needs to do is generate W's….and MSU is 1-0…I believe that CMU head coach Dan Enos is 7-18 is two plus seasons and to this point in his career as a coach has yet to produce a competitive team in the MAC…a win vs the Spartans might turn things around…but I believe Michigan had a better chance to beat Alabama last week than he does the Chips do this week….MSU wins 31-7
Wisconsin (1-0) @ Oregon State (0-0)   4:00pm   FX: The Beavers will open the season this week vs Wisconsin…The Badgers almost got caught sleeping last week at home…they had buried the Panthers from Northern Iowa and sat back and started ordering cheese curds from the concession stands..and before you know it,  Northern Iowa was driving down the field with the game on the line…as well as Montee' Ball ran the ball and Danny O'Brien threw the ball…the Badgers still found themselves vulnerable…if they don't bounce back this week and paste the Beavers, some folks in Madison should get concerned..they have time to improve and after this scare…they will.  Wisconsin drops the road grader and wins on the road 27-23.
Nebraska (1-0) @ UCLA (1-0)  7:30pm   Fox: UCLA won at Rice last week 49-24… If Rex Burkhead were going, I would say Nebraska wins it hands down…but since that is a question mark as of press time…it's iffy…Nebraska has proven that they have enough HB depth in the past… it will also be interesting to see how Nebraska handles going to the left coast…historically the Big Ten doesn't do well out there in the regular season…Ahem..ILLINOIS!!..but the Corn is a different beast..I like the depth they showed at the HB position last week…and if I were Bo Pelini I would rest RexHead and make sure he is ready for the Big Ten slate…but I am not..I just don't think Jim Mora is ready to pull the upset…but it will be close…Corn wins again..35-29.
Vanderbilt (0-1) @ Northwestern (1-0)  8:00pm   Big Ten Network:  Vanderbilt lost at home to South Carolina last week 17-13…I was impressed with the Commodores in the loss last week…they knocked the starting QB out for SC and it almost got them the W…the offense was ok, but the defense will keep them in some games this year in the SEC..and it should be enough to give them a shot vs Northwestern on Saturday night…now would be the time to see that defense you worked so hard with over the offseason Pat Fitzgerald…right now…this Saturday…Colter should go this week…but I wonder if he has told the coach if backup QB Trevor Siemian gives his team a better chance to win this week yet?…I wouldn't be surprised to see Colter line up at WR this week…Vandy gets the road win..38-33.
Illinois (1-0) @ Arizona State (1-0)  10:30pm   ESPN:  Arizona State beat Northern Arizona last week 63-6…I will tell you what…The Fighting Illini defense shut down a WMU team that has a lot of weapons…nothing like the Sun Devils have…but good for the MAC.  This is an enormous task for Tim Beckman in game 2..it's too big actually..I really like the Devils this year…but man do they have a tough schedule…@ Mizzou next week…then Utah..blah, blah…as well as a decent passing attack, ASU also racked up over 300 yds on the ground last week…so watch for a balanced attack…I just think the home field will be enough…and not all the Big Ten teams will win their west coast trips…will they?…Nah…ASU wins 42-29.
Related articles
Air Force at Michigan game preview
Original Story:
http://feedproxy.google.com/~r/isport...
THE BACKYARD
BEST OF MAXIM
RELATED ARTICLES
Just what you need at the start of your college football season, a lawsuit. But that is exactly what Bo Pelini, his clinic, and offensive coordinator Tim Beck are dealing with. According to the Associated Press, a woman is suing Pelini's clinic and his OC for traumatic brain injuries she sustained while participating in a [...]
A woman has sued Nebraska coach Bo Pelini's foundation and offensive coordinator Tim Beck, alleging she suffered brain injuries while participating in a drill at a football clinic put on by the foundation two years ago. Beverly Morgan said in the lawsuit filed Tuesday in Lancaster County Court that she fell and hit the back of her head while running with a football through two...
A woman is suing Football 101 (a foundation presented by the Bo Pelini Foundation and the Southeast Nebraska Cancer Center) and Nebraska's offensive coordinator Tim Beck for alleged injuries she received during a football clinic in 2010. The Associated Press reportsalleges "Beverly Morgan, 66, of Lincoln she fell and hit the back of her head during a drill in which a gauntlet...
Beverly J. Morgan is suing Nebraska head coach Bo Pelini's charitable foundation (Bo Pelini Foundation, Inc.) for injuries sustained during an annual football clinic for women called Football 101. Back in June 2, 2010, Morgan, who was a participant in the Football 101 clinic, was partaking in a common football drill called the gauntlet (where a running back carries the ball through...
Time: 7:30 p.m. Eastern Network: FOX Quick name the two teams that put up the third and fourth most offensive yards in the country last weekend against FBS competition? Yes, the Bruins and Huskers would be those two teams and it is all thanks to the two quarterbacks (Taylor Martinez and Brett Hundley). Nebraska's Taylor Martinez has received a ton of negative hype over the years...
Nebraska is riding a wave of offensive firepower led by the new and improved mechanics of Taylor Martinez at quarterback and ironically without the services of Rex Burkhead. The Huskers had a big game at home last week against Southern Miss and try to make it to 2-0 today after their first road contest.
The freshman running back talks about a Nebraska backfield with out Rex Burkhead.
Cornhuskers News

Delivered to your inbox

You'll also receive Yardbarker's daily Top 10, featuring the best sports stories from around the web. Customize your newsletter to get articles on your favorite sports and teams. And the best part? It's free!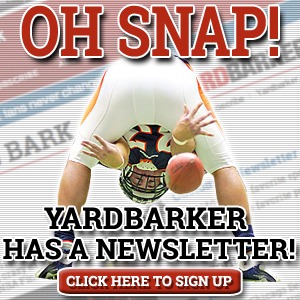 Latest Rumors
Best of Yardbarker

Today's Best Stuff

For Bloggers

Join the Yardbarker Network for more promotion, traffic, and money.

Company Info

Help

What is Yardbarker?

Yardbarker is the largest network of sports blogs and pro athlete blogs on the web. This site is the hub of the Yardbarker Network, where our editors and algorithms curate the best sports content from our network and beyond.