CFP Championship: Players to watch and our picks
By Yardbarker Staff | Last updated 1/9/17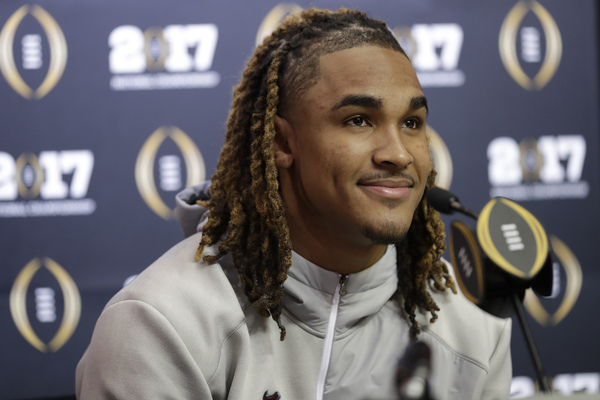 Alabama's Jalen Hurts answers questions during media day for the NCAA college football playoff championship game against Clemson Saturday, Jan. 7, 2017, in Tampa, Fla.
AP Photo/Chris O'Meara
The 2016-2017 season has finally come down to the College Football Playoff Championship between Clemson and Alabama, a game that we all agree is more than just a grudge match between two of the most dominate programs in the country. With a win Dabo Swinney and Deshaun Watson can cement their spot in college football lore topping the Tide, Nick Saban and true freshman Jalen Hurts can roll into one of the most perfect seasons in history with an Alabama win.

Players to watch and our picks after the jump.

College Football Playoff Championship
Clemson #2 (13-1, ACC) vs Alabama #1 (14-0, SEC)
Location: Raymond James Stadium, Tampa
Time: Monday, Jan. 9, 8:30 p.m. ET/5:30 p.m. PT
Channel: ESPN

Players to watch for Clemson

Sam Greszes: It has to be Deshaun Watson and Mike Williams. They will need to have some sort of Vulcan mind-meld magic if they're going to make this game competitive and ultimately pull off the upset.

Shiloh Carder: Four last names: Wilkins, Watkins, Ferrell and Lawrence. Those are the guys who form Clemson's talented, yet young, defensive line. They wrecked havoc on Ohio State last week and have the ability to disrupt Alabama's offense this week.

I also think WR Hunter Renfrow will need to come up big for Clemson as well. With the Tide concentrating on Williams on one side, Renfrow will need to find open spots and make plays for Clemson to be able to break that defense.

Daniel Tran: The Tigers go as Deshaun Watson goes. When he is cooking, the Tigers are nearly impossible to stop. Watson torched Alabama for 405 yards and four touchdowns through the air in the national championship game last year. If he has another game like that, the Tigers have a good chance at winning this game.

On defense, Carlos Watkins will be the man to watch if Clemson wants to stop Alabama. Watkins is a terror on the defensive line, demanding constant double teams and clogging up running lanes like rubbernecking drivers on the 405 Freeway in Los Angeles. He can also get to the quarterback, logging 10.5 sacks as tackle. He will need to be at his stoutest when tangoing with the Alabama offensive line.

Players to watch for Alabama
Sam Greszes: I'm very excited to key in on Bama's defense during this game and guess how many points they can score. The first player I'll key in on is Minkah Fitzpatrick, who graced us with one of the most electric plays of the season, returning an interception 100-plus yards against Arkansas.

I'll also be watching defensive back Anthony Averett. He was a key player in the Peach Bowl, forcing a fumble and notching a sack after being relatively quiet earlier this year. Continuing this play will be key against a throw-happy Clemson offense.

Shiloh Carder: To me, Alabama's success relies on Jalen Hurts. He certainly doesn't have to match Watson's performance but he needs to make good decisions and complete more than 7 passes if they want to win this game.

That's where O.J. Howard comes in. With Hurts facing pressure he will need to get rid of the ball quickly and Howard could be his outlet.

And finally, ArDarius Stewart needs to make a big play, whether it is receiving or returning kicks. In a game with two elite defenses, on big catch and run or a return could flip the field position game and break the spirit of the defense.

Daniel Tran: Bo Scarbrough had a coming out party against Washington last week. I would expect Nick Saban to ride the hot hand, especially with Steve Sarkisian taking over for Lane Kiffin for the national championship game. I don't expect a lot of complicated play calling, which means Scarbrough will be seeing action plenty of times.

The defense will have a tough task in stopping Deshaun Watson, but if they're going to it they're going to need linebacker Ryan Anderson. Not only can Anderson stuff the run (16.5 tackles for loss), he can blitz and neutralize quarterbacks (7.5 sacks, one pick-six). If anyone can track Watson all around the field, it is Anderson.

Picks

Sam Greszes: Alabama. Because they're just better. This is one of the most dominant teams I have ever seen play college football, and they have never really seemed vulnerable. I would love for Clemson to crush them. I really would. But that's just not going to happen.

Shiloh Carder: I will be honest: I'm rooting for Clemson. I'm an ACC guy and love the fact that the league crushed their record for bowl wins (eight – the previous record was five ) and that they've gone 9-4 against the SEC this season and have gone 10-2 the last three years in their season ending "rivalry games" between the two leagues. The ACC has been in the national championship game three times in the last four years (just like the SEC). Yes, though I wildly respect Alabama's historic run and what Saban has done, I have suffered from Alabama fatigue. Plus I'm Lane Kiffin's cousin and after what Nick Saban just did (okay, that's not true).

My mind says Alabama. That defense is historically great and while Clemson will score on it, they will also turn it over and have to work that much harder to topple the Tide. Like I said, it won't be as high scoring as the 85 points last year but it should be a tense classic. Alabama 24-20.

Daniel Tran: I'm going to go with Clemson.Washington was good, but they didn't have the team to prevent the Alabama offense from taking advantage of the stops the defense gets. Clemson does. They turn the ball over, and they can stop the run. Alabama is also going through a coaching change on offense that could affect their continuity. Throw in the dynamic Deshaun Watson and you have a recipe to shock the world and win a national title.
MORE FROM YARDBARKER:
Best athlete by state all time
QUIZ: Name every member of the Alabama Crimson Tide to be selected in the first round of the NFL Draft
Since 1936, the University of Alabama Crimson Tide have sent 50 players to the pros in the first round of the NFL draft. How many can you name?
Clue: Year-Draft Number-Position-Team
MORE FROM YARDBARKER
College Football News

Delivered to your inbox

You'll also receive Yardbarker's daily Top 10, featuring the best sports stories from around the web. Customize your newsletter to get articles on your favorite sports and teams. And the best part? It's free!