Found November 12, 2011 on Nittany Lines:
Penn State's first play from scrimmage today could have been an homage to Joe Paterno. Interim head coach Tom Bradley ordered a fullback run up the middle and he did it with Joe Suhey, a fourth generation Penn State player. Paterno's image long had been one of running it up the middle, although that image has not been accurate for decades. And what better way to acknowledge what Paterno has done over the years than handing the ball to Suhey, whose dad, grandfather and great-grandfather played for the Nittany Lions? And, we're just hearing via TV that the seat on the front on the first team bus arriving at the stadium was left empty. That seat for years was occupied by JoePa, and Bradley, again in a tribute to his former coach, left it empty.
Original Story:
http://blogs.mcall.com/nittany_lines/...
THE BACKYARD
BEST OF MAXIM
RELATED ARTICLES
Somebody had better tell interim Penn State head coach Tom Bradley to abandon talking about Joe Paterno in the saintly manner. Bradley said Paterno "has meant more to me than anyone except my father." I'm concerned that Bradley said no comment when asked if he knew anything about Mike McQueary seeing Jerry Sandusky raping a ten-year [...]
The only thing people love more than watching a star claw his way to the top is watching him fall. So add Joe Paterno's name to a far-from-complete list of athletes who plummeted from grace in recent years: Tiger Woods, Michael Vick, O.J. Simpson, Magic Johnson and Barry Bonds. Their sins were not the same, nor were their fates. But they were all banished to a kind of purgatory...
Apparently the rules of the world now include a moratorium on all sports discussion on the internet that doesn't involve some sort of anger at Joe Paterno and Penn State. I apologize for violating that moratorium.The good folks over at The Good Phight have a device called the Ruben Amaro, Jr. Smug Advisory System, a machine that does exactly what the name would suggest. I bring...
The man who helped make Twitter famous has decided to stop tweeting. While Joe Paterno and the Penn State sexual abuse scandal has dominated headlines, apparently Ashton Kutcher doesn't read the news. Upon hearing that the legendary coach was fired, Kutcher tweeted, "How do you fire Jo Pa? #insult #noclass as a hawkeye fan I find it in poor taste.: Moments later hashtags #ThingsAshtonKutcherd...
Let me go ahead and get this out of the way: From a depravity standpoint there is no comparison between Joe Gibbs giving Kyle Busch too much leash and what Joe Paterno let happen at Penn State. But from the standpoint of legendary czars letting inaction and hypocrisy kill their careers, it's practically the same story. Gibbs, like Paterno, always promoted the right things. For...
STATE COLLEGE, Pa. (AP) — Capping the worst week in school history, No. 12 Penn State couldn't overcome a 17-point deficit and was stopped short on a fourth-and-1 late in a 17-14 loss Saturday to No. 19 Nebraska. The outcome was secondary in Happy Valley. A tumultuous chapter that began with the arrest of former defensive coordinator Jerry Sandusky on shocking child sexual...
The arduous task of rebuilding Penn State's shattered image began Friday with a pledge by the board of trustees to search for the truth amid an unfolding child sex abuse case against a former assistant football coach, a scandal that has already claimed the jobs of coach Joe Paterno and the school's president.
It was another dark day for the Bears' Penn State alumni. ''Sad and disgusting,'' ­defensive tackle Anthony Adams said. ''Shocking … and unfortunate,'' place-kicker Robbie Gould said. Both players reacted to the story of the day — the firing of legendary Penn State coach Joe Paterno...
Nittany Lions News

Delivered to your inbox

You'll also receive Yardbarker's daily Top 10, featuring the best sports stories from around the web. Customize your newsletter to get articles on your favorite sports and teams. And the best part? It's free!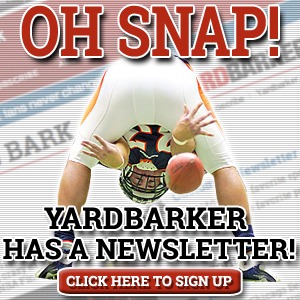 Latest Rumors
Best of Yardbarker

Today's Best Stuff

For Bloggers

Join the Yardbarker Network for more promotion, traffic, and money.

Company Info

Help

What is Yardbarker?

Yardbarker is the largest network of sports blogs and pro athlete blogs on the web. This site is the hub of the Yardbarker Network, where our editors and algorithms curate the best sports content from our network and beyond.