Found November 28, 2012 on Oregon Sports News:
Top ranked college football teams all have signature identities. Even if it's not their year to shine, you know who they are. Florida State has the chop. Texas has their hook 'em horns. Florida's got the 'gator chomp. And Oregon is catching up. Today, when you see someone raise their hands in front of them and touch index fingers and thumbs, you know who it is. You also know who it isn't. It's not THE OH 11-0 State Buckeyes no matter how badly they'd like to think it is. Other ways to spot the Duck fan? 1. JEWELRY From crushed emerald O rings to diamond Duck earrings, Duck fans know their bling. What happened to the simple elastic bands with the alphabet beads that spelled out Oregon Ducks? They're in the back of the jewelry box with the souvenir tickets from the last losing season. When football stepped up, everyone stepped up. 2. INK Oregon Duck ink is colorful, stylish, and fits in out of the way places...
Original Story:
http://www.oregonsportsnews.com/team-...
THE BACKYARD
BEST OF MAXIM
RELATED ARTICLES
One to Go The Oregon Ducks didn't get to where they hoped they would be at the end of the season but came awfully close to doing so. Had Zach Ertz's controversial touchdown towards the end of regulation been upheld as an incomplete pass (as many officials have come to believe), the Ducks would be priming themselves for yet another Pac-12 Championship game and a likely date with...
The 2007 hiring of New Hampshire offensive coordinator Chip Kelly was historic to the Oregon football program. Although named to the same position by Oregon (taking over for Gary Crowton who left for LSU), his version of the spread offense has brought legendary results to a program that has had it's share of ups and downs. His innovative offensive assault gained more national attention...
It's time for another column to be written. I take a sip of my Gatorade. I remember my trainer telling me not to drink it unless I'm working out. I glance down and realize what I'm wearing: an Oregon Ducks sweatshirt. I'm still psyched about the outcome, as all of us "fans" are.   The Oregon Ducks ran up, over, and around the Oregon State Beavers in the latest...
It has been nearly five years since the Oregon Ducks basketball team was last ranked in the AP top-25. Not since the days of Ernie Kent, Marty Leunen and Malik Hairston have the Ducks been deemed good enough to be considered one of the country's top teams. There have been a few bright spots in the abysmal five-year stretch, but an overall record of 87-81 (38-52) and a football...
That's it.  As slowly as it comes, it quickly goes away.  For all intensive purposes the 2012 college football regular season is behind us.  Sure, Oregon State has a glorified scrimmage against an also-ran Nicholls State team Saturday and the various BCS conferences are playing their league championship games as well, but the National Title Game has been decided and we're...
Climbing the Pac? Sitting at 5-1 on the season as of Tuesday afternoon, the Oregon Ducks have surprised many pundits and fans coming out of the gates. Currently sitting fourth in the PAC-12 standings, the Ducks, who during the preseason were predicted by many (including myself) to sit in the bottom half of the division standings and hold a NIT ticket are making a push for the Big...
Forget the SEC Before we start, let's get something clear: the Oregon Ducks will not be going to the BCS National Championship this season. While they may be one of the top college football teams this season, they sit behind No. 1 Notre Dame (12-0), No. 2 Alabama (11-1), No. 3 Georgia (11-1), and No. 4 Florida (11-1) with no more games left to play and no chance of moving into...
Should he stay or should he go? It's no secret that Chip Kelly has NFL aspirations. The Oregon Ducks head coach made that apparent last season when he accepted a job with the Tampa Bay Buccaneers, but quickly retracted his decision . Now with the team experiencing more success than ever, and with Kelly's stock being as high as it's ever been, the talented leader will be presented...
1. Stanford (10-2) – Cardinals keep rolling along, easily handling UCLA 35-17.They quietly sit at 10-2, that loss to Washington is still hard to figure out, and they could've beaten Notre Dame, but the refs decided against that.Regardless, if they beat UCLA for the PAC-12 title this weekend, it's hard to argue they don't belong in a BCS game. There are great potential match...
Ducks News

Delivered to your inbox

You'll also receive Yardbarker's daily Top 10, featuring the best sports stories from around the web. Customize your newsletter to get articles on your favorite sports and teams. And the best part? It's free!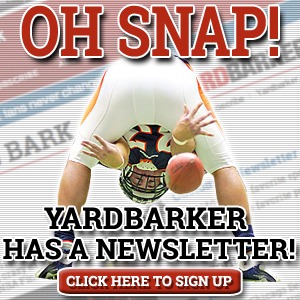 Latest Rumors
Best of Yardbarker

Today's Best Stuff

For Bloggers

Join the Yardbarker Network for more promotion, traffic, and money.

Company Info

Help

What is Yardbarker?

Yardbarker is the largest network of sports blogs and pro athlete blogs on the web. This site is the hub of the Yardbarker Network, where our editors and algorithms curate the best sports content from our network and beyond.