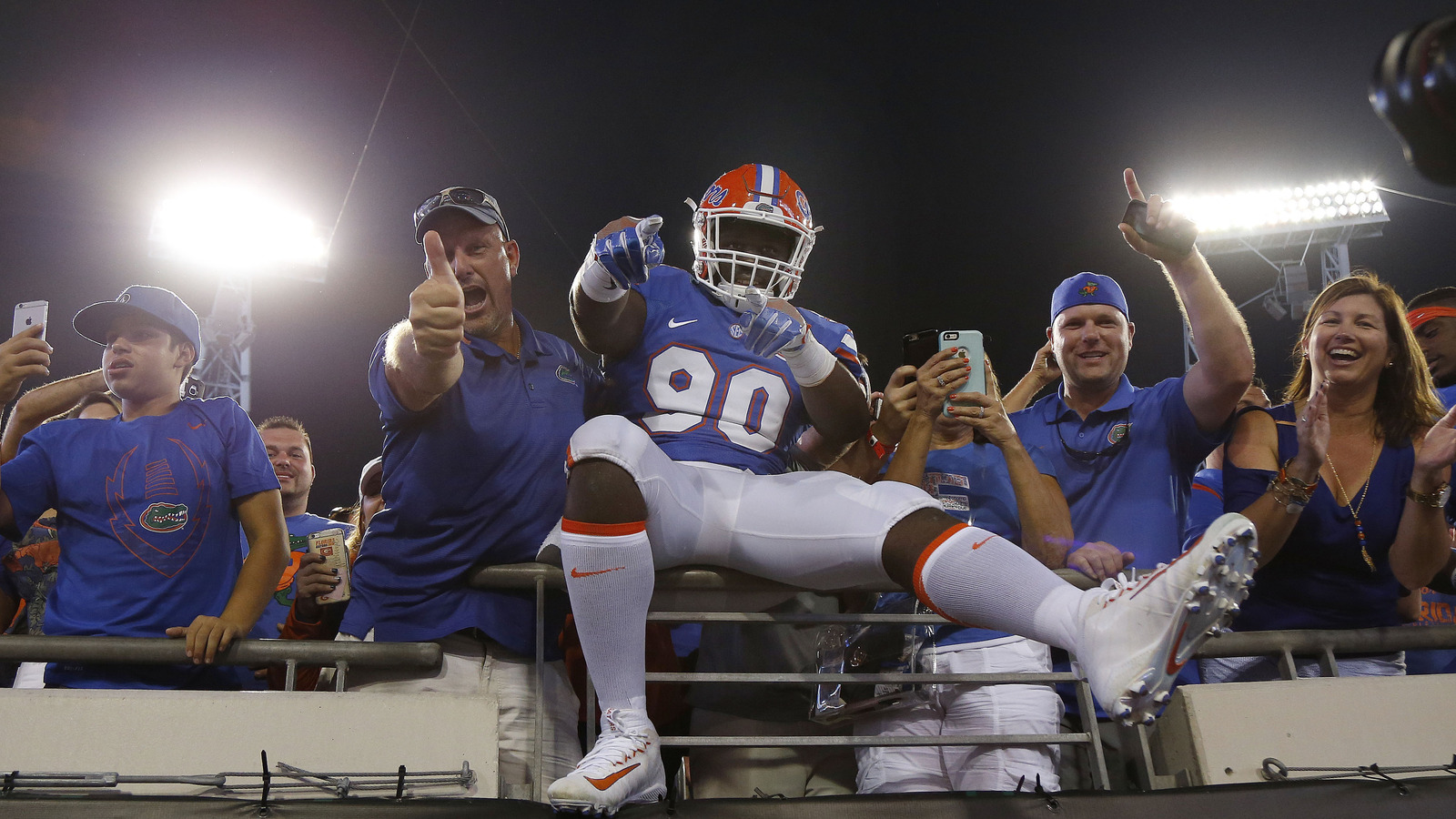 Gators defensive lineman Antonneous Clayton has an aggressive calorie-intake plan to keep up his weight.
Kim Klement-USA TODAY Sports
Florida defensive end Antonneous Clayton was a five-star recruit and considered one of the best players in the country for the class of 2016, but his freshman season was one to forget. With the help of proper dieting this offseason, Clayton is hoping to change that.
Clayton, who received a top-10 overall grade from ESPN out of high school and was Florida's highest-rated signee, admits he was unprepared for the tempo of Division I college football. He also said he was underweight.
"There's no more coming off the ball with your hands slow, playing slow. It's all about being physical, striking, speed, power, athleticism," Clayton told Zach Abolverdi of SEC Country. "That's the main curve I had to overcome. Coming in at 215, I wasn't that SEC body that I wanted to have."
Clayton weighed 235 pounds when he started his first offseason program in Gainesville. He lost 20 pounds when he caught a virus during the fall, but he is now up to 250 heading into his second season. He plans to keep his weight around that number by eating about 6,000 calories a day. That's right, 6,000.
"We have a great nutritionist, a great nutrition program," Clayton said. "Collier Perno, she's been getting with me about what I need to be eating. It's a lot of lean foods. It's not like my belly's sticking out.
"I'm more agile. I'm able to move at 245. It's great. I feel as if I was still 215. The reason I know it's not bad weight is because I don't feel any slower than when I first came in."
While that's not exactly the famous Michael Phelps diet (which may or may not have been a myth), the average male is supposed to eat about 2,500 calories per day to maintain weight. Clayton is consuming, shall we say, just slightly above the average amount. Time will tell if the diet helps him make the impact the Gators expect from him.
MORE FROM YARDBARKER
Gators News

Delivered to your inbox

You'll also receive Yardbarker's daily Top 10, featuring the best sports stories from around the web. Customize your newsletter to get articles on your favorite sports and teams. And the best part? It's free!