Found September 17, 2012 on 60 Max Power O:
TEAMS:

Wow! Week 2 brought some major surprises that could knock some likely targets off the list, add some new guys and restore some who looked in trouble to the list. The biggest surprise could be the emergence of UCLA running back Jonathan Franklin, who would probably win the Heisman tomorrow (if it was voted for this week) after consecutive 200 yard games.
    RB Montee Ball, Wisconsin
In one of the big surprises of week 2, Oregon State, fresh off a 3-win season, weren't prepared to give up their house to a strong Badgers team. The Beavers (successfully) went all out to stop Ball, holding him to a mere 61 yards, and in the process forced the game onto Danny O'Brien's shoulders. O'Brien couldn't come up with the goods, the Badgers scored 7 points, and Ball's Heisman hopes took a monstrous hit.
Next Week: Utah State
Stats to Date: 
Rushing 47-181-1, Receiving 7-49-0.
  RB Jonathon Franklin, UCLA
Running over Rice is one thing, running over a tough D like the Cornhuskers is another, yet Franklin was just as, if not more, effective. He had 26 carries for 217 yards and caught a TD pass, showing off a little versatility. He is red hot right now, and faces a Houston team that has given up nearly 500 yards rushing in the first two games. Franklin said at the start of the season he was gunning for 2000 yards. He could move a little closer to that reality on Saturday.
Next Week: Houston
Stats to Date: 
Rushing 41-431-3, Receiving 4-63-1.
  QB Matt Barkley, Southern California
Barkley and the Trojans faced a game Syracuse team and the New Jersey weather but, despite not playing his best game, did little to hurt his Heisman chances with 6 TD passes. With the Trojan defense struggling, Barkley took the game on his shoulders and made play after play to keep USC on top. Next up is a tough Cardinal team which has won tight games with the Trojans the last couple of years.
Next Week: @ Stanford
Stats to Date: 
Passing 68-46-559-10-1, Rushing 2-(-17)-0.
  QB Landry Jones, Oklahoma
The Sooners played a lot better against A&M as a team than they did at UTEP, but Jones continues to post merely decent stats, throwing for 252 yards and 2 TDs. How will he fare when the opposition gets a lot tougher? In fact, he may get surpassed by his own teammate Damien Williams, who had 156 yards and 4 scores last weekend, and scored the winning TD the week before.
Next Week: Bye (and they need it)
Stats to Date: 
Passing 64-40-474-4-1, Rushing 4-(-29)-0.
  QB Geno Smith, West Virginia
Bye week. If WVU can keep up the pace of last week, the Dukes could be in for a nightmare of a game.
Next Week: James Madison (@ Landover, Maryland)
Stats to Date: 
Passing 36-32-323-4-0, Rushing 8-65-1.
  QB Aaron Murray, Georgia
Another week, another slow start - although not quite as problematic as expected. It was more the defense that needed to step it up and they did, stifling Mizzou in the second half and letting the offense do its work. Murray had another solid day, throwing for 242 yards and 3 scores (1 pick), but solid doesn't cut it with Heisman voters - he needs to pick up some signature wins. Continuing his play at this rate will pick up some end of year voters, but he needs to make a splash now to catch everyone's eye.
Next Week: Florida Atlantic
Stats to Date: 
Passing 61-37-500-6-1, Rushing 12-(-24)-0.
  QB Tyler Wilson, Arkansas
Wilson took a severe beating in the first half of the game against ULM and sat out the second with a possible concussion. Should he miss extended time, his Heisman shot will be all but over, but playing sooner than he's ready could be far more catastrophic. He threw for 196 yards and 2 scores (1Int) in the first half.
Next Week: Alabama
Stats to Date: 
Passing 47-30-563-5-1, Rushing 3-(-2)-0.
  QB Tajh Boyd, Clemson
Boyd continues to play well, throwing accurately and limiting mistakes, but he's been overshadowed by his teammates Andre Ellington and DeAndre Hopkins. Perhaps the return of Sammy Watkins will help open up the passing game to send his stats through the stratosphere, but more likely it will water down his votes even more.
Next Week: Furman
Stats to Date: 
Passing 57-43-437-4-1, Rushing 22-70-0.
  RB Marcus Lattimore, South Carolina
Lattimore had a quiet day at the office last Saturday, as HC Steve Spurrier decided to air it out against East Carolina with backup Dylan Thompson at QB. Thompson was outstanding, but the Pirates did a solid job bottling up Lattimore, holding him to 40 yards and a TD on just 13 carries. His name keeps him in the
race
, and the rest will do him good, as he will be counted on heavily when the rest of the SEC slate kicks in.
Next Week: Alabama-Birmingham
Stats to Date: 
Rushing 36-150-3, Receiving 5-29-0.
  RB De'Anthony Thomas, Oregon
Fresno State came to play last week against the Ducks and gave them a scare, but in the end the Blur Ball running attack was too much for the spirited Bulldogs. Thomas was a major factor, rushing for 102 yards and 2 scores and catching 4 passes for 26 yards. He's not playing at quite the level he was last year, although the so-so passing game hurts, but he's still a threat on every play. Playing on the same field as Kenjon Barner may be a bigger concern.
Next Week: Tennessee Tech
Stats to Date: 
Rushing 10-166-3, Receiving 8-81-2, PR 3-6-0.
  Ten More to Watch:
QB Denard Robinson, Michigan:  
Back in the running with an outstanding game against Air Force, throwing for 208 yards and 2 scores (1Int) and rushing for 218 yards and another 2 TDs, including scores of 79 and 58 yards.
WR Sammy Watkins, Clemson: 
Missing 2 games to suspension will probably rule him out. Even if he's amazing, voters may ignore him based on his off-field troubles alone.
RB Rex Burkhead, Nebraska: 
He didn't play last week due to injury, and his chances are slipping slowly away.
QB Braxton Miller, Ohio State: 
Miller was the difference against a tough UCF team looking for a huge scalp, as he threw for 155 yards and a TD (1Int) and rushed for 141 yards and 3 TDs on 27 carries.
QB Collin Klein, Kansas State: 
He showed some passing skills to go with his bulldozer running style as K-State lit up Miami, completing 9 of 11 passes for 210 yards and a TD (1 Int) and rushing for 71 yards and 3 scores on 23 carries.
RB Kenyon Barner, Oregon: 
Barner and his running mate Thomas were the difference in the Fresno State game. Barner totaled 201 yards and 3 TDs in 34 carries and caught 3 passes for 21 yards. He could move up the board with another big performance.
WR Robert Woods, Southern Cal: 
Woods took another step toward full health with a manly performance against Syracuse. He caught 10 passes for 93 yards and 2 scores, constantly outmuscling Orange DBs for the ball to extend plays, and also ran 76 yards on a reverse. He needs a big statistical game to keep voters interested though.
RB Knile Davis, Arkansas: 
Another mediocre performance suggests Davis might be off the list before long. Just 16 carries for 62 yards and a score is not what the Hogs expected. He needs a breakout game – soon!!!
RB Eddie Lacy, Alabama: 
He's stuck in committee mode and needs to start dominating like he did as a reserve last season. He only had 9 carries for 36 yards. Maybe Saban is saving him for conference play.
QB Derek Carr, Fresno State: 
I said last week Carr needed to make a statement against Oregon to have a shot. He was good, throwing for 234 yards and 1 TD as the Bulldogs gave their all, but it wasn't enough. Now he needs to gut the MWC to have any hope.
  New Kids on the Block:
RB Le'Veon Bell, Michigan State: 
Central Michigan had every intention of shutting down Bell and did a solid job, holding him to 70 yards on 18 carries. Still, he scored 2 TDs and needed a lighter load after his monster game the week before. The apparent emergence of QB Andrew Maxwell could open up holes for Bell too.
RB Andre Ellington, Clemson: 
Ellington wasn't really needed against Ball State, carrying just 13 times for 41 yards and 2 scores. We'll see how does in ACC play before we start moving him up the charts.
QB Nick Florence, Baylor: 
Spent his off week kicking it by the pool and contemplating taking on SMU's pass defense, who've allowed 770 yards already (7 picks though).  
Please join us on our Facebook Page and follow us on Twitter @DailyShootout  
Be sure to check out other great articles at DailyShootout.com.
Original Story:
http://www.60maxpowero.com/patriots/c...
THE BACKYARD
BEST OF MAXIM
RELATED ARTICLES
Three University of Wisconsin students have been charged for attacking Badgers' running back Montee Ball.  The Associated Press says: Wendell Venerable, Robert Wilks and Deonte Wilson appeared in Dane County Circuit Court on Monday where a judge continued their signature bonds. A criminal complaint says Ball was kicked and punched Aug. 1 as he walked in Madison. The complaint...
JUSTICE BEING SERVED
Three Wisconsin students were arrested Monday for a summer assault on running back Montee Ball, which occurred in a retaliation to a previous fight.
MADISON, Wis. Scan Wisconsin's entire 113-man football roster, and not one player comes close to matching the diminutive stature of 5-foot-8, 170-pound wide receiver Kenzel Doe. Backup defensive backs stand 5-11. Even the team's starting place kicker is 6-1, 193 pounds. But Doe possesses several qualities that make him stand out in a crowd. "Small guy but big heart...
Wisconsin is making a habit this season of playing close games and creating high blood pressure for Badgers fans everywhere. None of Wisconsin's first three games have been decided by more than five points. That trend continued on Saturday, when Wisconsin escaped with a 16-14 victory against Utah State. It took a missed field goal by the Aggies with six seconds remaining for...
Whew. Wisconsin escaped with a 16-14 victory against Utah State at Camp Randall Stadium on Saturday night. The Badgers fought back from a 14-3 halftime deficit to win their 17th straight home game and improve to 2-1 this season, but plenty of alarming issues emerged along the way. Handing out grades for the Badgers' third game of the season: Passing offense: D Consider this...
MADISON, Wis. The verdict is in as to which quarterback will start Wisconsin's next football game on Saturday. Problem is, Badgers coach Bret Bielema isn't saying who will take the snaps. "They already know," Bielema said during his weekly Monday press conference. "They know what's going on. You won't talk to them, but they know." Bielema'...
It may not have always been evident, but Wisconsin running back Montee Ball saw a big change in the play of the offensive line under newly appointed interim coach Bart Miller. "Huge difference, I'm not saying anything against [Mike] Markuson, hopefully he finds a place for himself, but I believe there was a huge difference," Ball said. "We weren't expecting...
MADISON, Wis. (AP) -- Three University of Wisconsin students have been charged in attack on Badgers' running back Montee Ball. Wendell Venerable, Robert Wilks and Deonte Wilson appeared in Dane County Circuit Court on Monday where a judge continued their signature bonds. A criminal complaint says Ball was kicked and punched Aug. 1 as he walked in Madison. The complaint says...
While it didn't start out pretty and was far from perfect, at least the Badgers offensive line began to look a little more like what we've come to expect in last night's 16-14 victory over Utah State. "I think we definitely took a step in the right direction," said right tackle Rob Havenstein. "We played physical. We had a pretty good week of practice...
The struggles of the Wisconsin offensive line early in the 2012 season have been well documented. It appears that, despite the struggles of the big men up front, the approach of the running game is that of an old-school Badgers' squad. Here is a brief, unofficial, look at the direction of Wisconsin's 43 run plays (not including the two sacks) against Utah State...
Three University of Wisconsin students have been charged in attack on Badgers' running back Montee Ball.
Badgers News

Delivered to your inbox

You'll also receive Yardbarker's daily Top 10, featuring the best sports stories from around the web. Customize your newsletter to get articles on your favorite sports and teams. And the best part? It's free!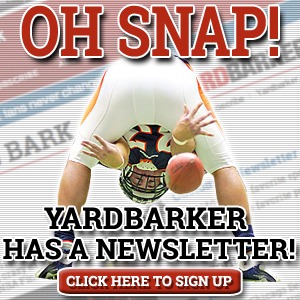 Latest Rumors
The Backyard

Today's Best Stuff

For Bloggers

Join the Yardbarker Network for more promotion, traffic, and money.

Company Info

Help

What is Yardbarker?

Yardbarker is the largest network of sports blogs and pro athlete blogs on the web. This site is the hub of the Yardbarker Network, where our editors and algorithms curate the best sports content from our network and beyond.