Found June 17, 2013 on NFL Draft Zone:
Texas A&M quarterback Johnny Manziel is not one to hold back his emotions. He's a very engaging person, both on and off the field, but his actions away from the gridiron can sometimes get him in trouble. After tweeting then deleting, he wishes he was no longer in school, he needs to switch his attitude quickly, per a couple NFL scouts I talked to this morning, here is what they said: "Johnny Manziel is a great football player; college football player that is. He is the bad boy of football so to speak, but his character concerns will be considered by teams. He needs to cool down, he is starting to act as if he is bigger than the game. In the real world stuff is not handed to you, he has had everything handed to him since before the Heisman. Teams will look at that too." – NFC West scout "Ole Johnny is at it again, I don't know why. He might be the most hyped 7th rounder ever in the NFL if he comes out. (I asked him why he said seventh round and he replied) Johnny is a good football player, but he is small, he thinks run most of the time, and his line has been amazing since he started. I could throw behind that line." – NFC East Scout I asked one of the scouts who they would compare Johnny Manziel too and one said A skinnier Tim Tebow, but I would rather have Tebow than Manziel. The other scout said Randall Cunningham but Randall was more athletic and a better passer. He then said to me, "well I guess that was a bad comparison then, wasn't it, haha." I have watched every Manziel game and I feel he should not be drafted before the fourth round. So as of right now, if Manziel came out he should not be a top 100 player drafted. There were quarterbacks who were way better (pro ready) than Manziel and they fell to the fourth round ala Matt Barkley. Expect Johnny to stay in the lime light and continue to watch his stock drop.
Original Story:
http://feedproxy.google.com/~r/nfldra...
THE BACKYARD
BEST OF MAXIM
RELATED ARTICLES
HIGH PRAISE
An unnamed general manager of an NFL team believes that Johnny Manziel will be a better quarterback than Andrew Luck, RG3 and Russell Wilson.
Johnny Manziel is in a big hurry to be a backup QB at the next level, at least, that is what we can take from his tweet last night that he quickly deleted: Wait what? The Heisman Trophy winner and superstar QB is sick and tired of playing football at Texas A&M? Oh, wait, he tries to clarify himself: Don't ever forget that I love A&M with all of my heart, but please please...
WANNA GET AWAY?
Johnny Manziel sent a controversial tweet that he can't wait to leave College Station, but he deleted the tweet and sent a follow-up.
Johnny Manziel has gotten himself into trouble through his use of social media many times in the past, but nothing may have been worse than what happened on Saturday night. The Heisman Trophy winner tweeted that "bulls— like tonight is a reason why I can't wait to leave College Station…whenever it may be." The tweet [...]
COLLEGE STATION, Texas -- Heisman Trophy winner Johnny Manziel still has three years of eligibility left at Texas A&M. But a tweet he sent out early Sunday morning has some wondering how long he'll stay. Starting the tweet with an expletive, Manziel's said stuff "like tonight is why I can't wait to leave college station... whenever it may be." The comment...
Heisman Trophy winner and Texas A&M quarterback Johnny Manziel looks to be hinting at entering next years's NFL Draft, reports PFT. Manziel deleted this Tweet soon after he posted it, but it's not stopping the media, including us on reporting it. In all fairness, it looks to be something that may have happened to him that prompted his Tweet, unrelated to playing football...
It must be great to be Johnny Manziel sometimes with all the adoring fans, appearances, and trappings that come with being the first freshman to ever win the Heisman trophy. At the same time, it has to really suck sometimes too. From what the young quarterback of the Texas A&M Aggies sent out on Twitter Saturday night it sounds as if he had to deal with some of the negative...
The attention and success Johnny Manziel has brought to Texas A&M over the last year is really immeasurable. Manziel's magical run to the Heisman Trophy last year put Texas A&M on the football map at just the right time, with many expecting and some hoping the Aggies would fall flat on their faces in their first year of the SEC. But Manziel wouldn't allow it, as...
Heisman Trophy winner Johnny Manziel still has three years of eligibility left at Texas A&M. But a tweet he sent out early Sunday morning has some wondering how long he'll stay. Starting the tweet with an expletive, Manziel's said stuff ''like tonight is why I can't wait to leave college station... whenever it may be.'' The comment went out to Manziel...
This past Saturday night, Texas A&M's Heisman-winning quarterback Johnny Manziel took to Twitter to vent his frustration with something that occurred in College Station. As you can see below, he appeared to be pretty ticked off. Reddit Manziel quickly apologized for his tweet, but it has left some fans a bit worried about the future of their Aggie star. Naturally, everyone...
Texas A&M's Johnny Manziel hasn't been able to avoid the spotlight since his Heisman-winning season ended. Whether it be partying or his situation with his online classes there has been drama around every turn for Manziel, thus spawning his short-lived Twitter hiatus. Late Saturday night, he added fuel to the media's fire by sending out a tweet stating, "I ...
Johnny Manziel almost transferred from Texas A&M last summer. Oh what would never have been... Photo: USA Today Sports In the world of sports we always ask at times questions that begin with the words "What if?" What if Alabama had held on to beat Cam Newton and Auburn? What if Ohio State were eligible for postseason play last season? What if Penn State joined the...
Aggies News

Delivered to your inbox

You'll also receive Yardbarker's daily Top 10, featuring the best sports stories from around the web. Customize your newsletter to get articles on your favorite sports and teams. And the best part? It's free!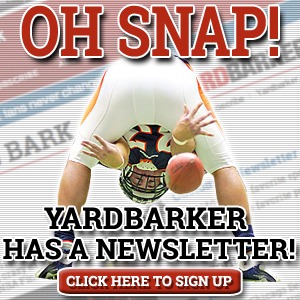 Latest Rumors
The Backyard

Today's Best Stuff

For Bloggers

Join the Yardbarker Network for more promotion, traffic, and money.

Company Info

Help

What is Yardbarker?

Yardbarker is the largest network of sports blogs and pro athlete blogs on the web. This site is the hub of the Yardbarker Network, where our editors and algorithms curate the best sports content from our network and beyond.