Looking at Big 12's potential expansion candidates
By Shiloh Carder | Last updated 9/6/16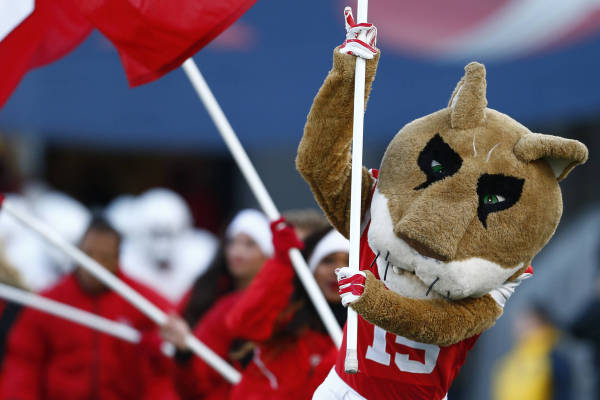 Shasta, the Houston Cougars mascot, has to be feeling good about the school's chances with the Big 12 after the Cougars the Oklahoma Sooners 33-23 on September 3, 2016.
Rich Schultz /Getty Images
The Big 12's potential expansion quest couldn't be more different than what we've seen thus far. Unlike relatively stealth moves by the other power conferences, the Big 12 seems to look like an episode of The Bachelor. What was once a wide net cast from sea to shining sea has now been whittled down to eleven schools.
In the next few weeks, the Big 12 will have the interview process and then maybe some roses get handed out, I don't know. What we do know is the names of the eleven schools that have made it to the latest cut (sorry Memphis and Temple). Let's do a quick run-down of the schools left in the running.

AIR FORCE

According to the Air Force Academy, they were approached by the Big 12 the last time the conference was switching up their membership. The Academy's response? Thanks, but no thanks. Yep. Fast forward five years and they are chatting about getting together again. Rumors are that Air Force could join as a football-only member which would make some sense for them. The travel for non-revenue sports wouldn't be as bad (especially if they moved to, say, the WCC for other sports) and the benefits of being in a Power 5 league are obvious. Still, their inclusion as a 'finalist' is odd since up until now there hasn't been much there. They could be as a partner for BYU, who could also be a football-only member. If it is for full membership, Air Force brings great academics and a reach back into Colorado. Either way it would be quite a feat for a service academy to get into one of the power leagues.

BRIGHAM YOUNG

BYU is a football independent so they have no conference red tape (the WCC wouldn't get in the way of the other sports). They have been a solid program that brings national recognition and a firm fan base with them. They've done well against Big 12 competition recently and could be competitive right away. Seems like a slam dunk? Well, BYU has their own network that could make it a bit weird for any further TV deals plus they don't play on Sundays which doesn't hurt football but could be problematic for other sports. The biggie is that BYU would really expand the league west and make it a very, very large geographic blob. West Virginia, who is already on the outskirts of the league wouldn't like to travel even farther for games. Honestly, there really isn't any Big 12 schools near BYU so possibly adding Air Force or Colorado State to pair with them would need be an option.

CENTRAL FLORIDA

A wildcard of sorts. I mean, why would a league want to add a 0-12 football program to help it get into the football playoff? Well, it is a huge school in fertile Florida. While UCF isn't an elite program by any stretch, it certainly has the ability to turn into one. Okay, maybe not into an elite program but at least one going to bowls on a regular basis. UCF is also a good academic school and the Big 12 is taking that into strong consideration when selecting schools for expansion. Plus Orlando is one of the largest cities that doesn't have an NFL franchise, meaning that they won't have to fight for exposure and, frankly, people love visiting there (note the three bowl games). However, that puts another far away school in the league that is based primarily in Texas, Oklahoma and Kansas. Even West Virginia is far away from Orlando. This could be a Hail Mary.

CINCINNATI

The Bearcats got left empty-handed during the last rounds of expansion. Why? Well, their facilities weren't very good. They've made great strides with revamping their football stadium and the Big 12 could tug their arm about a new hoops facility. They've been a more than capable football program and their basketball team is usually in the tournament hunt. They are solid and are pretty vocal about wanting into the league. Plus they would bridge that gap between West Virginia and the rest of the Big 12. Is Cincy "big" enough? This is an urban school that has a somewhat limited fan base (they aren't the big dog in town) that would be joining a stable of state schools. After finally climbing up to the Big East and then falling down to the American Athletic Conference, they want this so bad.

COLORADO STATE

I love this option. Again, this would mean the Big 12 would be looking west but Colorado State has quite the fan base and would bring back the Denver/Colorado market back to the league. It's solid academically and they have found success in volleyball and women's hoops. I know that isn't the point of emphasis for the Big 12 but it is cool that they have a diverse athletic program. Like Air Force, Colorado State would pair up with BYU.

UCONN

The pros and cons of the Huskies to the Big 12 are far apart. Pros? They'd jump at joining. Their hoops program would further the Big 12's already top notch basketball league. I mean, Kansas and UConn in the same league? Unreal. They are also a state school which is attractive and the football program has had its moments. Plus a Big 12 network would love to get into the New England/New York markets. Cons? It is Storrs, CT. Do you think those southwestern schools would want to play a road game in Storrs in November? While it is closer to West Virginia than most Big 12 schools, it isn't that close. Plus, thinking UConn brings the New York market is a bit of a stretch.

HOUSTON

How about Houston? It is in one of the largest media markets in the nation and is it football lovin' Texas. They used to have some really good football and basketball teams so there is no reason to believe they couldn't get back up there again. They've got the facilities and a great foundation plus the University of Texas is backing their application for membership. Plus they are darn good right now, even beating No. 3 Oklahoma last weekend. They are the hot school right now. But are they too hot? Could their recent ascension scare off members of the Big 12?

RICE

Um, Rice? The Owls are also in Houston ... but they aren't the University of Houston. In fact, why is Rice even on this list? Academically they are a slam dunk but there's no way they are getting in on academics alone. Barring some exceptional feels from the old Southwest Conference era, it is doubtful that Rice is chosen. Still, it is nice to be nominated.

SOUTH FLORIDA

If UCF doesn't work out, USF could do it. Or maybe their is room for both Florida schools? Hmmm. Well, South Florida isn't as big as Central Florida but Tampa is nice and USF has at least kinda hung with the big boys before with their time in the Big East Conference. However, the Bulls don't really move the needle in any way. Honestly if South Florida is a serious contender it is due solely to its geography and no other reason.

SMU

SMU is kind of in the same boat as Rice, but they've got a better perch. SMU also has a solid academic reputation as well as a great location, a nice athletic history and they've spent handsomely to upgrade their facilities. Like Rice and Houston, the Mustangs were also in the old Southwest Conference and has some history with the Texas schools. However, adding SMU would double up the Dallas-Ft Worth market (hey, TCU!) and it isn't like the Pony Express is suiting back up anytime soon. If the league is adding teams for adding teams sake, then SMU could be a good partner.

TULANE

Well, there's the New Orleans factor and they are a fit geographically. It is a fertile recruiting area that gets the league into New Orleans. But Tulane? Really? It is a smaller school that has hasn't been too relevant in any sport. Remember that Tulane's addition to the Big East a few years back was one of the straws that broke that league's back. But did I mention they have New Orleans?

Now there is a lot to be said about the names of the eleven schools. There is no Boise State, no Memphis and no UNLV, which shows the Big 12 isn't just looking at on-field success or name recognition. To me, there are really only five schools that are strong contenders with some others around that could sneak in if they kill their interviews and presentations. I think it comes down to BYU, Cincinnati, UConn, Houston and Central Florida with Colorado State and South Florida as dark horses.
MORE FROM YARDBARKER
College Football News

Delivered to your inbox

You'll also receive Yardbarker's daily Top 10, featuring the best sports stories from around the web. Customize your newsletter to get articles on your favorite sports and teams. And the best part? It's free!