Found December 06, 2011 on isportsweb.com:
The Michigan Wolverines are hoping to land the services of 4-star RB Bri'onte Dunn. The 6-foot-2, 220 pound Dunn is the type of power running back that Brady Hoke covets for his offense. Dunn plans to enroll at his school of choice in January.
Bri'onte Dunn
Newly minted Ohio State head coach Urban Meyer is trying to convince Dunn that he can thrive in his quarterback-run oriented offense. Meyer has never had a running back eclipse 1,000 yards rushing. In fact the best rushing season from a non-quarterback in an Urban offense was WR Percy Harvin's 800 yard campaign in 2007.
The flipside of that coin reveals that Hoke and offensive coordinator Al Borges have had 1,000 yard backs in each of the past two seasons, Ronnie Hillman in 2010 (1,532 yards) and Fitzgerald Toussaint in 2011 (1,011 yards and counting).
Here's an excerpt of Dunn's scouting report on ESPNU
Dunn is a big, bruising runner with deceptive speed. A prototypical load-back at the college level with the size and power to develop into an every-down workhorse…A one-cut and get North type of runner who is not going to take a lot of unnecessary cuts. Shows good downhill quickness and burst for a bigger back but displays better than adequate vision and patience when taking the ball off-tackle and following his blocks.
Coaches from both Michigan and Ohio State will be doing in home visits with Dunn this week.
Here is a look at Michigan's current list of committed 2012 prospects
PlayerPos.HometownHgt./Wgt.RankingNotes Blake BarsOLNashville, TN6-5/2754-starRated as the #34 OT by rivals.com Joe BoldenLBCincinnati, OH6-3/2304-starOn the ESPNU 150 watch list Ben BradenOLRockford, MI6-6/2853-starWill be entering his 3rd season as a starter at RT Pharaoh BrownDELyndhurst, OH6-5/2203-starAlso was the starting QB for Hurst as a junior. Jeremy ClarkDBMadisonville, KY6-4/2053-starSenior season stats: 70 tackles, 15 pass breakups, 1 forced fumble, 3 interceptions Amara DarbohWRDes Moines, IA6-2/1904-starHad his senior season cut short due to injury. Still managed to haul in 48 passes for 765 yards and 11 TDs in 7 games. Devin FunchessTEFarmington Hills, MI6-5/2054-starRated as 6th best TE in 2012 class by scout.com Allen GantDBSylvania, Ohio6-2/2103-starHis father, Tony Gant, played at U-M (1982-86). Matthew GodinDTDetroit, MI6-5/2503-starRacked up 28 TFLs as a junior Sione HoumaFBSalt Lake City, UT6-0/2113-starSenior season stats: 93 carries, 790 yards, 8 touchdowns Royce Jenkins-StoneLBDetroit, MI6-2/2154-starRated as 3rd best MLB in 2012 class by scout.com Drake JohnsonRBAnn Arbor, MI6-1/2003-starHuge senior stats: 343 carries, 2,805 yards, 37 touchdowns Kyle KalisOTLakewood, OH6-5/3004-starUS Army All-American selection. Rated as the 4th best OT in the 2012 class by rivals.com Erik MagnusonOTCarlsbad, CA6-6/2754-starRanked the #34 overall recruit by rivals.com Mario OjemudiaDEFarmington Hills, MI6-2/2204-starTallied 127 tackles and 12 sacks as a junior. Rated as the #94 overall prospect by Tom Lemming. Ondre PipkinsDTKansas City, MO6-3/3254-starUS Army All-American selection. Terry RichardsonDBDetroit, MI5-9/1704-starRated by Tom Lemming as the #33 overall prospect in the country. Kaleb RingerLBClayton, OH6-1/2254-starCousin of former Michigan State RB Javon Ringer James RossLBOrchard Lake, MI6-1/2154-starRated as 2nd best MLB in 2012 class by scout.com Caleb StaceyOLCincinnati, OH6-4/2803-star1st team All-Conference as a junior Anthony StandiferDBCrete, IL6-1/1804-starRated the #98 overall prospect by Tom Lemming. Tom StrobelDEMentor, OH6-6/2454-starRanked as the #24 DE by scout.com AJ WilliamsTECincinnati, OH6-6/2603-starRated as 15th best TE in 2012 class by scout.com Jarrod WilsonSAkron, OH6-2/1904-starIntercepted 8 passes as a junior and returned 5 of them for TDs. Chris WormleyDEToledo, OH6-7/2703-starAs a senior he recorded 85 tackles, including a team-high 24 TFLs
Original Story:
http://isportsweb.com/2011/12/06/mich...
THE BACKYARD
BEST OF MAXIM
RELATED ARTICLES
The Michigan Wolverines have received a verbal commitment from 4-star WR Amara Darboh out of Des Moines, Iowa. Darboh has been clocked at 4.42 in the 40 yard dash. Here is an excerpt of his scouting report on ESPNU Darboh is a combination of strength and quickness as a big receiver with a sturdy build, long arms and nice height. He is part playmaker and part possession player… At...
The Michigan Wolverines (10-2, 6-2) will play Virginia Tech in the Sugar Bowl on January 3rd at 1pm. The game will mark Michigan's first BCS Bowl game in 5 years (2007 Rose Bowl). Michigan has played in the Sugar Bowl once, a 1984 loss to Auburn. Stay tuned for more information.
Imagine how you felt at this time three years ago, watching the bowl selection show and knowing Michigan was staying home for the first time in nearly four decades. Then move forward a year and think about watching bowl season without your beloved Maize and Blue for the second straight year. Now advance to this time a year ago, finally being bowl eligible, but limping into the Gator...
Michigan Offensive Center David Molk, already B1G Offensive LIneman of the Year, is a Rimington Trophy (for the Top OC) finalist for the second year in a row.
Ryan Van Bergen and Kevin Koger discuss Michigan's selection for the 2012 Sugar Bowl, react to critical comments from Michigan State about being passed over, and more.
Wolverines News

Delivered to your inbox

You'll also receive Yardbarker's daily Top 10, featuring the best sports stories from around the web. Customize your newsletter to get articles on your favorite sports and teams. And the best part? It's free!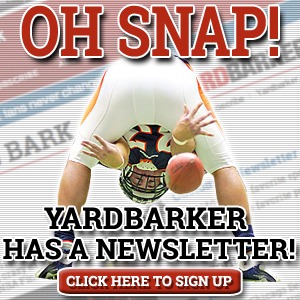 Latest Rumors
Best of Yardbarker

Today's Best Stuff

For Bloggers

Join the Yardbarker Network for more promotion, traffic, and money.

Company Info

Help

What is Yardbarker?

Yardbarker is the largest network of sports blogs and pro athlete blogs on the web. This site is the hub of the Yardbarker Network, where our editors and algorithms curate the best sports content from our network and beyond.