Posted September 13, 2013 on AP on Fox
No. 13 South Carolina is facing a back-to-the-wall situation and Steve Spurrier hopes his Gamecocks respond in against Vanderbilt on Saturday night. The Gamecocks (1-1, 0-1 Southeastern Conference) must defeat the Commodores (1-1, 0-1) or risk falling into a 0-2 hole in the East Division of the Southeastern Conference, something nearly impossible to climb out of in the rugged league. Georgia appeared on the ropes last week after its opening-game defeat at Clemson, yet the ninth-ranked Bulldogs rallied to put up 536 yards on the Gamecocks in a 41-30 victory. ''We all know you have to have the ability to forget what happened last week, whether it's good or bad. Move on and try to improve as the season goes,'' Spurrier said. ''This team should improve with all the youngsters we have playing, especially on defense. They should improve. If we can coach worth a flip, we'll get better and better as we go.'' Spurrier called it a ''bad coaching day'' at Georgia all around. Defensive assistants Kirk Botkin and Deke Adams got into a sidelines' shouting match in the second half as Georgia played away from All-American Jadeveon Clowney. While Clowney had his first sack of the season, Georgia quarterback Aaron Murray was able to scramble away at key moments and keep the Bulldogs on the move. It was a humbling experience for the South Carolina's defense, which had rightfully earned a reputation as one of the SEC's best over the past few seasons. Vanderbilt coach James Franklin expects a strong effort from Clowney and the Gamecocks defense. The Commodores have struggled to put up significant yards against South Carolina the past two years. They were held to 77 yards total - and just 4 yards on the ground - in a 21-3 loss at Williams-Brice Stadium in 2011. Vanderbilt gained 62 yards rushing at home in falling to the Gamecocks last year. ''The biggest thing is to be aware of him,'' Franklin said of Clowney. ''He is going to have an impact in the game, but what you can't afford him to do is have a huge impact on the game.'' --- Here are five things to watch when Vanderbilt plays No. 13 South Carolina on Saturday: SOUTH CAROLINA DEFENSE: The Gamecocks were as out of kilter on defense against Georgia as they've been in the past three seasons. Clowney got inside of Georgia's offensive line several times, but there were few teammates in places to make plays when Bulldogs quarterback Aaron Murray scrambled away. Clowney said he couldn't do things alone and coach Steve Spurrier said he'd have suggestions for Gamecocks defensive coordinator Lorenzo Ward. Everyone will be watching to see the impact of those suggestions. BIG-PLAY OFFENSE: So far, it's been South Carolina's offense making the big plays and quick strikes. Quarterback Connor Shaw threw two TD passes to Nick Jones in the second quarter to wipe out Georgia's early 14-point lead. Mike Davis had his second 75-yard run on the season - the first went for a TD in the opening week against North Carolina - and had a career high 149 yards rushing against the Bulldogs. VANDERBILT'S ROAD SUCCESS: The Commodores closed last season with three straight SEC road victories at Missouri, Kentucky and Mississippi. Extending that streak will be the toughest challenge yet since Vanderbilt has not beaten a ranked opponent since 2008 or won at Williams-Brice Stadium. But Commodores coach James Franklin has worked hard to change the program's culture the past two years and thinks bigger things are ahead. COMMODORES QB: Austyn Carta-Samuels has looked strong in his first two starts at Vanderbilt. He was the Mountain West Conference freshman of the year in 2009 at Wyoming. He transferred to Vanderbilt after the 2010 season and has made an immediate impact as a starter. Carta-Samuels became just the second quarterback in Vanderbilt history to throw for 300 yards in a season opener. He followed that up with a 261-yard performance in last week's 38-3 win over Austin Peay. SPURRIER RARELY LOSES TO ''VANDY'': South Carolina's head ball coach has a stellar, 18-2 record against the team he always refers to fondly as ''Vandy.'' The two losses came in back-to-back seasons, 2007 and 2008, and both were major shockers. The loss six years ago came with South Carolina 6-1 and ranked No. 6 nationally. Spurrier was 14-0 over Vanderbilt before that defeat. -- AP Sports Writer Teresa Walker from Nashville, Tenn., contributed to this report.
Original Story:
http://msn.foxsports.com/cfb/story/No...
THE BACKYARD
BEST OF MAXIM
RELATED ARTICLES
Steve Spurrier aparently doesn't want columnist Ron Morris to write about his team. This being South Carolina, the college football coach reportedly got his wish. Morris, a respected columnist for The State newspaper in Columbia, S.C., was banned by his publisher from covering the Gamecocks, Jim Romenesko reports. Morris, who has angered Spurrier in the past few years with his...
Steve Spurrier doesn't want columnist Ron Morris to write about his team. This being South Carolina, the college football coach got his wish. Morris, a respected columnist for The State newspaper in Columbia, S.C., was banned in writing by his publisher from covering the Gamecocks, Jim Romenesko reports. Morris, who has angered Spurrier in the past few years with his critical columns...
Lost Letterman reports that Ron Morris — a columnist from The State in Columbia, SC, has been banned from covering the Gamecocks. Like he can't write about them...at all: Back in 2011, South Carolina head coach Steve Spurrier grew so upset with Ron Morris — a columnist from The State — that he refused to answer anyone's questions at a press conference as long as Morris...
Yesterday we wrote up, The McClatchy Company has no balls and Stever Spurrier is a Douchejuice. This morning TBL writes up, Steve Spurrier is Gonna Be Pissed: Newspaper Changes Mind, Will Let Columnist Cover South Carolina and presents the internal memo: Colleagues, I assume you are familiar with articles and talk about The State, Steve Spurrier and Ron Morris. Please know this...
This story comes as a stark contrast to the kerfluffle earlier this week involving Steve Spurrier and The State in South Carolina. The Advocate in Baton Rouge, Louisiana is scaling back their coverage of Southern University football after the team restricted the paper's access to the team's players following a story last week in which linebacker Anthony Balancier called opponent...
Columbia, S.C. -- Winning this game was far less important than not losing it. South Carolina probably won't move in the polls after their 35-25 win over Vanderbilt on Saturday night, nor are the Gamecocks any more likely to make it to Atlanta for the SEC Championship game. Their BCS standing shouldn't budge and very few commentators will change their opinions after this...
South Carolina has displayed an offensive surge that even ''Fun-n-Gun'' creator Steve Spurrier didn't fully see coming from the No. 13 Gamecocks. With a defense led by All-American Jadeveon Clowney, the Gamecocks (1-1, 0-1 Southeastern Conference) figured they'd win the way they had the past few years - by locking down opponents and getting just enough points...
It's hard to believe that South Carolina's college football hopes of a BCS bowl game could lie in a win over Vanderbilt.Yes, you heard me say that.Now that the Gamecocks have a loss at the hands of SEC East partner Georgia, it cannot afford to slip up again if it wants a spot in the SEC Title game or a BCS Bowl Game.Now, Steve Spurrier must rally his troops and prove he can win...
The Vanderbilt Commodores (1-1) have the unenviable task of going into Williams-Brice Stadium and facing a South Carolina team fresh off a stinging loss to Georgia. No. 11 South Carolina (1-1) suffered a 41-30 defeat to the Georgia Bulldogs last week but look to get back in the win column against another SEC opponent. Coverage of this game can be seen on ESPN and WatchESPN beginning...
Gamecocks News

Delivered to your inbox

You'll also receive Yardbarker's daily Top 10, featuring the best sports stories from around the web. Customize your newsletter to get articles on your favorite sports and teams. And the best part? It's free!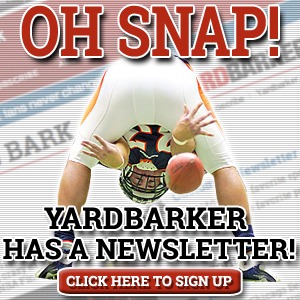 Latest Rumors
The Backyard

Today's Best Stuff

For Bloggers

Join the Yardbarker Network for more promotion, traffic, and money.

Company Info

Help

What is Yardbarker?

Yardbarker is the largest network of sports blogs and pro athlete blogs on the web. This site is the hub of the Yardbarker Network, where our editors and algorithms curate the best sports content from our network and beyond.