Found September 16, 2013 on Fox Sports Wisconsin:
MADISON, Wis. -- In the aftermath of the most controversial loss this college football season, all Gary Andersen could stress was accountability. Nothing would change Wisconsin's 32-30 defeat against Arizona State on Saturday night, but somebody in charge needed to acknowledge referees botched the game's final sequence to provide at least a small measure of closure. As Andersen, Wisconsin's first-year coach, held his weekly Monday press conference, an answer arrived. The Pac-12 Conference admitted officials incorrectly let time expire before the Badgers could spike the ball to set up a potential game-winning field goal. Yet even as Wisconsin's sports information director read the statement aloud, Andersen could do nothing but shrug his shoulders. "It doesnt change the outcome obviously," Andersen said. "I dont expect that. But it's accountability, which at the end of the day, thats what we asked for." The statement, though necessary, ultimately proved to be of little consequence to Andersen or his players less than 48 hours after a stunning two-point loss on the road. The Pac-12 announced it had reprimanded and taken additional sanctions against officials "for failing to properly administer the end of game situation and act with appropriate urgency on the game's final play." The statement did not note what sanctions were administered. "This was an unusual situation to end the game," Pac-12 commissioner Larry Scott said in the statement. "After a thorough review, we have determined that the officials fell short of the high standard in which Pac-12 games should be managed. We will continue to work with all our officials to ensure this type of situation never occurs again." The situation in question took place after Badgers quarterback Joel Stave knelt down at Arizona State's 15-yard line in an attempt to center the ball for kicker Kyle French. Stave quickly dropped the ball, and Arizona State linebacker Anthony Jones pounced on it with 13 seconds remaining as though the play had resulted in a fumble. Though whistles signaled the play was dead because Stave dropped to a knee, referees did nothing to set the ball for the next play. Jones remained on the ball until four seconds remained. When the umpire spotted the ball with three seconds remaining, he did not allow Wisconsin to line up for the snap until one second remained. By the time Stave was back under center, time had expired. A 32-yard field goal try to win the game never materialized. "The Pac-12 statement speaks for itself and is consistent with what we observed in the closing moments of the game," Big Ten commissioner Jim Delany said in a statement to ESPN. "If properly officiated, the Wisconsin football team would have had an additional down." Andersen said that, if given another opportunity, he would have coached the play for Stave in exactly the same fashion. He noted players were taught how to handle the scenario from a game tape last season featuring Nevada and San Diego State -- offensive coordinator Andy Ludwig's former school. During the game, officials stopped the clock when a Nevada defender leapt on the ball to try running out the clock after San Diego State centered the ball for a field goal. Kicker Chance Marden went on to hit a 35-yard field goal to tie the goal as time expired, and San Diego State eventually won the game 39-38 in overtime. "Was he instructed to do it the way he did it?" Andersen said of Stave. "Absolutely, yes. And the teaching tape would show him to do the exact same process which took place from the way we taught it during camp and all through spring football." If play had continued, French would have been in position for a 32-yard field goal to win the game. Earlier, he made a kick from 34 yards out to give Wisconsin a 24-19 lead. "There's not a doubt in my mind that French makes that kick," Badgers tight end Jacob Pedersen said. "Whatever the yardage was going to be, I think he missed one field goal all fall camp and up to the season here within that distance. No doubt in my mind he makes that kick and we win that game. Again, can't change it now but I know going forward that we're going to pull out these close games. No doubt in my mind." Wisconsin's players, who have endured their share of close losses, didn't mince words about what an acknowledgement of mistakes actually meant to them. "To us, it doesnt matter," Badgers linebacker Chris Borland said. "It's probably the P.C. thing to do and something they had to do. We dont care about that. We lost the game, so thats all we care about." Borland, a fifth-year senior, has been on the team through some of the most excruciating losses in program history. In 2011, Wisconsin lost in consecutive weeks on Hail Mary touchdown passes in the final seconds against Michigan State and Ohio State. The Badgers have also lost three straight Rose Bowls by a combined 15 points. During the 2012 Rose Bowl, Wisconsin was driving in Oregon territory when time ran out on quarterback Russell Wilson as he tried to line up to spike the ball for one more play -- an eerily similar scenario to Saturday. And last season, the Badgers lost three games in overtime. Following Saturday's Arizona State defeat, Borland called it the worst loss he had been a part of. Two days later, he hadn't changed his mind. "Our close losses in the past, I think we could have done more," Borland said. "The Hail Mary games and the Rose Bowl games, I think we made mistakes. We made no big mistake that cost us the game. Made a lot of little ones. It was really just taken from us. That was what was hardest to take." In the end, Saturday's result is one Wisconsin players and coaches will have to live with for the rest of the season. And no statement will make any of them feel better. "We didnt really expect anything more than that," Badgers defensive end Ethan Hemer said. "I'm glad we got what we expected. Nothing else they could say or do will change the outcome." Follow Jesse Temple on Twitter
Original Story:
http://www.foxsportswisconsin.com/col...
THE BACKYARD
BEST OF MAXIM
RELATED ARTICLES
Joel Stave's stumble led to one of college football's strangest finishes. His team trailing by 2, the Wisconsin quarterback tried to take a knee at the center of the field to set up a potential winning field goal against Arizona State Saturday night. Stave stumbled as he tried to kneel after being clipped by one of his linemen and plopped the ball on the 15-yard line, causing...
The ending to Arizona State's 32-30 victory over Wisconsin on Saturday night was downright bizarre. With the ball in field goal range, no timeouts left and time winding down, Badgers QB Joel Stave centered the ball and took a knee, assuming he'd have time for a clock-killing spike on the next play. Only there was no next play. [ PHOTOS: College football's hottest WAGS...
    Stave taking a knee - video proof pic.twitter.com/hgPfGiycWy — Mike Hall (@BTNMikeHall) September 15, 2013     In one of the more bizzare finishes in recent college football history, the Arizona State Sun Devils hung on for a 32-30 Victory over No. 20 ranked Wisconsin Saturday night in Tempe. Arizona State running back Marion Grice had 134...
Wisconsin was in position for a potential game-winning field goal, needing only to move the ball to the middle of the field. But as quarterback Joel Stave tried to kneel, he ran into one of his offensive linemen and set the ball on the ground. The ensuing confusion ended up costing the 20th-ranked Badgers the game. Wisconsin lost precious seconds after Stave's confusing kneel...
I know you've all seen or done this You're driving and there's a crash on the other side of the road and you can't help but look. And sometimes what you see can make you sick in the pit of your stomach. Well, there was a train wreck in Tempe Saturday night at the end of the Wisconsin-Arizona State game. While there was much confusion on the field -- and blame...
TEMPE, Ariz. -- After the Pac-12's reprimand of officials for mishandling the end of Arizona State's 32-30 win over Wisconsin on Saturday, Arizona State coach Todd Graham on Monday defended his team's win. "I'm proud of our guys and how they played, and they deserved to win," Graham said. "I firmly believe the best team won that game." Graham...
TEMPE, Ariz. -- When Arizona State's players and coach Todd Graham arrived for the postgame press conference Saturday night, no one seemed entirely certain what had happened at the end of their 32-30 win over No. 20 Wisconsin. Regardless, the Sun Devils left the field with a marquee win over the Badgers after a bizarre frenzy that game officials failed to stop, leaving both...
Wisconsin football fans are used to their share of close-game heartbreak in recent years, and they can add another epic defeat to the list following Saturday night's stunning 32-30 loss against Arizona State. Badgers quarterback Joel Stave took a 2-yard loss to help his team line up a potential 32-yard game-winning field goal in the middle of the field. But in a bizarre series...
TEMPE, Ariz. (AP) -- The Pac-12 Conference has reprimanded the officials in Saturday night's game between Wisconsin and Arizona State for their actions in the bizarre closing seconds. The Pac-12 said the officials did not act with enough urgency or properly administer the end of game situation when Wisconsin quarterback Joel Stave awkwardly took a knee and the clock ran out on...
Wisconsin football coach Gary Andersen spoke with the media Tuesday morning on the Big Ten's weekly coaches teleconference. Predictably, Andersen was not asked a single question about Wisconsin's upcoming game against Purdue. He was, however, asked 11 questions about the outcome of his team's game last week against Arizona State. Though Andersen has rehashed the game...
Wisconsin lost to Arizona State on Saturday night 32-30 after a controversial ending went against them. The Badgers converted a 3rd and 3 on a 6-yard pass and their receiver stepped out of bounds with 18 seconds left. Wisconsin had the ball at the ASU 13 with no timeouts left. Quarterback Joel Stave was instructed […]
The fallout from the end of Saturday's affair between Arizona State and Wisconsin continued earlier this afternoon, when Pac-12 commissioner Larry Scott made an announcement regarding punishments for the officials working the game. Sports Illustrated's Stewart Mandel tweeted out the news – we'll have specifics for you once they're released. Pac-12 commissioner Larry Scott...
College Football News

Delivered to your inbox

You'll also receive Yardbarker's daily Top 10, featuring the best sports stories from around the web. Customize your newsletter to get articles on your favorite sports and teams. And the best part? It's free!
THE COLLEGE FOOTBALL HOT 10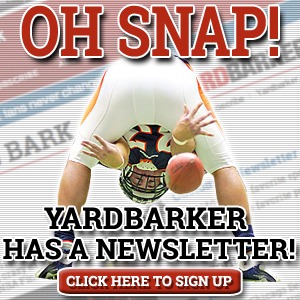 Latest Rumors
The Backyard

Today's Best Stuff

For Bloggers

Join the Yardbarker Network for more promotion, traffic, and money.

Company Info

Help

What is Yardbarker?

Yardbarker is the largest network of sports blogs and pro athlete blogs on the web. This site is the hub of the Yardbarker Network, where our editors and algorithms curate the best sports content from our network and beyond.