If there is one thing I can say that has happened to college football lately, it's that both the offseason and weekdays between games have gotten longer.  Not because of the anticipation of the games themselves, but because the obsession with the things going on behind the scenes, and the desire to know more about them has reached an all-time high.  College football has reached an unprecedented level of acclaim recently, and the scrutiny that comes with it has increased even more so.  No longer are the days of old when a coach can really say what's on his mind, when a Woody Hayes like explosion of vulgarity can go unnoticed by the national media, or even simply agreed with.  Today everyone has an opinion on everything anyone says, and that opinion is rarely in agreement.  The controversy creates the story, or is it the other way around? Enter Bo Pelini and his f-bomb loaded, thought to be private, fan-cursing conversation.  Here is a coach that over the last 5 seasons has taken Nebraska to win an average of 9.6 games per season.  That's three 10 win seasons, and two 9 win seasons.  That's something fan bases should be pretty happy about.  But here is a guy who's outspoken, who doesn't feel the need to take criticism from people with a politically correct "coach speak" avenue.  So in private he was pissed that fans weren't supporting his guys, guys who came back and won an awesome game.  I'd be pissed too.  If I coached a team and we were getting booed and only half stayed to watch a great comeback I'd say **** them too.  Wouldn't you?  In private, with people you thought you trusted, would you not be pissed at the very people who were pissed at you, but didn't have the gull to stick around and support the team, the university, the idea of Nebraska football as a whole?  Whoever decided to tape that conversation and for some reason hold onto it for over a year is a true coward, and is a much bigger detriment to the Nebraska football program than Bo Pelini. Ok now on to some fun stuff. In the most publicized "send all drafts" mistake on Twitter that I can remember, it turns out that Mark May doesn't really have anything that great that he has typed out in a Tweet and then decided to not send.  In reality the funniest part of the whole thing is that his unsent Tweets were actually a lot smarter than most of the **** he actually hits send for.  To cap it off, he decided to say that his account was "hacked" and that there would be charges pressed if they found out who did it.  Even if someone were to hack his account, I'd hope they'd be a lot more clever than to just send all his drafts.  I could think of at least a couple things I'd like to tweet from his account if I had access: 72-0 is something I still cry about nightly. Thometimes I really with Lou would justh thut it. It's even hard for me to not laugh when I'm introduced as an "expert analyst." Driving drunk, ha! Classic!  I'm a two-toned, zebra-headed, slime-coated, pimple-farmin' paramecium brain, munchin' on my own mucus, suffering from Buckeye Nation envy! But alas, we are stuck with his boring set of drafts we all had hoped would be more. Finally we have the Florida A&M Rattlers.  A pesky team coming out of the Mid-Eastern Athletic Conference, they're more known for their bands presence on the field than their football team.  After a suspension due to a tragic hazing incident their band is finally back, but sadly won't be making the trip to Columbus.  A chance to see TBDBITL and the Marching 100 on the same field is likely gone, as after 2016 B1G schools will no longer be scheduling FCS oppoenents. Coming in averaging only a little over 12 points a game, the Rattlers offense is rather anemic.  They've mustered barely over 200 yards a game of total offense during their 1-2 start, so look for our defensive line to get on the QB early and often in an attempt to add to FAMU's 7 turnovers thus far this season. Their pass defense is rather stout, giving up only 120 yards through the air per game.  Their rush defense, on the other hand, is giving up over 200 yards per game.  I'd like to see the return of Carlos Hyde mean that there will be some pounding the ball up the middle style running attack added, with the follow up of Hall still doing what he has been, getting chunks of yards off the edge.  With Braxton "back" in what will likely be limited action, I'd still like to see us continue to air it out as our passing offense is what will carry us through the much more run-oriented defenses of the upcoming B1G schedule.  It's important for us to keep the momentum going and not look forward to our B1G opener against a recently-robbed, should-be-undefeated, Wisconsin team next weekend.          
Original Story:
http://buckeyeempire.com/blog/2013/09...
MORE FROM YARDBARKER
Cornhuskers News

Delivered to your inbox

You'll also receive Yardbarker's daily Top 10, featuring the best sports stories from around the web. Customize your newsletter to get articles on your favorite sports and teams. And the best part? It's free!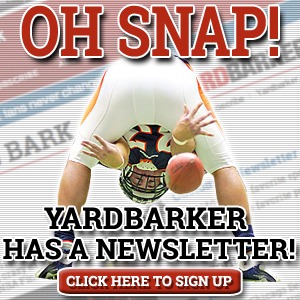 Latest Rumors
Best of Yardbarker

Today's Best Stuff

For Bloggers

Join the Yardbarker Network for more promotion, traffic, and money.

Company Info

Help

What is Yardbarker?

Yardbarker is the largest network of sports blogs and pro athlete blogs on the web. This site is the hub of the Yardbarker Network, where our editors and algorithms curate the best sports content from our network and beyond.