Found October 28, 2011 on isportsweb.com:
The Buckeyes are calling for all fans attending Saturday night's matchup against Wisconsin to wear scarlet.  It's a fine idea to show solidarity at The 'Shoe, but it's also hard to ignore the fact that the Badgers will feel right at home surrounded by red.
Fans hope that Luke Fickell and Braxton Miller used the bye week to develop a more effective offensive plan (Ohio State Athletics)
The fact is that regardless of how badly the fans want to see an upset, beating Wisconsin is going to be extremely difficult for this team.  Coming off a bye week will allow Luke Fickell and company to be as prepared as possible, but the odds remain long.
And there's no shame in that.  With half the season gone, it's worth reminding ourselves as OSU fans exactly what Fickell had (or didn't have) to work with as he took over for Jim Tressel.
No quarterback experience.  Fickell's best options were a career backup or a true freshman.  And predictably, both Joe Bauserman and Braxton Miller have struggled.  Miller will grow into the role; he's given enough flashes of greatness for fans to see what he's capable of.  But he needs to improve as a passer if this offense is ever going to get back to doing serious damage.  Remember though that Terrelle pryor was in a similar position at one point.
Little receiving experience.  With DeVier Posey suspended, first for five games, then for five more, the receiving corps was reduced to mostly freshmen and sophomores.  And it has failed to gel, though that's no great suprise.  As with Miller, there is talent at the wideout positions.  But Philly Brown, Chris Fields, and Devin Smith haven't been ready to take over games.  The more snaps they get, particularly in conjunction with Miller, the more comfortable they'll become.
Revamped lines.  Tackle Mike Adams was suspended for the first five games, leaving two returning starters on the five-man line.  It's no easy thing to continuously reload in the trenches, and the longer this unit plays together, the better it will be at protecting Miller.  That's key for the Buckeyes, who rely on his legs (and his health) to move the ball.  Losing Cam Heyward to the NFL meant that the defensive line also had to be reworked, though John Simon, Johnathan Hankins, and Nathan Williams have proven to be up to the task.
A new linebacking corps.  The loss of both Brian Rolle and Ross Homan was extreme; two of the team's best tacklers and most instinctive players gone from crucial positions meant that the defense had to find a new identity.
Major changes in the secondary.  C.J. Barnett missed most of last year with injury, and getting back into the swing of things is never easy.  Travis Howard missed time at the beginning of the year, and the team had to replace Chimdi Chekwa and Jermale Hines.
A new kicker.  Relative to the other changes, this may seem minor.  But the kicking game can be especially important for a team with a struggling offense.  After some early miscues, Drew basil has stepped up as a reliable scorer.
Think about the depth and breadth of upheaval inflicted on this team.  Looking down the list of positions that were affected, and bearing in mind that starting tailback Dan Herron's suspension was yet another complicating factor, the Bucks haven't done all that poorly.
The Big Ten's Defensive Player of the Week in Week 7, John Simon and the OSU defense must step up against the Badgers (Lauron/ Columbus Dispatch)
It's easy to fall into the trap of expecting high levels of success year in and year out when that's what you've gotten used to (I fall into that trap myself).  And while this is certainly a down year, a rebuilding year for OSU, this team is only a couple of plays away from a 5-2 or even 6-1 record.
The Miami game was a clear-cut loss.  The Buckeyes were outplayed  by a significant margin, though the defense did well enough in the final three quarters.  But the 10-7 loss to Michigan State hinged on a couple of bad plays, including Darqueze Dennard's interception deep in MSU territory.  And the Nebraska game was well in hand until the defense collapsed late.
If only a few snaps had broken differently, this Buckeyes team, put through so much turmoil, could be in position to win its division.  Even at 4-3, the team has acquitted itself well enough, for the most part.  The anemic offense is tough to watch, and fans can only hope that the week off helped recharge the attack.
In order to hang with Wisconsin, Ohio State needs to combine the defense effort it gave against the Spartans with the offensive output it had in Lincoln.  Remember that the Bucks had 27 points before losing Miller to an ankle injury.  Had he played a full 60 minutes, the team would have likely crested 30 points.
That could be enough to beat the Badgers, if the defense is able to stifle Russell Wilson.
Of course, that's a big "if".
Reagrdless of the team's defensive effort, Ohio State needs more offense to hang with Wisconsin (Irwin/ Getty)
A seven point favorite on the road, Wisconsin has to feel pretty good about its chances given that it beat the then #1 Buckeyes last year in Madison.  That OSU was far better than this year's version, and so the disadvantage of coming to Ohio Stadium shouldn't weigh too heavily on the Badgers' minds.  The team ranks in the top 10 nationally in numerous categories, including total offense, rushing, points scored, points allowed, total defense, pass defense, and punt returns.
On the other hand, these Buckeyes face very little pressure.  They have little to lose.  Last year, the nation's top ranking was on the line, but these Buckeyes are simply trying to get through their difficulties and make a bowl game.  If they fall to Wisconsin, no one will be surprised.  No one will be particularly disappointed.  The Badgers are, after all, the better team in 2011.
There is little to lose.  But everything to gain.  An upset would be huge for morale.  It would validate the close losses to Michigan State and Nebraska.  Even if Ohio State suffers its fourth defeat on Saturday, it can still make a statement by playing well and keeping the score close.  Fickell must use the underdog role and the lack of pressure to his advantage.
Having already dropped one key game, Wisconsin can't afford another stumble.  The OSU defense must play aggressively and force Wilson and the Wisconsin running game to work for every yard.
The offense should stick with its ball control-style, though mixing in a few more passes is an absolute must.  Relatively speaking, Wisconsin is softer against the run than the pass, which could help the Buckeyes stay involved.
Original Story:
http://isportsweb.com/2011/10/28/ohio...
THE BACKYARD
BEST OF MAXIM
RELATED ARTICLES
With 59 minutes and 40 seconds of last night's Ohio State – Wisconsin game in the books, Braxton Miller had connected on 6 of 12 passes for 49 yards through the air.  Then with twenty seconds to go he did this: He went legend forever, if only for a night. Just one week ago these 11th ranked Wisconsin Badgers were not only favorites to win the Big Ten, they were also legitimate...
Ohio State could use a breakout from quarterback Braxton Miller as a poll shows how much the fans still miss former coach Jim Tressel.
Ohio State 33, Wisconsin 29. Two weeks ago, Ohio State could barely complete a pass, any pass. One bye week later, freshman Braxton Miller broke Wisconsin's heart for the second week in a row on one of the throws of the year, and simultaneously kept the Buckeyes' long-shot pursuit of a seventh consecutive Big Ten title alive. Miller's 40-yard bomb to fellow freshman...
Mark the day folks–October 29, 2011. The day Ohio State quarterback Braxton Miller and the rest of this young Buckeye team came of age. In what will be remembered as four of the most exciting minutes in Ohio State football history, not only did we see Miller make an amazing 44 yard run into the end zone but on a broken, rolling out play, the young Miller not only...
Ohio State scored on a 40-yard touchdown pass from Braxton Miller to Devin Smith with 20 seconds remaining for a heart-pounding 33-29 homecoming victory over Wisconsin, keeping alive the Buckeyes' hopes for a record seventh straight Big Ten championship.
There's no secret to what No.12 Wisconsin has under center for its primetime match-up against Ohio State, as senior Russell Wilson is a Heisman candidate because of his gaudy passing numbers. The Buckeyes, however, are more of a mystery, and they hope freshman Braxton Miller will provide some positive answers.
Wisconsin had its heart broken again. Braxton Miller threw a 40-yard touchdown pass to Devin Smith with 20 seconds left to give Ohio State a 33-29 victory over the No. 12 Badgers on Saturday night.
Wisconsin had its heart broken again. Braxton Miller threw a 40-yard touchdown pass to Devin Smith with 20 seconds left to give Ohio State a 33-29 victory over the No. 12 Badgers on Saturday night. It was almost exactly seven days earlier that the Badgers were beaten 37-31 at Michigan State on a miracle pass on the final play of the game.
The Ohio State linebackers learned by watching film of last year's Wisconsin loss and they'd been working since August on filling gaps and building a wall against the run game.
Another week of Big Ten football for Wisconsin resulted in another minor miracle in the last minute. For the second straight game, the Badgers were on the wrong end of that virtually miraculous play. Wisconsin lost, 33-29, against Ohio State on Saturday night, when Buckeyes quarterback Braxton Miller connected with Devin Smith on a 40-yard touchdown pass with 20 seconds remaining...
Buckeyes News

Delivered to your inbox

You'll also receive Yardbarker's daily Top 10, featuring the best sports stories from around the web. Customize your newsletter to get articles on your favorite sports and teams. And the best part? It's free!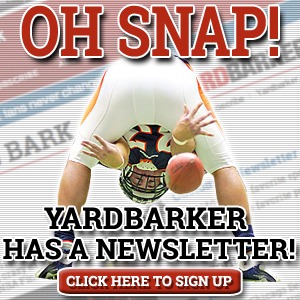 Latest Rumors
Best of Yardbarker

Today's Best Stuff

For Bloggers

Join the Yardbarker Network for more promotion, traffic, and money.

Company Info

Help

What is Yardbarker?

Yardbarker is the largest network of sports blogs and pro athlete blogs on the web. This site is the hub of the Yardbarker Network, where our editors and algorithms curate the best sports content from our network and beyond.