The Clemson-Alabama sequel was destined to happen
By Shiloh Carder | Last updated 1/10/17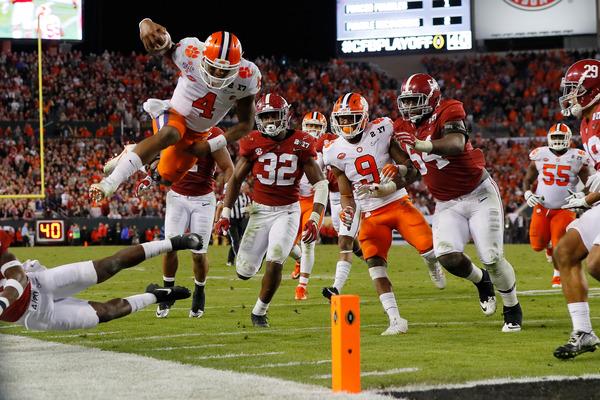 Quarterback Deshaun Watson #4 of the Clemson Tigers is stopped short of the goal line by defensive back Ronnie Harrison #15 of the Alabama Crimson Tide during the fourth quarter of the 2017 College Football Playoff National Championship.
Kevin C. Cox/Getty Images
In collegiate athletics, the words revenge and rematch get thrown around a bit too loosely. Unlike the professional ranks, college sports typically feature a lot of roster turnover and scheduling quirks. You're dealing with young adults who haven't had the same life experiences as older people. So when everyone was excited to see Alabama-Clemson matchup in the College Football Playoff Championship for the second straight year they were quick to label it a rematch and the Tigers' chance for revenge.

It wasn't.

But it was.

This game was destined to happen. Last year's championship game was epic in its own right with Alabama hanging on to beat Clemson, 45-40. After that game and throughout this season, both programs felt they still needed to prove something. For Clemson, it was a missed opportunity (several of them, actually) that they wanted to get back. Even though Alabama won the game and the national championship, they still felt like they hung on for dear life and squeaked by. Both schools had a bit of a chip on their shoulder entering the 2016 season.

All season long, these were the two teams pointed at as the best in the land. Preseason Nos. 1 and 2 and they didn't disappoint. Alabama looking historically good with a defense for the ages and Nick Saban focused on his sixth championship. Clemson looking to get back to the championship game and an opportunity to cash in on another title even if they looked restless during the regular season.

Alabama started the season by destroying what eventually would be the Rose Bowl champion USC Trojans and then just blew through the SEC. Clemson had some close calls and even suffered a defeat at home to Pittsburgh but all the while knew their ultimate goal was winning a title. In doing so, the Tigers beat Auburn, Florida State, Ohio State and Alabama – the last seven national champions – en route to another ACC title.

Everyone has been waiting for Monday night in Tampa. Alabama wanted to cement not just a legacy but a new level of success. Clemson wanted to get that championship feeling in what has been an over 30-year process. Still, there were some new wrinkles this go-around. First, the game was in Tampa which is smack dab in the middle of both SEC and ACC country. The Crimson Tide walked in with a freshman quarterback and without last year's Heisman trophy winner Derrick Henry. Clemson had a younger and more talented defensive line and had junior receiver Mike Williams who missed last year's contest due to a season-ending injury suffered in their first game.

Alabama did have what has been hailed as possibly the best defense ever and the best coach while Clemson walked in with the best player in the country and a coach that is motivated to get that Saban status.

We got our rematch. Maybe we should instead call it a sequel. Not the exact same cast but many of the principal characters. And like The Empire Strikes Back or The Godfather II, this was better than the original. You know the ending: DeShaun Watson throws a touchdown pass with one second left in the game to give Clemson a 35-31 win and a national championship. Amazing game with amazing performances with two heavyweights exchanging blows until the final moment.

That's what we want in sports. That's what college football has been striving to have. Whether it is the Bowl Alliance, the BCS or the College Football Playoff, the game wants to simply match the two best teams in the title game and let them go at it. The issue has always been deciding who the two top teams really are. As we've watched all year long, these two have been the best teams most of the way and did what they needed to do to get into the playoff. The playoff allows us some wiggle room (Ohio State felt as their regular season was deserving of playing in this game) and this year we saw our finalists slap away those other two playoff teams easily as if it was a fly that landed on their arm.

Some years, it's just a simple glance of the landscape to see who the biggest dogs are and just want it to fall into place like that (see also: NBA and the Cavs-Warriors III feeling). Not only did people expect these two schools to meet again, they actually came through for everyone. One thing to understand is the College Football Playoff isn't designed to allow everyone who could win the national championship a place at the table, but to make sure the teams that deserve to play for that title are included. If we were in the BCS era, there could have been a chance that Ohio State would've taken Clemson's spot in Monday's game and the Tigers wouldn't have had their moment. Hence, the College Football Playoff.

The playoff allowed, to me, the three schools that deserved a shot at playing for the national championship (and Washington) the platform to do so. The fact that Clemson pummeled Ohio State in the Fiesta Bowl doesn't change that, but reaffirms just how great the Tigers were even if they didn't have the same intensity during the regular season as they did Monday night against the Tide.

The system worked and Clemson and Alabama gave us yet another great championship game. Did we expect anything different?
MORE FROM YARDBARKER:
Way-too-early look at Heisman favorites in 2017
QUIZ: Name every school that has won the ACC Championship in football
Sixteen different schools have competed in the Atlantic Coast Conference since its creation in 1953. Of those schools, 11 have won the conference football championship. Can you name them all?
MORE FROM YARDBARKER
College Football News

Delivered to your inbox

You'll also receive Yardbarker's daily Top 10, featuring the best sports stories from around the web. Customize your newsletter to get articles on your favorite sports and teams. And the best part? It's free!