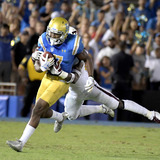 Every year, college football produces its share of breakout players. These can be guys playing at smaller schools putting up big numbers, players who were in the shadow of elite teammates who have now gone to the NFL or graduated, or even guys who were already pretty well known but have taken an even bigger step forward to put themselves into elite company.Here's a look at 12 NCAA...
Deshaun Watson was watching College GameDay on Saturday, and he couldn't help but fire back at some of the creative signs from Louisville fans.GameDay had rolled into Louisville ahead of Saturday's game between the Cardinals and the Clemson Tigers, which naturally meant the students had pulled out their best jokes — one of which centered around Louisville's Lamar Jackson beating...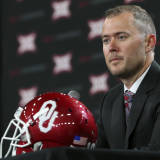 With Week 1 in the books, college football season is well and truly underway. Week 2 will still mostly consist of big teams getting their feet wet against lesser opposition, but there are some intriguing games on the schedule, both marquee and otherwise. In addition, there are players to watch for various reasons.Here's a look at 15 key questions entering of college football's second...
Deshaun Watson on Thursday night was selected as the 12th overall pick by the Houston Texans in the 2017 NFL Draft. An already emotional evening for the former Clemson quarterback became all that more heartwarming when he was presented with a letter from his mother Deann shortly after getting drafted.Suffice to say, the heartfelt words expressed by his mother in the letter deeply...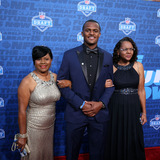 Former Clemson Tigers quarterback Deshaun Watson will soon land with an NFL team, and he'll be shown on primetime television for the big event.And he's a big fan of "Primetime" (the player) as well, apparently.Watson showed off this cool shirt, featuring Deion Sanders from way back when he played in the NFL, which you can see from his Jheri Curl and shades. The funny thing is that...
Former Clemson quarterback and likely first-round pick Deshaun Watson was wearing some interesting shoes on the red carpet Thursday night. Just take a look at these…weapons? Seriously, you could put someone's eye out with those suckers. Hopefully Watson doesn't trip on a wire as he exits the green room after being selected in the draft. Because ouch.
Clemson quarterback Deshaun Watson wants to be the first quarterback taken in the 2017 NFL draft. Late in the process, reports of North Carolina's Mitchell Trubisky coming off the board at No. 1 to the Cleveland Browns keep popping up. Watson isn't a fan. Look at what he told ESPN's Josina Anderson: And in this context Watson has every right to feel disrespected. After all, Trubisky...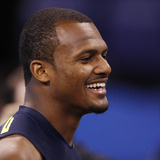 While Mitchell Trubisky appears like the safest bet to be the first quarterback taken in the 2017 NFL Draft, there are some analysts who believe Deshaun Watson has a chance to capture that honor. And if Trubisky is chosen ahead of Watson, the former Clemson star believes the team who picks him will be making a major mistake.In an appearance on Tuesday's edition NFL Network's "Good...
Deshaun Watson led a last-second comeback in the national championship game, and now he's making a late push to be the first quarterback drafted. The Clemson quarterback threw a touchdown pass with two seconds left to give the Tigers a 35-31 win over Alabama in January, and now an NFL.com poll of five NFL executives says that Watson will be the first quarterback taken in the first...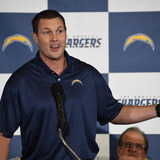 Philip Rivers has been with the Los Angeles Chargers organization since 2004, and he's been their starter under center since 2006. However, it's possible that Los Angeles could draft his successor in just a few weeks.The Chargers have the seventh pick in this year's draft. It's probable that both Clemson product DeShaun Watson and former UNC Tar Heel Mitch Trubisky will be available...
MORE STORIES >>
College Football News

Delivered to your inbox

You'll also receive Yardbarker's daily Top 10, featuring the best sports stories from around the web. Customize your newsletter to get articles on your favorite sports and teams. And the best part? It's free!
THE COLLEGE FOOTBALL HOT 10