The Ohio State football team is stacked at the wide receiver position for the first time in a long time.  While most Buckeyes will be happy to hear this, there is one who may not be: wide receiver Evan Spencer. He has seen a steady increase in usage during his career at Ohio State, and entering his senior season, he finally looks to be starting material.  Most seasons, it would...
Evan Spencer Wide receiver has always been a position of much interest for me when talking about the Ohio State football team, because there is never one standout guy, but they always seem to get the job done by committee. The Buckeyes will lose two key receivers from last season, number one receiver Corey "Philly" Brown, and impact receiver Chris Fields.  This does not seem...
It appears that Ohio State wide receiver Evan Spencer won't be speaking to reporters for quite a while. Spencer said on Monday that Ohio State would ''wipe the field'' with Alabama and whoever is No. 2 in the Bowl Championship Series rankings. Speaking on the Big Ten coaches' teleconference on Tuesday, Buckeyes coach Urban Meyer said it would be ''...
Via AP on Fox
Yesterday, Buckeyes WR Evan Spencer said that OSU would "wipe the floor" with the nations other top teams. After that story made the rounds, Spencer apologized even though seriously what is he supposed to think? Well that wasn't enough for head coach Urban Meyer. Here is what he had to say when asked about it today: Meyer on Evan Spencer's comments: "I'm very disappointed...
Ohio State wide receiver Evan Spencer expressed confidence in his team's BCS National Championship Game hopes on Monday by telling reporters he feels the Buckeyes would "wipe the field" with either Alabama or Florida State. The comments may have seemed like innocent smack talk to some, but Urban Meyer was infuriated by them. "I'm very […]
Earlier today, Ohio State wide receiver Evan Spencer ruffled a few feathers when he told reporters that the Buckeyes would "wipe the field" with Alabama or "whoever" else his team lined up against. Not surprisingly, the quote got some serious play. Tonight, Spencer has issued a statement on Twitter regarding the matter – he wants it to be known that he didn't mean to...
Unless there's a major upset in the final weeks of the college football regular season, the Ohio State Buckeyes probably won't get an opportunity to play in the BCS national title game even if they finish undefeated. The Buckeyes currently rank third in the latest BCS standings, and trail both No. 1 Alabama and No. 2 Florida State by a considerable margin. This is one example...
Ohio State WR Evan Spencer on Alabama and FSU: "I think we'd wipe the floor with both of them." — Ryan Ginn (@RyanGinnBSB) November 11, 2013   It turns out that Spencer's comment was actually, "I'm a little biased, but I think we'd wipe the field with both of them." Of course this isn't how a large portion of the media is reporting it. They are presenting it...
Even though Ohio State might be No. 3 in the polls and the BCS rankings, the Buckeyes consider themselves to be better than that. On Monday, wide receiver Evan Spencer said of Alabama and Florida State, ''I guess I'm a little biased but I think we'd wipe the field with both of them.'' Earlier, Ohio State coach Urban Meyer said he voted the Buckeyes (9-0...
Via AP on Fox
Ohio State wide receiver Evan Spencer just wrote a check with his mouth that Braxton Miller won't be able to cash. Spencer, a junior with 36 career receptions told the Cleveland Plain Dealer that he watched both Alabama and Oregon over the weekend, and calmly predicted the Buckeyes would beat the two top teams in America today.  . "I'm a little biased, but I think we'd wipe...
MORE STORIES >>
College Football News

Delivered to your inbox

You'll also receive Yardbarker's daily Top 10, featuring the best sports stories from around the web. Customize your newsletter to get articles on your favorite sports and teams. And the best part? It's free!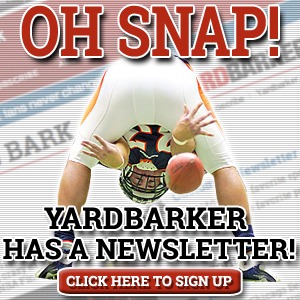 THE COLLEGE FOOTBALL HOT 10