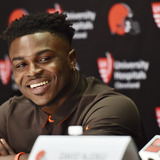 Since 1941, the University of Michigan seen 45 of its players get drafted into the NFL in the first round. How many can you name?CLUE: Year (pick# - TEAM)
If there is one thing that can be said about Jabrill Peppers during his time at Michigan, it is that he was among the most versatile players on the field every time he stepped on the field. It appears that versatility will be put to use in Cleveland as the Browns are already thinking about using their newly-drafted player on offense. "He is a football player, a very dynamic player...
That sound you just heard was magnetic names being shuffled around draft boards across the country. The reason for this wrench that's been thrown into draft plans is the news that Michigan's Jabrill Peppers tested positive for a diluted sample at the combine. A dilute sample is treated as a positive sample, according to Pro Football Talk. The cell phones of Jim Harbaugh and numerous...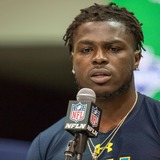 The Pittsburgh Steelers have struggled to replace the physicality Troy Polamalu brought to their defense, and it sounds like they are hoping Jabrill Peppers can bring it back.NFL Network's Aditi Kinkhabwala reports that Steelers general manager Kevin Colbert "loves" Peppers at the 30th overall pick in the NFL Draft. Peppers, a former Michigan star who played multiple positions...
Over the course of the weeks leading up to the 2017 NFL Draft, we will take a look at the top NFL prospects at each position. We look now into the defensive back position. Today we look at Jabrill Peppers from the University of Michigan. College Career Though he had the ability to start for Michigan as a freshman, injury forced the Wolverines to redshirt Peppers for most...
Last season at Michigan, Jabrill Peppers was used in a variety of ways. He played linebacker. He played safety. He played fullback. He played out of the wildcat. He returned kicks and punts. He was Mr. Everything for the Wolverines and head coach at Jim Harbaugh, leaving many to question just where he may eventually fit on an NFL roster. While going through the combine experience...
Running backs, offensive linemen and special teams players hit the field Friday at Lucas Oil Stadium to get the on-field work at the 2017 NFL Combine kicked off.For the most part, the excitement factor was minimal until the running backs got their turn to shine. But one offensive lineman you may not have heard of is really starting to make some noise.Though the drills at the combine...
Where exactly Michigan Swiss Army Knife Jabrill Peppers will go in the 2017 NFL Draft is up for debate, but there is no question about the man's physical stature. Peppers is listed on Michigan's website as 6-foot-1 and 205 pounds, but in person he's almost certainly closer to 215. His stomach boasts an 8-pack. His arms are roughly the size of Arizona. And watching Peppers as he prepares...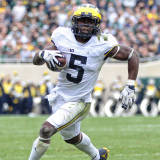 In an exclusive with Sports Illustrated, Jabrill Peppers announced what many of us already knew – he was forgoing his senior season and entering into the NFL Draft. Peppers was one of the most dynamic players in all of college football during the 2016 season and found himself as a must watch player, no matter the team he played against. He even played well enough to earn a spot...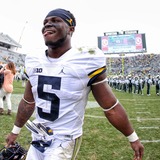 Many were surprised by sudden news announced just before the start of the Orange Bowl that Jabrill Peppers would not be playing in the game. Peppers suffered a hamstring injury in the week leading up to the game against Florida State. The Michigan junior linebacker was dressed in full uniform Friday and tried to give it a go during warmups but was seen grabbing at his leg. Michigan...
MORE STORIES >>
College Football News

Delivered to your inbox

You'll also receive Yardbarker's daily Top 10, featuring the best sports stories from around the web. Customize your newsletter to get articles on your favorite sports and teams. And the best part? It's free!
THE COLLEGE FOOTBALL HOT 10