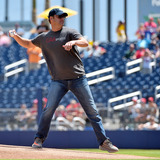 Lane Kiffin is assembling some talent in his new home job as head coach of Florida Atlantic. Most of that top-end talent is coming by way of transfers from players who started off at big schools, went to junior college, and now are headed to Kiffin's FAU.Some of Kiffin's new players include DeAndre Johnson, Tim Bonner and John Franklin III from East Mississippi Community College...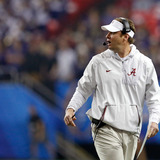 Leave it to Lane Kiffin to add a dose of humor to the Reince Priebus situation.Priebus was fired by President Donald Trump as Chief of Staff on Friday. Trump made the announcement upon arriving at Joint Base Andrews. Priebus learned of his fate while waiting in a Secret Service van on the tarmac of the airport.Priebus being fired on the tarmac of an airport led to many comparisons...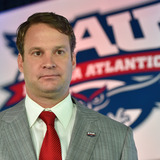 With Hugh Freeze having abruptly resigned as the head football coach at Ole Miss on Thursday, there has been some speculation that Lane Kiffin would love to have the job. As you might expect, Kiffin seems to have no problem perpetuating that talk.On Friday, Barrett Sallee of CBS Sports noticed that at least four of the Twitter accounts Kiffin has followed since Freeze stepped down...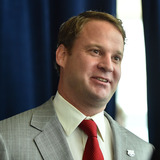 We have seen Lane Kiffin as a head coach at Tennessee and USC, but now he resurrects his head coaching aspirations at FAU. It is either considered a good starting point as he looks to redeem himself as a head coach or a complete shocker that Kiffin's career as a head coach isn't starting off somewhere else with a little higher profile. Is this a good situation for Kiffin to thrive...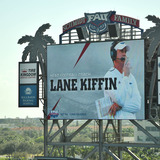 It's another year of change in Conference USA. New coaching faces and a program brought brought back from the dead headlines those very changes that will shape the league this year.So what can we expect in 2017? Will those teams on the top from 2016 remain there? Which teams are considered sleepers, and what kind of impact will coaches that go by the names of Lane and Butch have...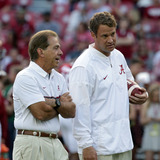 Senior Bowl executive director Phil Savage is a former NFL assistant coach, scouting director and general manager. He wrote a book that will soon be released entitled "4th & Goal Every Day." In this book, he gets into some juicy stuff, including the inside scoop on what happened to spark the sideline blowup between Nick Saban and Lane Kiffen last September.In case you don't...
Lane Kiffin is a master marketer, if nothing else. That's for sure.The Florida Atlantic football coach pulled off his latest social media move on Friday by tweeting at Kim Kardashian.Kiffin tweeted at Kim to tell her to tell husband Kanye West thank you. In his tweet, he included a photo of a pair of adidas "Yeezy" shoes — which are Kanye's signature sneakers. Kiffin then...
Lane Kiffin spent three years on Nick Saban's staff as offensive coordinator of the Alabama Crimson Tide. While the new Florida Atlantic Owls head coach obviously learned a thing or two from Saban, Kiffin seems to not agree with his former boss' habit of "humiliating assistant coaches."Kiffin famously and publicly was on the receiving end of several Saban tirades during his...
Lane Kiffin just can't seem to get a ride, man. The Alabama offensive coordinator was once again ditched by his own team's transportation following Thursday's Chick-fil-A Peach Bowl media session. Kiffin stuck around the Georgia Dome for some extra interviews, and when he walked out from the locker room to where the buses were supposed to be waiting, he was greeted by what...
MORE STORIES >>
College Football News

Delivered to your inbox

You'll also receive Yardbarker's daily Top 10, featuring the best sports stories from around the web. Customize your newsletter to get articles on your favorite sports and teams. And the best part? It's free!
THE COLLEGE FOOTBALL HOT 10