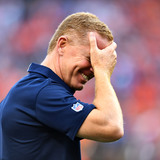 1.—In a game delayed by lightning, the Denver Broncos provided a thunderous statement by lighting up the Dallas Cowboys, 42-17. The home team dominated all three phases of the game, leaving millions of Cowboys fans wondering what just happened to their beloved team.In short, Jason Garrett had a bad day as the Cowboys head coach. Dak Prescott had a worse day as the Dallas QB. Ezekiel...
This will be the first in a series of articles examining the matchups of the Outback Bowl on Jan. 1 between the Iowa Hawkeyes and the no. 16 LSU Tigers.   The Iowa Hawkeyes (8-4, 5-3 Big Ten) will have one important advantage when it faces the no. 16 LSU Tigers (9-4, 5-3 SEC) in the Outback Bowl on Jan. 1, a healthy quarterback. LSU's Zach Mettenberger tore his left ACL and sprained...
LSU quarterback Zach Mettenberger has a torn ACL and won't play in the 15th-ranked Tigers' bowl game, ESPN reported. Mettenberger, a senior, became the third QB in LSU history to eclipse 3,000 yards in a season before he was hit low and twisted underneath a defender and blocker during Friday's 31-27 win over Arkansas. He passed for 22 touchdowns and is fourth nationally with a passer...
If there was anyone that folks thought could give Alabama a game it was LSU, and it seemed like that was going to be the case in the first half of the game Saturday night. In the end things ended up going from good to bad to even worse for the Tigers and especially quarterback Zach Mettenberger. It was the kind of night best described as frustrating and it could even make you...
College Football Week 1 Picks Every year the wait for college football's return gets longer.  Or maybe I just become more impatient.  Either way, we've finally arrived at Week 1 of the 2013 season and can settle back onto our couches, recliners, and barstools to resume watching the best sport in the land.  Sure to follow are weeks of joy, agony, and frustration as we endure the final...
LSU quarterback Zach Mettenberger taunted Alabama fans with a phone gesture after throwing a touchdown pass to give the Tigers a fourth-quarter lead over the Crimson Tide on Saturday. Bama fans got a hold of Mettenberger's phone number and were prank calling him during the week, so this was his payback after throwing a pretty 14-yard touchdown pass to Jarvis Landry. Mettenberger...
When LSU quarterback Zach Mettenberger transferred from Georgia (after being kicked off the team for rules violations), everyone figured that he would be their savior and replace the ineptness that Jordan Jefferson had showed in recent years.  Unfortunately this has not been the case for the Tigers.Mettenberger has looked unsettled and unaware in the pocket, and while he may have...
MORE STORIES >>
College Football News

Delivered to your inbox

You'll also receive Yardbarker's daily Top 10, featuring the best sports stories from around the web. Customize your newsletter to get articles on your favorite sports and teams. And the best part? It's free!
THE COLLEGE FOOTBALL HOT 10