Found January 24, 2013 on Fox Sports:
Just days after Lance Armstrong's doping admission, cycling is set for more damaging revelations when the long-delayed Operation Puerto case finally goes to court in Spain. Seven years after Spanish investigators uncovered one of cycling's most sophisticated and widespread doping networks, some of its central figures will stand trial on Monday in Madrid's Criminal Court. The case, in which 35 witnesses are called to testify, is scheduled to last until March 22. Judge Julia Santamaria will preside as six defendants are tried. They include doctors Eufemiano and Yolanda Fuentes, brother-and-sister suspects at the heart of a complex blood-doping ring that stained cycling's reputation in Europe. Also on trial will be Jose Luis Merino, another medical doctor; and Manolo Saiz, former ONCE and Liberty Seguros team sports director. Vicente Belda and Ignacio Labarta, both associated with the former Kelme team, will also be on trial. Many riders will be called to testify as witnesses, including two-time Tour de France champion Alberto Contador. Cyclists will not be on trial because Santamaria can only rule on matters covered by Spanish law as it applied in May 2006, when police raids uncovered a mass of evidence in labs, offices and apartments in Madrid, Zaragoza and El Escorial. This limitation means the scope of the trial can only focus on charges relating to actions that could ''endanger public health.'' But that doesn't mean the trial won't lead to new revelations about athletes who cheated to get an unfair advantage. ''If one of the defendants says that, for example, he injected a certain athlete, then Spain's anti-doping agency or a sports federation could open an investigation to see if they could be subject to a ban,'' Eduardo Esteban, spokesman for the state prosecutor's office, told The Associated Press. Miguel Angel Adan, spokesman for Spain's anti-doping agency, confirmed the body was studying the possibility. According to documents reportedly seen by sports newspaper AS, defense lawyers will argue that Fuentes and his co-defendants did not endanger cyclists' health because they relied on the best technology available. The proceedings will be followed closely by the World Anti-Doping Agency, which pushed for the case to go to court and will be a party to the trial along with the International Cycling Union, the Italian Olympic Committee, the International Association of Professional Cycling Teams, and former cyclist Jesus Manzano. WADA is disappointed the trial is limited to cycling, as athletes from other sports were also implicated. ''We have expressed our frustration, but at least we are finally getting a hearing,'' WADA director general David Howman told the AP in a telephone interview. ''The case was originally canned, but we pushed and insisted to get it reopened. Our expectations are limited, but our hopes are high.'' ''There were athletes from a number of sports involved,'' Howman said. ''The doctor is on trial. We need to hear what he was practicing and who his patients were.'' Among evidence seized were code names allegedly referring to individual riders, refrigerators stocked with numbered blood and blood plasma bags and a virtual pharmacy of performance-enhancing substances including EPO, human growth hormone, steroids and testosterone - many of the things Armstrong admitted to using in his interview with Oprah Winfrey. The Puerto case implicated more than 50 cyclists - including Contador, Ivan Basso, Jan Ullrich and Alejandro Valverde - in the use of performance-enhancing substances or practices. The most high-profile witness is Contador, who was stripped of a third Tour de France title and banned for two years for testing positive for clenbuterol en route to winning the 2010 Tour. Contador has since had to negotiate with the UCI and the Court of Arbitration for Sport about the size of the fine to be paid when the court rejected his assertion that the positive doping sample he provided originated from eating contaminated beef. Contador is scheduled to testify on Feb 15. Contador's spokesman told the AP that the cyclist refused to comment ahead of the Puerto trial. Hampered by the legal shortcomings of the trial, particularly that suspects cannot be charged retroactively for doping crimes, Spanish judges have twice tried to drop the case. These actions have scarred Spain's reputation for combating doping just as Madrid is bidding to host the 2020 Olympics. ''Justice shouldn't be this slow. It manifests the inefficiencies of the Spanish judicial system,'' Esteban said. ''This case in particular has taken far too long. It was difficult to place the events (under investigation) within the legal framework existing at the time, because blood isn't medicine. It generated a lot of doubts that had to be cleared up.'' The government has since taken action to criminalize doping and current Sports Minister Jose Ignacio Wert has said legislation is making its way through parliament. If found guilty of endangering athletes' health, the defendants could stand to lose their professional licenses and face two years in jail. They could avoid jail time and receive suspended sentences, Esteban said. Valverde is the only Spanish rider who has been punished based on Puerto evidence. German cyclist Ullrich chose retirement in the face of the police discoveries and Italian cyclist Basso's implication led to a two-year ban. Valverde was banned worldwide after a CAS panel accepted WADA and UCI arguments that he doped with the blood-boosting hormone EPO and was connected to the Puerto investigation. Valverde led cycling's world rankings when his suspension was confirmed in 2010. At the heart of the case is the process of blood doping or blood packing. Fuentes allegedly stored bags containing high concentrations of hemoglobin-rich red cells taken from the riders' own blood so it could be re-injected in competition when they needed a performance boost. Bags were labeled with codes, some based on the names of riders' dogs. Basso was ''Birillo,'' Jorg Jaksche of Germany was ''Bella.'' Although he denied it, Valverde owned a dog called Piti, the arbitration court heard. And Piti was the code on a bag containing blood plasma which DNA tests confirmed was his. Fuentes is alleged to have used centrifuges to separate red blood cells from the plasma they normally float in, enabling riders injected with them to enjoy a significant boost. Manzano, one of the plaintiffs, is a retired cyclist who turned whistleblower after suffering medical problems he said were caused by doping practices he was submitted to by Eufemiano Fuentes while riding for team Kelme. Given Puerto's history, Manzano is not optimistic about the trial's outcome, reiterating WADA'S complaint that there were athletes from other sports who were clients of Fuentes yet to be named. ''I don't have many hopes, with the judges having opened and closed the case so many times,'' he told the AP by telephone. ''There are 100 bags of blood that nobody knows who they belong to, and many other things, a lot of (doping) products. There are things we will never know.'' --- AP Sports Writer Stephen Wilson in London and Associated Press writer Joseph Wilson in Barcelona contributed to this report.
Original Story:
http://msn.foxsports.com/cycling/stor...
THE BACKYARD
BEST OF MAXIM
RELATED ARTICLES
LIVESTRONG AND PROSPER
A class action lawsuit has been filed against Lance Armstrong on behalf of the people that have read his two autobiographies, asserting fraud.
Lance Armstrong's confession has pushed South Africa's anti-doping body to retroactively test blood samples from over 50 top cyclists for EPO. The South African Institute for Drug-Free Sport says it will re-test samples from cyclists who competed in all major mountain and road races in South Africa last year. The agency says this will help it discover ''if a major...
Lance Armstrong's disgraced former doctor Michele Ferrari says the American cyclist could have been just as successful without doping. Armstrong said in last week's interview with Oprah Winfrey that winning seven Tour de France titles would have been impossible without banned drugs. However, on Ferrari's website Tuesday, the Italian doctor wrote ''I think Lance...
The latest lawsuit against Lance Armstrong isn't from the government, sponsors or wronged teammates and competitors. It's from his former fans. Two men who bought Armstrong's book "It's Not About the Bike" filed a suit against the disgraced former cycling champ and publishers in a Sacramento, Calif. federal court on Tuesday, according to multiple reports...
Lance Armstrong's reputation is being destroyed more and more by the day. Most of us never believed him over the years when he vehemently denied using performance-enhancing drugs, but the seven-time Tour de France champion still had plenty of supporters before he admitted to Oprah Winfrey that he cheated. Some of those supporters contributed to Armstrong's fortune by purchasing...
Bradley Wiggins is convinced Lance Armstrong doped when the American returned to cycling in 2009, claiming he was robbed of being feted on the podium in the Tour de France that year. Armstrong has confessed to doping during all seven of his Tour wins from 1999-2005, but insisted he raced clean when he made his comeback in 2009. Wiggins, the current Tour de France champion, finished...
Sports can make even the hardcore fan a little jaded at times with lockouts (NHL), scandals (Lance Armstrong) and controversies (Manti Te'o). Every once in a while, though, along comes a heartwarming moment of purity that serves as a reminder about the real meaning of the games. One of those special scenes played out late Wednesday afternoon in a middle-school gym in Rochester...
It would be a dull day in the MMA world without a Chael Sonnen quote.  In the aftermath of the Lance Armstrong confession lies a little dispute between the bike riding cheat and the UFC mouth from the South.  Here you go: "Why are they calling him a bully? That's what I can't wrap my mind brain around. Lance is a dweeb, the only thing he's missing is the tape on the glasses...
Bradley Cooper recently told BBC that he would "love" to play Lance Armstrong in a movie about the cycling champion's life. Cooper told BBC, "I think he's fascinating. What a fascinating character." Paramount Pictures is already in the works of planning a movie with JJ Abrams' production company Bad Robot about Armstrong; who has been under much scrutiny as of late...
According to late night talk show host Conan O'Brien, this is the real Lance Armstrong interview by Oprah Winfrey, before it was edited of course.  
The World Anti-Doping Agency disputes a claim by former cycling federation leader Hein Verbruggen that discussing suspicious doping samples with athletes was once normal practice in sports. WADA says such a policy ''totally contradicts the purpose of an effective anti-doping program.'' The agency says it has ''no evidence of other international federations...
Cycling News

Delivered to your inbox

You'll also receive Yardbarker's daily Top 10, featuring the best sports stories from around the web. Customize your newsletter to get articles on your favorite sports and teams. And the best part? It's free!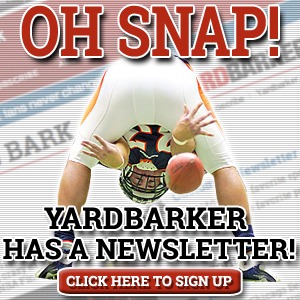 Latest Rumors
The Backyard

Today's Best Stuff

For Bloggers

Join the Yardbarker Network for more promotion, traffic, and money.

Company Info

Help

What is Yardbarker?

Yardbarker is the largest network of sports blogs and pro athlete blogs on the web. This site is the hub of the Yardbarker Network, where our editors and algorithms curate the best sports content from our network and beyond.