Found January 24, 2013 on Fox Sports Detroit:
Sports can make even the hardcore fan a little jaded at times with lockouts (NHL), scandals (Lance Armstrong) and controversies (Manti Te'o). Every once in a while, though, along comes a heartwarming moment of purity that serves as a reminder about the real meaning of the games. One of those special scenes played out late Wednesday afternoon in a middle-school gym in Rochester Hills, Mich., when a 13-year-old boy born with Down Syndrome got to live his basketball dream. With about two minutes remaining in the first half of an eighth-grade game between Van Hoosen Middle School and an opponent from the nearby city of Troy, Owen Groesser walked to the scorer's table to check in. The students from Van Hoosen immediately started to cheer and chant his name while holding up signs they'd made for him. "Let's go Owen... Let's go Owen ... Let's go Owen." Shortly after Groesser took the floor, his coach and teammates called for "The Owen," a play designed just for him. A pick was set to try to free up Groesser, a popular, hard-working team manager who never missed a practice, outside the three-point line. Groesser caught the pass from the point guard on the right wing. He had the option of shooting or driving to the basket. "Owen usually likes to take the three-pointer," his coach, Jeff Howell, said with a laugh. Groesser took a dribble, gathered himself and released the shot. "It had such a high arc on it that the place almost went silent," said Carrie Groesser, Owen's mother. "I'm practically burying my head in my hands, going 'Oh, dear Lord, please, please, please." Her prayer was answered. "Nothing but net," Carrie said, proudly. "The place erupted," Howell said. Owen's response: "It was easy." It wasn't easy, of course, but Groesser made it look that way. He missed his next two shots before nailing a second three-pointer just before the halftime buzzer. Groesser then made another late-game cameo, missing a layup, but his six points were a big part of the Vikings' 35-26 victory over Boulan Park Middle School in the final game of the season. "He's probably one of the most popular kids at school," Howell said. "He's kind of the face of Van Hoosen. He loves school, he loves sports. He's the kid who walks down the hall and everybody high-five's him. He always has a smile on his face." That's why his classmates went on Twitter Wednesday night trying to spread the word about Owen and turning it into a national story. Howell admitted he got a "little bit choked up" by the whole experience. He told his team that it was "nice for them to be part of something bigger than basketball itself." "I thanked the team for opening up their arms to Owen," Howell said, "and making him part of everything, and that they would probably never witness anything like this the rest of their lives, and that they should be proud of their efforts to help Owen get here." Carrie Groesser found out when she was pregnant that she was carrying a baby with Down Syndrome, described as "a congenital condition, which is characterized by moderate to severe mental deficiency." "All you hear about is all the things that he's not going to be able to do," Carrie said. "It's a pretty bleak diagnosis." She said her son's biggest challenge is slowing down when he speaks so that he can be understood. "We just took the attitude of 'Let him conquer the world if he can,'' Carrie said. "We'll expose him to whatever we feel is appropriate and if he succeeds, awesome, if not then we'll be there to catch him. "He has just been a force to be reckoned with. He's even a blue belt in Taekwondo. He really is an amazing young man." Owen played football and is a wrestler for his school's teams, but he wasn't able to make the 15-player cut in basketball. Howell brought him on as the manager before deciding last week to give Owen a chance in a game. After all, basketball is Owen's favorite sport. "It's my life," he said. The video of his shots made TV and You Tube, turning Groesser into an overnight sensation. "He's just smiling and happy and thrilled," his mother said. For her, this was about much more than just those three-pointers. It was the way his teammates and classmates reacted to what he did. "The enthusiasm and how they embraced Owen," Carrie said. "It was quite a scene."
Original Story:
http://www.foxsportsdetroit.com/01/24...
THE BACKYARD
BEST OF MAXIM
RELATED ARTICLES
LIVESTRONG AND PROSPER
A class action lawsuit has been filed against Lance Armstrong on behalf of the people that have read his two autobiographies, asserting fraud.
Lance Armstrong's confession has pushed South Africa's anti-doping body to retroactively test blood samples from over 50 top cyclists for EPO. The South African Institute for Drug-Free Sport says it will re-test samples from cyclists who competed in all major mountain and road races in South Africa last year. The agency says this will help it discover ''if a major...
Lance Armstrong's disgraced former doctor Michele Ferrari says the American cyclist could have been just as successful without doping. Armstrong said in last week's interview with Oprah Winfrey that winning seven Tour de France titles would have been impossible without banned drugs. However, on Ferrari's website Tuesday, the Italian doctor wrote ''I think Lance...
The latest lawsuit against Lance Armstrong isn't from the government, sponsors or wronged teammates and competitors. It's from his former fans. Two men who bought Armstrong's book "It's Not About the Bike" filed a suit against the disgraced former cycling champ and publishers in a Sacramento, Calif. federal court on Tuesday, according to multiple reports...
Lance Armstrong's reputation is being destroyed more and more by the day. Most of us never believed him over the years when he vehemently denied using performance-enhancing drugs, but the seven-time Tour de France champion still had plenty of supporters before he admitted to Oprah Winfrey that he cheated. Some of those supporters contributed to Armstrong's fortune by purchasing...
Bradley Wiggins is convinced Lance Armstrong doped when the American returned to cycling in 2009, claiming he was robbed of being feted on the podium in the Tour de France that year. Armstrong has confessed to doping during all seven of his Tour wins from 1999-2005, but insisted he raced clean when he made his comeback in 2009. Wiggins, the current Tour de France champion, finished...
Just days after Lance Armstrong's doping admission, cycling is set for more damaging revelations when the long-delayed Operation Puerto case finally goes to court in Spain. Seven years after Spanish investigators uncovered one of cycling's most sophisticated and widespread doping networks, some of its central figures will stand trial on Monday in Madrid's Criminal Court...
Bradley Cooper recently told BBC that he would "love" to play Lance Armstrong in a movie about the cycling champion's life. Cooper told BBC, "I think he's fascinating. What a fascinating character." Paramount Pictures is already in the works of planning a movie with JJ Abrams' production company Bad Robot about Armstrong; who has been under much scrutiny as of late...
According to late night talk show host Conan O'Brien, this is the real Lance Armstrong interview by Oprah Winfrey, before it was edited of course.  
The World Anti-Doping Agency disputes a claim by former cycling federation leader Hein Verbruggen that discussing suspicious doping samples with athletes was once normal practice in sports. WADA says such a policy ''totally contradicts the purpose of an effective anti-doping program.'' The agency says it has ''no evidence of other international federations...
Cycling News

Delivered to your inbox

You'll also receive Yardbarker's daily Top 10, featuring the best sports stories from around the web. Customize your newsletter to get articles on your favorite sports and teams. And the best part? It's free!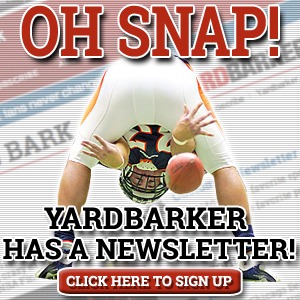 Latest Rumors
The Backyard

Today's Best Stuff

For Bloggers

Join the Yardbarker Network for more promotion, traffic, and money.

Company Info

Help

What is Yardbarker?

Yardbarker is the largest network of sports blogs and pro athlete blogs on the web. This site is the hub of the Yardbarker Network, where our editors and algorithms curate the best sports content from our network and beyond.