Found January 21, 2013 on Sports Blog Net:
Lost in the shuffle of the NFL's Championship Sunday and college basketball, along with the garbage stories including Lance Armstrong and Manti Te'O, was the return of the National Hockey League(NHL). The NHL started a strike-shortened 48-game regular season on Saturday and to say the fans of hockey forgave and forgot would be an understatement. There were great crowds all over the NHL landscape and it's good to see fans come back and support the sport(I still say commissioner Gary Bettman needs to be fired, but that's another story for another day). With the season only lasting for 48 games, it is more of a sprint than it is the marathon that comes with a normal hockey season. I remember when the NBA had a strike-shortened 66-game season for 2011-'12, the quality of play and injuries were a huge factor, particularly at the beginning of the season. There were a lot of players who showed up to their respective teams out of shape and not ready for the speed of the game, and it led to guys getting injured, some of them for huge parts of the season. I expect to see the same in the NHL, seeing how teams will have some brutal parts of the schedule. People will also say the quality of the sport will suffer for a little bit, but I prefer to say what the games may lack in quality of play, the effort and enthusiasm will more than make up for it. Every game will have that much more meaning since everything is so compressed, so there won't be any games wasted. To be honest, I'm just glad to see hockey back, for the fans and the people who work at the arenas doing concessions, security, and provide public transportation. As for the players and owners, it's about time they were able to get a long-term deal done. Labor negotiations should never get to the point where you start losing regular season games, it has happened in the NHL three times since Bettman has been the commissioner, but that is now water under the bridge. It's good to see hockey back in session, and for the fans of the NHL, it couldn't have happened a moment too soon. Charles Taylor
Original Story:
http://bestkeptsecret.sportsblognet.c...
THE BACKYARD
BEST OF MAXIM
RELATED ARTICLES
The panel investigating links between cycling's governing body and Lance Armstrong has postponed its first hearing because of snow in London. The International Cycling Union's independent commission will now hold its procedural hearing in London on Friday instead of Tuesday. The three-person panel will consider whether to introduce an amnesty or truth and reconciliation...
The two biggest sports stories of the week, Lance Armstorng and Manti Te'o were spoofed on "Saturday Night Live" this week. In a mock interview with "Piers Morgan," "Lance was asked about his doping and "Manti" was confronted about his dead girlfriend Lennay. Lance was angry and Manti was just dumb. Take a look at the opening.
First shunned, then vilified by Lance Armstrong, Mike Anderson had to move to the other side of the world to get his life back. Now running a bike shop outside of Wellington, New Zealand, Armstrong's former assistant watched news reports about his former boss confessing to performance-enhancing drug use with only mild interest. If Anderson never hears Armstrong's voice again...
Most people saw a bunch of Lance Armstrong DVD's were available and said to themselves, "Why the hell would anybody ever buy those things? That man is a fraud and a one balled liar. We all know the secrets behind the success and they all came from a lab." But Karl Baxter isn't most people. Karl is a risktaker and a business man, so when he saw that he had the ability to buy...
For whatever reason, we just can't let this whole Lance Armstrong thing go. We're not sure if it's because we feel duped that we somewhat believed all of his claims about not using PEDs over the years, or just because the way he consistently denied and sued the people who even questioned that he may [...]
Lance Armstrong confessed. He choked up. He apologized. After 13 years of fierce denials, the disgraced cyclist admitted to Oprah Winfrey during a 2 1/2-hour, two-night interview that he did indeed use performance-enhancing drugs to win the Tour de France seven times. Armstrong revealed a lot - but not everything - in the interview and the public will judge him not only for what...
I find myself looking for reasons to have certain people on the podcast and Denny is one of those people. This time we middled around the Lance Armstrong topic for a bit before getting into some more overarching themes about the Internet, culture, media, etc. A great conversation as always even if it ended up someplace completely different than Lance Armstrong. Denny's NYC Marathon...
It would be a dull day in the MMA world without a Chael Sonnen quote.  In the aftermath of the Lance Armstrong confession lies a little dispute between the bike riding cheat and the UFC mouth from the South.  Here you go: "Why are they calling him a bully? That's what I can't wrap my mind brain around. Lance is a dweeb, the only thing he's missing is the tape on the glasses...
Bradley Cooper recently told BBC that he would "love" to play Lance Armstrong in a movie about the cycling champion's life. Cooper told BBC, "I think he's fascinating. What a fascinating character." Paramount Pictures is already in the works of planning a movie with JJ Abrams' production company Bad Robot about Armstrong; who has been under much scrutiny as of late...
According to late night talk show host Conan O'Brien, this is the real Lance Armstrong interview by Oprah Winfrey, before it was edited of course.  
Cycling News

Delivered to your inbox

You'll also receive Yardbarker's daily Top 10, featuring the best sports stories from around the web. Customize your newsletter to get articles on your favorite sports and teams. And the best part? It's free!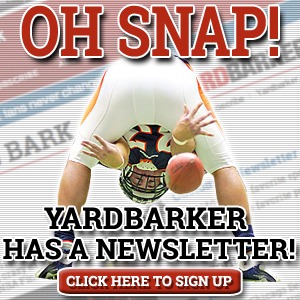 Latest Rumors
The Backyard

Today's Best Stuff

For Bloggers

Join the Yardbarker Network for more promotion, traffic, and money.

Company Info

Help

What is Yardbarker?

Yardbarker is the largest network of sports blogs and pro athlete blogs on the web. This site is the hub of the Yardbarker Network, where our editors and algorithms curate the best sports content from our network and beyond.