Found September 06, 2012 on The Nosebleeds:
You could say I technically "grew up" with Pierce Brosnan playing James Bond (he held the role from 1995 to 2002 — I was born in 1989), but I never really appreciated the Bond films until Daniel Craig took over in 2006. To me, Daniel Craig is James Bond. I say that with all due respect to Sean Connery, and, yes, even the (at times) hokey Roger Moore, but I wasn't even thought of yet while they were giving their takes on 007.
I want Craig to play James Bond forever. That won't happen. But he will play Bond at least two more times following November's 'Skyfall,' his third and the series' 23rd entry. According to MI6, Craig has signed on to play 007 in the 24th and 25th installments, which is about all I can realistically ask for.
Playing the character two more times would up Craig's total to five, just one shy of Connery and two shy of Moore. There was talk earlier this summer of Craig donning the tuxedo a total of eight times, but five more films following 'Skyfall' would put Craig in his mid-to-late 50s and EON productions and MGM would most likely want a younger actor in the fold by then.
Personally, I'm stoked. As I said at the top, I love Daniel Craig. He's the best thing that could have happened to the Bond franchise. 'Casino Royale' debuted in 2006 and totally saved the series, and while director Martin Campbell deserves a crapload of credit for that, Craig's performance was the anchor. 'Quantum of Solace,' an unintended sequel to 'Royale' dropped in 2008 and was clearly subpar to its predecessor, thanks to a director in Marc Forster who had very little experience in the action/adventure genres, and to the 2008 Writer's Strike that robbed the film of a proper script and story. But even as that film underwhelmed, Craig still rocked the role.
Craig cares about the property, which, next to his immense talent as an actor, is the most important part of his association with Bond. He's said before that he's searching for the "perfect" Bond film, and he helped line up the likes of Sam Mendes to direct 'Skyfall,' and Javier Bardem to play the film's villain, Silva. He wants this whole thing to work, and if 'Skyfall' ends up being as incredible as it looks to be, everyone can feel infinitely more confident in the franchise moving forward. The brand needs a steady shot in the arm following 'Solace,' and, say what you will about the MGM financial crisis of a few years ago that delayed production on 'Skyfall,' but it was the best blessing in disguise the people involved could have asked for. Unofficial pre-production work unfolded and a terrific story and script were put in place.
The value of that extra time hasn't gone unnoticed, as there's also been talk of the Bond films once again being churned out every two years — a pattern that was in place for much of Brosnan's run as Bond when it began nearly 20 years ago. But, EON isn't convinced returning to that cramped time frame is a great idea:
This schedule may be too aggressive for the artistic process at EON Productions, who have savoured the longer than usual break between films to craft the script for "Skyfall" and have other non-007 related projects in the works, too. Craig himself is keen to have a breather before kicking off another Bond outing, telling press recently that he is not taking any other film work on until after all the "Skyfall" promotional work is over in the New Year.
Count me among those who would rather see the studio takes it time putting out these films. Craig's  too good of an actor to waste on some half-baked idea with a so-so villain. Trust me, 'Skyfall' will set the bar for how Bond films should be done in the future. Or at least for how they should be done for as long as Craig is holding up the mantle.
Original Story:
http://thenosebleeds.com/daniel-craig...
THE BACKYARD
BEST OF MAXIM
Entertainment News

Delivered to your inbox

You'll also receive Yardbarker's daily Top 10, featuring the best sports stories from around the web. Customize your newsletter to get articles on your favorite sports and teams. And the best part? It's free!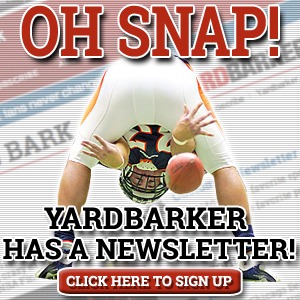 Latest Rumors
The Backyard

Today's Best Stuff

For Bloggers

Join the Yardbarker Network for more promotion, traffic, and money.

Company Info

Help

What is Yardbarker?

Yardbarker is the largest network of sports blogs and pro athlete blogs on the web. This site is the hub of the Yardbarker Network, where our editors and algorithms curate the best sports content from our network and beyond.