Finders keepers: 15 found footage films to remember
By Hashim Hathaway | Last updated 9/15/16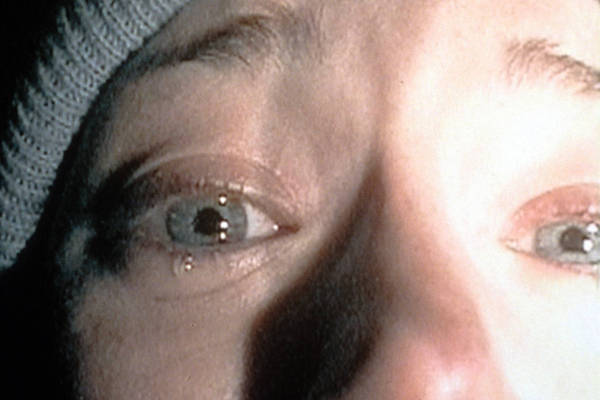 1999's "Blair Witch Project" helped bring found footage films into the spotlight.
Hulton Archive/Getty Images
Since its inception, audiences have had a love-hate relationship with the found footage genre. When used correctly, the shaky camera visuals and claustrophobic angles serve as almost separate characters in each film, but over the years, a glut of cheaply made found footage films threatened to turn audiences off as it increasingly became a gimmick used to produce films with small budgets and bad scripts.
With the release of Blair Witch this weekend, moviegoers are returning to found footage as an effective way to watch scary stories once again. In celebration, we present a list of 15 found footage films worth remembering for the way in which they represent the best of what the genre has to offer audiences then and now.
Cannibal Holocaust, 1980
The film credited with starting the found footage phenomenon, director Ruggero Deodato's Cannibal Holocaust is a hallmark for graphic violence and controversy. When it premiered in Italy, local law enforcement demanded that the film be seized, and Deodato found himself arrested for obscenity. At his trial, the actors in the film had to present themselves to the judge in order to prove that they were actually still alive.
Although no humans were killed, plenty of actual animals were, so Cannibal Holocaust isn't for the squeamish, which is probably why it earned its banning in a number of countries, including Italy and the U.K.
84 Charlie MoPic, 1989
While not quite horror, 84 Charlie MoPic is a document of another sort of horror, the horror of war. Following in on the coattails of Oliver Stone's Platoon, 84 Charlie MoPic is notable for its look and feel as a mockumentary of a Long Range Reconnaissance Patrol mission during the Vietnam War.
The film does a great job of giving viewers a sort of in-the-moment feel in a way that not many war films of the time were able to provide. While it hasn't aged as well as some of its contemporaries, it's still a film worth watching as an early form of the found footage genre.
Man Bites Dog, 1992
Critically acclaimed and the first foreign film to embrace found footage, Man Bites Dog is wickedly entertaining as a film crew follows Ben, a charismatic serial killer, on his adventures in murder and mayhem, all mixed in with a little poetry. Much like other found footage films, it doesn't take long for things to get out of hand, but what makes Man Bites Dog so compelling, all these years later, is how the story unfolds in layers, giving viewers added depth as the plot thickens to a surprising conclusion.
As far as found footage films go, Man Bites Dog is among the best, not just within its genre, but film as a whole.
Blair Witch Project, 1999
Shot on a shoestring budget of just $35,000, Eduardo Sanchez and Daniel Myrick created a little film that found a huge following, subsequently fully launching an entire genre that served as only a rare novelty before. Using simple camera tricks and a few unique filming techniques, coupled with an unknown cast, the Blair Witch Project became a phenomenon.
Beyond the novel concept, the Blair Witch Project holds the distinction of also being the first film mostly marketed via the Internet. This type of marketing was so successful in driving viewership through the use of viral videos that it became the standard by which films of all genres are sold today.
Paranormal Activity, 2007
After a half decade of Blair Witch Project knockoffs to varying degrees of success, the found footage genre was starting to get more than a little tired. However, taking a page from its predecessor, director Oren Peli took a page from the Blair Witch creators and made something new with very little money. As digital video made its way into users' hands at more affordable rates, the ability to produce films with great visuals and cheaper budgets allowed Peli to do everything for just about $15,000.
Paramount (and Steven Spielberg) were blown away by the little film that could, so it bought the rights, slapped on a new ending and made nearly $200 million at the box office. The Paranormal Activity franchise would continue on for five more films, bringing the total to over a billion dollars in box office revenue.
[REC], 2007
A simple yet effective entry from Spain, [REC] is the story of a reporter and cameraman who are tagging along with a fire department crew for a documentary series when one of the calls comes with a healthy amount of shock and surprise, as what starts out as a simple and routine call turns into a fight for survival against something supernatural.
[REC] would spark a franchise of its own, including an American remake, Quarantine, in 2008. Unfortunately, the American version isn't nearly as good as the original, on a number of levels.
Cloverfield, 2008
Produced by JJ Abrams and directed by Matt Reeves, Cloverfield was a bit of a surprise as it came from nowhere, sparking palpable interest via a very well-done Super Bowl commercial. As far as the found footage genre goes, Cloverfield is an interesting entry in that viewers are treated to a full-blown monster movie in the vein of Godzilla, giving the film a gigantic scope, even as it's filmed through small digital cameras.
While Cloverfield was ripe for sequels, audiences would get no more until a spiritual cousin, 10 Cloverfield Lane, premiered in early 2016. While it wasn't a found footage film itself, 10 Cloverfield Lane makes some interesting connections to the original film.
A Serbian Film, 2010
Taking a page from predecessor Cannibal Holocaust, A Serbian Film generated a fair share of controversy of its own. It's a story of a broke porn star, who agrees to make one more film, only to find out that what he signed up for was actually a snuff film. This leads him down a ever-darkening path that results in the destruction of his entire world.
While the story is pretty grim, it's also very watchable, that is unless you're in Spain, Germany, Australia, New Zealand, Malaysia, Singapore, Norway and Brazil, where A Serbian Film is banned outright.
The Last Exorcism, 2010
Within the genre of found footage films, there were a number of possession films. Most weren't all that good, but The Last Exorcism rose above the fray with its story of charlatan preacher Cotton Marcus (Patrick Fabian), who is the subject of a documentary on exorcisms. Marcus is wrestling with his faith until he sees that faith may be the only thing that will save him as everything he questions now comes to life with potentially deadly consequences.
What sets The Last Exorcism apart from the competition is the dual story of faith in crisis juxtaposed with a good old-fashioned witch story. One could follow the story of Marcus and his struggle with faith as its own movie, which is later only enhanced by demonic hijinks.
V/H/S, 2012
The first found footage anthology, V/H/S features shorts from some of the leading directors in the horror and suspense genre, including Ti West and Adam Wingard, who directs the upcoming Blair Witch sequel / reboot.
V/H/S spawned a mini franchise of its own with two follow-up anthologies that cover everything from living succubus to weird doomsday cults to a crime of passion that needs to be seen to be believed.
Chronicle, 2012
Director Josh Trank and writer Max Landis take the found footage genre in an entirely different direction from horror to superheroics with Chronicle, a tale of three high school kids who obtain and subsequently abuse superhuman abilities after a chance encounter with a meteorite.
Not only was Chronicle one of the best superhero origin stories to date, but it also gave us an early look at actor Michael B. Jordan, whom Trank would later hire to play the role of Johnny Storm in the ill-fated Fantastic Four reboot. But don't worry about Jordan, as his career took off and hasn't stopped to date.
Project X, 2012
Highly divisive with critics upon its release, Project X is a totally different type of found footage film. There are no monsters here except party animals, garden gnomes filled with ecstasy, and lots of sex, drugs and EDM.
While it might be easy to knock the nature of the film, like the horror films that are a staple of the found footage genre, Project X gives viewers the feeling of being in the middle of the biggest house party ever, and if you're willing to submit to the experience, it will be totally worth it.
End of Watch, 2012
Director David Ayer takes his action sensibilities and couples them with found footage via body cameras and police dashboard cameras in End of Watch, a film that chronicles a pair of officers as they go on patrol in South Central Los Angeles.
Jake Gyllenhaal gives a particularly convincing portrayal as one of the cops whom the film follows. To have this level of talent in a found footage film is a rarity, but it also lends a sense of realism that focuses on the humanity of two men who are not just officers, but also friends.
Unfriended, 2014
Adding yet another layer to the found footage genre, Unfriended takes place through the desktop and laptop cameras of a group of students who have been spreading around a video of a classmate who is later bullied into committing suicide.
Shot over the course of 16 days, Unfriended features an interesting production plan, including having each of the actors shoot his or her entire role in one take to later be used to splice together the different reactions as each of the students is picked off one at a time. Employing clever techniques with an original, very relevant story makes this a natural addition to the list.
The Visit, 2015
After a number of misfires, once-acclaimed writer and director M. Night Shyamalan and the found footage genre itself had a bit of a comeback in The Visit, a novel horror film that comes complete with one of Shyamalan's signature twists in a tale of two children going to meet their estranged grandparents for the first time.
The mix of solid storytelling and the aforementioned twist makes this not only a worthy addition to the list, but also shows that Shyamalan still has a trick or two up his sleeve as a filmmaker. Interestingly enough, in editing the final film, Shyamalan ended up with wildly different versions of the film, including an art-house style drama and a comedy, before settling with its final horror version.
MORE FROM YARDBARKER
Entertainment News

Delivered to your inbox

You'll also receive Yardbarker's daily Top 10, featuring the best sports stories from around the web. Customize your newsletter to get articles on your favorite sports and teams. And the best part? It's free!