Found May 03, 2012 on The House Of Heckle:
Every five seconds, Kate Upton is doing something ridiculously hot. Honestly, no one would care about the Cat Daddy if she wasn't doing it in a bikini. If I never saw this video, I would imagine that the Cat Daddy was some swanky litter box being pedaled in an infomercial by some screaming mentally ill dude at 4am. But no, now I know and LOVE the Cat Daddy.
And, thinking about it, Kate Upton must be to Middle School kids what Britney Spears was to me. A pile of sticky tissues and a dream. I love you Kate Upton.
Original Story:
http://www.houseofheckle.org/http:/ww...
THE BACKYARD
BEST OF MAXIM
RELATED ARTICLES
YouTube has allowed Sports Illustrated swimsuit model Kate Upton to break the Internet once more. This video, which shows Upton doing the "Cat Daddy" dance wearing a barely-there bikini, was restored on YouTube one day after it was removed for allegedly violating the video-sharing website's policy on explicit content.
Kate Upton broke the internet on Tuesday with her ridiculously sexy cat daddy dance that YouTube deemed too seductive and yanked it from us. Now two lovely ladies attempt to challenge the S.I. Swimsuit model with their own jaw-dropping sexy cat daddy dance. Melanie Iglesias of stop-motion video fame and Lisa Ramos double your pleasure with their mesmerizing moves. While they may...
Wow. Quite a remarkable week for the red-hot, young supermodel. Quite a week, indeed. To recap: She started off with the "Take a Supermodel to Work Day" video co-starring Oklahoma City Thunder players Kevin Durant and James Harden Next, and perhaps the biggest splash Upton made this week: her provocative  "Cat Daddy" video which melted [...]
Kate Upton owned the internet not once (Supermodel to work) but twice (Cat Daddy) yesterday...so Melanie Iglesias & Lisa Ramos launched the all caps "KATE UPTON GETS SERVED BY MELANIE IGLESIAS & LISA... Full story at Bob's Blitz ~ http://www.bobsblitz.com
Clearly Terry Richardson is doing something right. How else could you explain why anyone in their right minds would let someone who looks like him to shoot them naked? Having said that, he must have... [[ Read More ]]
I figured we might as well start off Wednesday in the same manner in which we closed up shop on Tuesday: a delightful dose of pandering, featuring none other than Miss Kate Upton. You may recall Tuesday when Kate Upton's "Cat Daddy" video — filmed by Terry Richardson — melted monitors throughout Internetland. Well, photos [...]
The Pittsburgh Pirates are rolling into May with 10 wins - and I'm celebrating by presenting Kate Upton doing the "Cat Daddy" -brought to you by Terry Richardson. Via www.terrysdiary.com (If video is down - find it at youtube or Terry's site) Kate Upton, SI Swimsuit model,  answered phones on the Dan Patrick Show today and was responsible...
Last year, many sports blogs were talking about Sports Illustrated swimsuit model Kate Upton's staring contest video. The SI swimsuit Rookie of the Year wins of course. Watch it here to see why. The old "hey I'm here, not here" bit has never been more true. Ever since the video of Upton doing her Dougie at a Clippers game surfaced, she's becoming a darling of internet...
Melanie Iglesias and Lisa Ramos would like Kate Upton to know that she's not the only superbabe that can pull off the "Cat Daddy" in sexilicious fashion:Keep the Cat Daddy line moving, ladies!a2a_linkname=document.title;a2a_linkurl=location.href;Get The Latest Thigh Updates By Following Us On Twitter.
'The Art of the Close'? They never came close to 'The Close.' the Mavs painted way too sloppily outside the lines while OKC found a way to finally unleash both its budding superstars. Dallas is down 0-3. Dallas is down, period. We eat our Friday Morning Mavs Donuts and not even a jiggly Kate Upton hoops video can cheer us ...
Yesterday photographer Terry Richardson set the internet on fire with his Kate Upton video. Today? He's got VS Angel Candice Swanepoel covering the May 2012 UK GQ and Japan's Vogue. Terry is... Full story at Bob's Blitz ~ http://www.bobsblitz.com
Entertainment News

Delivered to your inbox

You'll also receive Yardbarker's daily Top 10, featuring the best sports stories from around the web. Customize your newsletter to get articles on your favorite sports and teams. And the best part? It's free!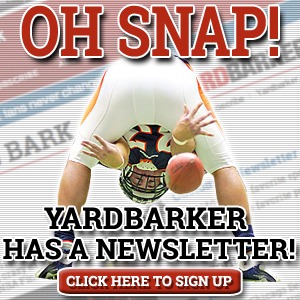 Latest Rumors
The Backyard

Today's Best Stuff

For Bloggers

Join the Yardbarker Network for more promotion, traffic, and money.

Company Info

Help

What is Yardbarker?

Yardbarker is the largest network of sports blogs and pro athlete blogs on the web. This site is the hub of the Yardbarker Network, where our editors and algorithms curate the best sports content from our network and beyond.