Found February 08, 2012 on Oregon Sports News:
Super Bowl XLVI, despite Madonna's best efforts, was a resounding success. While low-scoring, the game was exciting as games that come down to the last play always are. People are still talking about Clint Eastwood's pep talk and how Matthew Broderick has lost his relevance. Football is as popular as ever and all is right in America. Or is it? There's no question that football, and the NFL in particular, continues to be a TV rating juggernauts. According to Bloomberg Businessweek, Sunday's game had a 47.8 rating, mean it was seen in 47.8% of U.S. households. That sounds good and all, until you recall that last year's game had a 47.9 rating. Plus, 47.8% means that 52.2%, a clear majority, did not watch the game. There is another ***** in the armor: Nielsen reported that ESPN's 'Monday Night Football' dropped almost ten percent in the ratings in 2011. So is the NFL in a dire situation? Absolutely not. There's no question that next season will be extremely popular, as will the se...
Original Story:
http://www.oregonsportsnews.com/team-...
THE BACKYARD
BEST OF MAXIM
RELATED ARTICLES
This is actually a picture of him as the plane was going down. I think that we can all agree that Clint Eastwood is all that is man. Only he could create a movie at age 100 that has every racial slur I've ever even heard of (and ones that I haven't) without anybody second guessing it. In 1950 Eastwood decided to work as a lifeguard for the U.S. Army during the Korean...
Chrysler's Super Bowl ad featuring a gravel-voiced Clint Eastwood was pulled from the car company's official YouTube channel Monday. Though the "Halftime in America" commercial can still be viewed elsewhere on the site, the video posted on the automaker's channel was replaced by a note that reads, "This video is no longer available due to a copyright claim...
Clint Eastwood defended his now-controversial Chrysler ad that aired during the Super bowl, in which he implored the nation to overcome its differences and work together to revive the economy, denying any ties to President Obama and saying that the spot was intended to be apolitical.
Perhaps the most attention-getting Super Bowl ad — other than that dog blackmailing his owner with tortilla chips to keep quiet over a felinicide, of course — was Clint Eastwood's paean to a resurgent auto industry in Detroit.
Both Chrysler and Clint Eastwood defended their two-minute Super Bowl commercial against pundits who said it was more of a pro-President Barack Obama political statement than a car ad.
Clint Eastwood's "Imported from Detroit" Super Bowl commercial was filled with hope. It would be wonderful if politicians would do as the auto companies and work together toward a better future. I am very concerned about the right-to-work or anti-union fervor consuming state governments in the Midwest.
Chrysler's Super Bowl commercial featuring Clint Eastwood is not available on Chrysler's YouTube channel because of a "copyright claim," by the NFL.
As I watched the Super Bowl, I was moved and impressed by the Clint Eastwood ad for Chrysler. I was proud to think that Chrysler would develop such an inspiring ad. Our country is in trouble and it is nice to see a company that still has pride and confidence in the people and products of our nation.
In a blogtable on NBA.com, our beloved Kevin Garnett was repeatedly tabbed as the league's orniest player: Steve Aschburner: Normally I like to answer right up front and expound after, given these short-attention-span times. But … really? One graf to nominate and persuade on this loaded question? This could be a whole column. Or a series. Here's the best I can do in...
Now that the chattering classes have picked apart the Chrysler-Clint Eastwood video sermonette, Micheline Maynard raises some cogent points in her Forbes.com commentary that Detroit has become a movable metaphor for a variety of American issues.
The ad features an actor speaking in a raspy, deep voice, delivering some of the same lines that Clint Eastwood did in the two-minute halftime ad that ran during the Super Bowl and swirled up a storm of political controversy on Monday.
Entertainment News

Delivered to your inbox

You'll also receive Yardbarker's daily Top 10, featuring the best sports stories from around the web. Customize your newsletter to get articles on your favorite sports and teams. And the best part? It's free!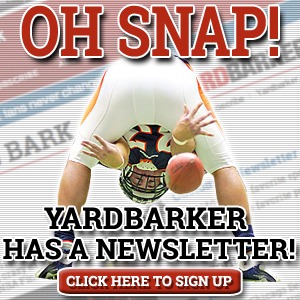 Latest Rumors
The Backyard

Today's Best Stuff

For Bloggers

Join the Yardbarker Network for more promotion, traffic, and money.

Company Info

Help

What is Yardbarker?

Yardbarker is the largest network of sports blogs and pro athlete blogs on the web. This site is the hub of the Yardbarker Network, where our editors and algorithms curate the best sports content from our network and beyond.