Found January 18, 2012 on Cuzoogle:
By Brian Covert So is this Wikipedia blackout what the Mayans were predicting when they said the world would end in 2012? In a way I'm being facetious but in a way I'm not. After all, where am I now supposed to find the correct age of Kim Kardashian or who were the main protagonists of the Russian revolution? I imagine for some –count me in this group - this blackout of Wikipedia is a pretty big thing. And I certainly don't want to undermine Wikipedia and its significance; after all, it has long been my go-to spot for all things information-related wise and the ideals it upholds are truly admirable. But this blackout comes at an interesting time for me as I've lately been trying to better understand my relationship with technology. In all seriousness, it has proved to be quite a quandary. On the one hand, I'm certainly an advocate for technology; cars aren't a bad thing – I can now make it to the beach and back in a couple of hours or I can take a road trip to Montreal on a whim. B...
Original Story:
http://feedproxy.google.com/~r/Cuzoog...
THE BACKYARD
BEST OF MAXIM
RELATED ARTICLES
REALITY BITES
In news sure to shake the foundations of reality television, news has surfaced that the Nets player's proposal to his bride-to-be was staged and completely orchestrated by Kardashian herself.
New Jersey Nets star Kris Humphires IS FINALLY COMING OUT and telling the world that engagement between him and reality star Kim Kardashian was FAKE. According to his camp, who told Radar Online, a source from the camp says that Kim told Kris how, when and where to propose. Kris pop the question in the middle of the day, because Kim claimed that it would create better lighting...
In what has to be the most mind-******* gossip story of the decade, could we honestly be witnessing a colossal "what the ****" in the **** that does not matter except for mockery reasons department. Did Ryan Seacrest even know about this tidbit when he first created the idea of a golden showered Kim Kardashian sex tape? From the National Enquirer: More Information
I know, I know...I am shocked as you to learn that there are allegations that Kris Humphries television marriage proposal to Kim Kardashian on "Keeping Up With The Kardashians", has been rumored to have been staged by E! as Miss Kardashian herself.We learn more from the New York Post:A source close to Humphries tells the site, "Kim told Kris how, where and when to...
Reason number 567 why I do NOT understand why Kris Humphries was looking for sympathy in his divorce from Kim Kardashian. It's being reported that Kris Humphries proposal to Kim Kardashian was staged for E! cameras. Down to the time of day to ensure they had the proper light. Why are we shocked by this? [...]
Melissa Molinaro is ready to make some noise, and this time it has nothing to do with Kim Kardashian.
Each day, Mashable highlights one noteworthy YouTube video. Check out all our viral video picks. The 69th Annual Golden Globes were live Sunday, and the biggest story was whether Ricky Gervais was going to be a hilarious jerk or a not-so-hilarious jerk. The Internet's consensus is that Gervais lost a little of his barb compared to last year's playful evisceration of all...
Since the messy break-up from Kim Kardashian, Kris Humpries has continuously taken 'L's in the public opinion. Humphries has been all over the covers of tabloid magazines and was also recently voted as the NBA's most disliked player in a recent Forbes poll. Well apparently Los Angeles Clippers forward Blake Griffin gave the people what [...]
The Bills will get a look at several new head coaches in 2012. Dolphins RB Reggie Bush may be called as a witness in a lawsuit his ex-girlfriend Kim Kardashian filed against The Gap. DE Mark Anderson is looking forward to making a postseason return with the Patriots. Jets ticket prices are going to be…
Entertainment News

Delivered to your inbox

You'll also receive Yardbarker's daily Top 10, featuring the best sports stories from around the web. Customize your newsletter to get articles on your favorite sports and teams. And the best part? It's free!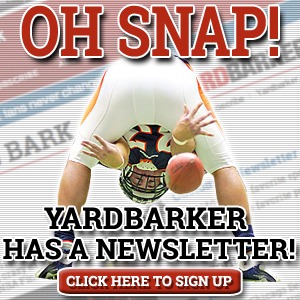 Latest Rumors
The Backyard

Today's Best Stuff

For Bloggers

Join the Yardbarker Network for more promotion, traffic, and money.

Company Info

Help

What is Yardbarker?

Yardbarker is the largest network of sports blogs and pro athlete blogs on the web. This site is the hub of the Yardbarker Network, where our editors and algorithms curate the best sports content from our network and beyond.