Found October 29, 2012 on Race Review Online:
Many people are left scratching their heads after the Hulman/George board voted to remove Randy Bernard as CEO of the IZOD IndyCar Series, effective immediately. Why fire a guy who was successfully leading the series down a road to relevance where they haven't been since before the split? It can't be because of the loss the series took this year. They profited last year for the first time pre-split and would have gained this year if it wasn't for a beer festival in China. That's not Bernard's fault; the Chinese government cancelled the race. The loss of China meant loss of the sanctioning fee that would have given the series a net gain this year instead of the loss. Again, not Bernard's fault. They can't complain about the new car and costs being up a bit this year. The car produced the best season of racing in any form of motorsports ever. We saw few cautions and few torn up race cars as the car was durable and the competition level was high. They also can't be mad at him for the TV deals. He inherited bad deals made by his predecessor, the joke of  a person Tony George. Bernard not only redid most of those deals, he set up some superb coverage for next year as the series was finally going to be on ABC in prime time and had TV networks working with them not against them for the first time since pre-split. Again, no fault of Bernard here. Lastly, they can't be mad at the schedule for next year, which they signed off on a month ago. If they were mad they would have fired him then. He set up double headers and some standing starts to get attendance and ratings higher. He had other tracks in the works for 2014 and was honestly making IndyCar wanted by tracks again as the schedule was shaping up to be great. Again, no fault of Bernard here. So after all of the gains and the series heading upwards in the right direction, why fire Bernard? The answer is simple. It's an ego problem for the Hulman/George family and they were scared they were going to lose the series. It's 1994 all over again. In '94, George began talks of funding his own series in 1996 and splitting from CART. He was fearful on how big Chip Ganassi and Roger Penske were becoming and afraid they could get enough support to take over the series. At that point the owners owned a stake in the series. They could gather enough support to over take George. So George, being the scared person that he is, beat them to the punch and split before any kind of move was made. What he didn't realize was that the owners weren't wanting to take over. That move nearly ended IndyCar as we know it. It's never been the same since. Now, it's happening all over again. Names of George's investors haven't been announced yet, but rumors are putting Jimmy Vasser, Ed Carpenter, John Barnes, and Chip Ganassi as car owners involved. It doesn't take a rocket scientist to see why George pulled those four guys. Do you notice two names on there that didn't have a say and weren't a part of this group? Funny how Michael Andretti and Roger Penske weren't in on this, isn't it. Maybe it's due to both of them running four of the more successful races on the schedule, with more surely to come. Michigan, a Penske-run track, was in talks of returning to the schedule and with Andretti promoting and saving another track or two, they would own the rights to nearly half the tracks where the series races. Sounds like George and his group are a little scared, doesn't it? Why not allow one of the best business men in America and one of the most if not the most successful motorsport car owner be a part of that group? Wouldn't you want his business smarts and experience to running not just a business, but a race team and tracks for races? Andretti has turned two races into gold and saved both Milwaukee and Baltimore. You really wouldn't want him in charge? The reasoning behind the avoidance of Penske and Andretti is simple. They have money, a great business plan, successful businesses, teams, and tracks, and dominated the season last year. They're doing things the right way and George and that group of investors and car owners are scared. They don't want Penske or Andretti to control things. They want to be in control. Unfortunately, that fear is going to ruin IndyCar as we know it. Say goodbye to the series because that group has no plan, no vision, and is only doing this based off of fear and overgrown egos. George ran the series into the ground once and he will do it again. Maybe Andretti was looking into a NASCAR team for a reason. He saw this coming and wanted to get out. I don't blame him or Penske for doing so either. Without them, the series is crap. Kind of like those clowns trying to run the show now. The post IndyCar: Move to oust Randy Bernard due to fear of Penske and Andretti appeared first on Race Review Online.
Original Story:
http://racereviewonline.com/indycar-m...
THE BACKYARD
BEST OF MAXIM
Formula One News

Delivered to your inbox

You'll also receive Yardbarker's daily Top 10, featuring the best sports stories from around the web. Customize your newsletter to get articles on your favorite sports and teams. And the best part? It's free!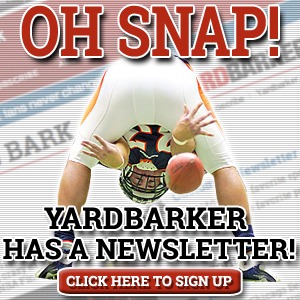 Latest Rumors
Best of Yardbarker

Today's Best Stuff

For Bloggers

Join the Yardbarker Network for more promotion, traffic, and money.

Company Info

Help

What is Yardbarker?

Yardbarker is the largest network of sports blogs and pro athlete blogs on the web. This site is the hub of the Yardbarker Network, where our editors and algorithms curate the best sports content from our network and beyond.