Found November 20, 2012 on Fox Sports:
Roger Penske really has done it all now. Certainly, the racing icon is no stranger to titles and prestigious race wins. He has 15 Indianapolis 500 wins to his credit and a pair of Daytona 500 victories. He has 12 IndyCar Series titles over his storied career. He even helped orchestrate the Super Bowl when it was played in Detroit. But for years, there's been a noticeable gap in Penske's resume. Brad Keselowski has filled that. First in 2010, when he handed his Penske his first title in one of NASCAR's three major touring series in taking the Nationwide Series crown. But in 2012, he did for Penske what no one else -- not Hall of Famer Rusty Wallace, nor previous Cup champ Kurt Busch, nor a host of other talented drivers -- had managed. He raced to the NASCAR Sprint Cup title. That puts an owner who had the likes of Mark Donohue, Donnie Allison and Dave Marcis driving for him in his 1972 debut season into the top tier of NASCAR owners. Penske, a man with more than 350 race wins in major series, adds reaching the pinnacle of NASCAR racing to his credit. Widely admired for his class and professionalism, he's now what he has been chasing all along -- a Sprint Cup Series champion. "Personally, I feel amazing that I've been able to achieve this in racing," Penske said. "I've lauded the people that have been on that stage for so many years in Las Vegas and New York, and to be able to join this elite group and say that I'm a champion in NASCAR means a lot, and certainly . . . it takes a lot of people, but I think it took the guts for me to stay in the sport. "We could have thought, 'Well, we won the Indy 500 15 times and we're a big deal.' But I'll tell you one thing: Until you get here and you compete at the top and win it, you really know what's happened, and I think I just woke up here (Sunday night), and it's a big thrill." Obviously, it's something he has wanted for years. Penske has at times come tantalizingly close to reaching it -- but has always had to settle for watching someone else enjoy the moment. Not anymore. "It's a goal that I wanted to achieve, and I tried hard," he said. "We were close in '93 with Rusty finishing second and then third in '94. That's a long time ago." Now, though, he's celebrating in the present. And, as a tribute to just how much he is respected in the sport, competitors in the sport were quick to congratulate him on the title. "I respect him so much, and he is such a good friend," said Rick Hendrick, owner of 10 Cup titles who just lost this one to Penske. "So I'm real happy for him. I'm very, very he's paid his dues, he's won a bunch of championships, and he's done a lot of hard work in this sport." He's not the only one, though. As they tried to wrap their minds around the newly won title, Keselowski and crew chief Paul Wolfe were quick to point to all what Penske did to boost them to this level. Motivated by the desire to put Penske on top, they found him open to suggestion and hands-on in his approach to capturing the elusive title. "It's, obviously, very special, not only for myself but everybody at Penske Racing," Wolfe said. "So much has gone into this, and I'm thankful for the opportunity that RP has given me and Brad. There's been plenty of lists we've passed his way of things we wanted, and it was our job when we got those things to go out there and perform, and I feel like for the most part we've tried to do that, and over the last three years we've been able to accomplish a lot of great things." Penske admits that he's goal-oriented and has worked hard for the title. Still, he had to find the right formula. No matter how much one is willing to put into the sport, it takes more than throwing cash and brain power at it to emerge on top. "It's not about how much money you have and what you can buy on the racetrack," Penske said. "It's about the people. It's about the human capital that we've been able to put together. ". . . This business has changed. It's a little more technical now, it's a little more in our bailiwick, and to me we're executing. And with a leader like Brad who really cares about the team, it's not just about Brad Keselowski, I want to let you know that. He is every day trying to make our team better. So that's motivating me, and this is a great opportunity, obviously. "When you're racing, I call it the gold standard, the best in the business. Rick Hendrick is a great friend of mine, I have a lot of respect for him both on the business side and certainly on the racing side, and (Jimmie) Johnson is a cool cat. He knows how to get it done. He's gotten it done five times. So just being in the league with them, it's the final day, you're teeing up the last 18 and we're in the same foursome, so that's a pretty good day." Keselowski concurs. He quickly points to the people around him, to working with Wolfe and Penske and how far they've come as a group. Keselowski was once tied to Hendrick through its sister operation JR Motorsports in the Nationwide Series, won his first race with Phoenix Racing and then landed with Penske Racing. He has been racing full time in Cup for only three years, two with Wolfe at the helm. And look what they've done. "When I look back at this at least in this moment, I think of those three people and I think how proud I am to be a part of taking them from the unknown, because I was right there with them, to where we're at today," he said. "Obviously I look at RP as being a piece of that, as well, and doing something that nobody else has ever done with Roger, which is something very special. "You know, obviously, I was in that whole Hendrick mix in 2008 and '09, and winning it for Roger is much sweeter than that ever could have been because I know this is an accomplishment nobody else has ever done."
Original Story:
http://msn.foxsports.com/nascar/story...
THE BACKYARD
BEST OF MAXIM
RELATED ARTICLES
Of all the owners in the garage area, I don't think any of us can ever put into words how excited everybody in that garage area was at the end of Sunday for Roger Penske, who won the NASCAR Sprint Cup Series title. Having seen him come in, believe in NASCAR, support our sport, be a former track owner, just all the commitment that the Captain has put into motorsports as a whole...
A Dodge powered car won the NASCAR Sprint Cup Series for the first time since 1975. Roger Penske won his first title as a car owner in NASCAR. All things would appear to great. Except Dodge is leaving NASCAR Next season Penske's cars will join Ford Racing. While Ford figures to give Penske as much of a chance to see one of his drivers as a champion, it was not necessarily the preferred...
Veteran crew chief Greg Erwin is joining Penske Racing. Erwin will oversee the No. 12 NASCAR Nationwide Series team and driver Sam Hornish Jr., who embarks on his second full season on that tour. "It is an honor to be selected as the crew chief of the No. 12 Ford Mustang," Erwin said in a release. "I would like to thank Roger Penske and everyone at Penske Racing...
The last time Dodge won the NASCAR Cup title, in 1975, Ralph Gilles was playing with Matchbox cars on his mother's living room floor. Even then, Gilles, now the president and CEO of the SRT Brand and senior vice president of design at Chrysler Group, was a NASCAR fan. "I used to watch NASCAR as a kid," Gilles said. "I loved it." Considering that it had...
Sam Hornish's crew chief for next season has been announced. Veteran crew chief Greg Erwin will call the shots for the No. 12 team in the NASCAR Nationwide Series. Erwin recently served as a crew chief of the No. 43 car at Richard Petty Motorsports and before that had worked with Greg Biffle and the No. 16 car at Roush Fenway Racing. Penske Racing is hoping that pairing Erwin with...
DAYTONA BEACH, Fla. – Brad Keselowski won the 2012 NASCAR Sprint Cup Series championship today at Homestead-Miami Speedway, earning owner Roger Penske's first title in NASCAR's premier series. For owner Penske, the wait that began before Keselowski was born (1984) finally is over. Penske Racing, which entered the NASCAR Sprint Cup races in 1972, ended the longest non-championship...
Formula One News

Delivered to your inbox

You'll also receive Yardbarker's daily Top 10, featuring the best sports stories from around the web. Customize your newsletter to get articles on your favorite sports and teams. And the best part? It's free!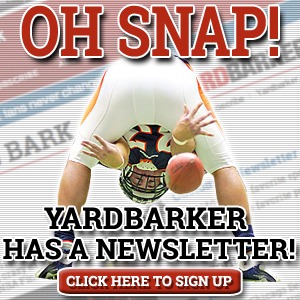 Latest Rumors
The Backyard

Today's Best Stuff

For Bloggers

Join the Yardbarker Network for more promotion, traffic, and money.

Company Info

Help

What is Yardbarker?

Yardbarker is the largest network of sports blogs and pro athlete blogs on the web. This site is the hub of the Yardbarker Network, where our editors and algorithms curate the best sports content from our network and beyond.