There is more to Rickie Fowler than meets the eye. Under that flat-brimmed hat and flashy style is a steely competitor with a deep spiritual life and an intriguing family background. Here are the five "Fs" that make up the man contending at every major this year — and none of them are "freaky mustache." @DickFowlerPI still rock the khakis with a cuff and a crease! pic.twitter.com/PGChxp5Lez — MT (@matt_tomko) September 20, 2013 Fiercely competitiveAlmost every tour player was once a hometown hero, but Rickie was so dominant at the local level that it's almost scary. When he was just a freshman, he shot a course-record 62 to win a Southern California high school tournament. He also shot 67 in two different regionals and added a 64 to win the state title. And at Oklahoma State, Rickie was an All-American and became the first-ever freshman to win NCAA Player of the Year. #GoTime, indeed. FamilyThe future of golf is multicultural, and so is Rickie (full name: Rick Yutaka Fowler). He's partially of Japanese descent — Yutaka was his grandfather's name — and he also has Navajo ancestry. In 2011, he created the Rickie Fowler Foundation to help the Japanese and Native American communities. FaithOne look at Fowler's outfits and you might think, "This guy parties hard. Probably with Anthony Kim." But that's not the case. Fowler doesn't drink and is a regular at the PGA Tour's weekly Bible study events. You'll find him there with other pros like Webb Simpson, Ben Crane and Bubba Watson. Rickie carries his faith onto the course as well. During the 2010 Ryder Cup, he marked his golf balls with Bible verses. (His prayers paid off: He birdied the last four holes to halve his Sunday singles match.) FanaticRickie Fowler gets passionate about motocross, golf and his alma mater, Oklahoma State. His motocross career ended at age 15 when he broke his foot in three places, and he's made golf his day job. But the fervent passion for Oklahoma State is still going strong. Rickie has the OSU logo on his golf bag and wears orange every Sunday in homage to his school color. And guess what accent color you'll see on his Cobra irons? Orange. Now that's some serious school spirit. FloridaFowler used to live in Las Vegas, but found the bright colored lights too flashy for his taste. (Kidding.) Actually he just found a better setup in Jupiter Island, Fla., a.k.a. Pro Golfer Heaven. Also home to Tiger Woods, Rory McIlroy and too many other guys to list, Jupiter Island is the place to be if you're a golf hotshot. Rickie's a member at the exclusive Medalist Club and he even has a sandwich named after him at a local deli: ham, turkey, bacon and provolone, maybe with orange bell peppers. Photo Gallery: Rickie Fowler Related Link: Rickie Fowler's Retirement Plan: Race Cars More Rickie Fowler:- The Open: Rickie Fowler, Charl Schwartzel Pelt Exact Same Marshal on 16- Red Bull Gives Rickie Fowler Wings… Like Literally- SportsCenter Ad Explains Fowler's Orange Crush- Rickie Fowler Takes the Wheel at AMG Driving Academy- Rickie Fowler Sports Speedo, Goes Cliff Diving- Rickie Fowler Rocks A New Mustache- Rickie Fowler Wants You to Hit Shanks- Rickie Fowler Makes Fox Sports 1 Debut- Rickie Fowler Introduces Kick-Ass Alter Ego Dick Fowler P.I.- Dick Fowler P.I. Bitten By the Love Trap- Dick Fowler P.I. Is Back: Driver vs. Driver- "Fowlering" Catches on Like Wildfire- Rickie Fowler is… Superman?- Behind the Scenes: Rickie Fowler's Psychedelic Driving Range- Rickie Fowler, Peter Uihlein: Flop Shot Masters- Rickie Fowler: Best of Twitter 2013 - Rickie Fowler Honors Payne Stewart in Style- Rickie Fowler Works a Desk Job in New USGA Commercial- Rickie Fowler Talks Life, Legacy on Latest "Bubba Watson Show"- Opposite Day: Rickie Fowler and Cameron Tringale Play Lefty- Rickie Fowler Takes Batting Practice At Cardinals Camp
Original Story:
http://www.back9network.com/article/5...
MORE FROM YARDBARKER
Golf News

Delivered to your inbox

You'll also receive Yardbarker's daily Top 10, featuring the best sports stories from around the web. Customize your newsletter to get articles on your favorite sports and teams. And the best part? It's free!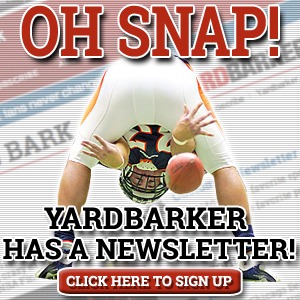 Latest Rumors
Best of Yardbarker

Today's Best Stuff

For Bloggers

Join the Yardbarker Network for more promotion, traffic, and money.

Company Info

Help

What is Yardbarker?

Yardbarker is the largest network of sports blogs and pro athlete blogs on the web. This site is the hub of the Yardbarker Network, where our editors and algorithms curate the best sports content from our network and beyond.